August 30, 2020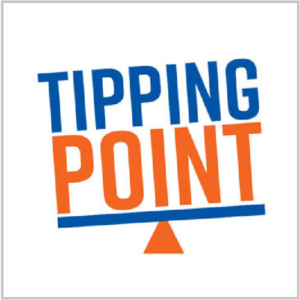 Public sentiment is full of 'tipping points' – critical moments when small influences trigger more significant developments.
We've seen a number of political tipping points over recent years that have contributed to the changing fortunes of parties and elections.
The performance of United Future's Leader Peter Dunne during a televised leaders' debate in 2002 triggered a tipping point that rejuvenated his party. An electronic worm representing the views of 100 'undecided' voters in the audience, reared skywards every time he gave a "common sense" response, putting his party back on the map and delivering 8 MPs on election night, instead of one.
In January 2004, National's new leader Dr Don Brash delivered a tipping point speech on race relations at the Orewa Rotary Club. "Nationhood" struck such a chord with the public that it created a massive surge in the polls, lifting National from virtual political oblivion to coming within a hair's breadth of the Treasury benches at the 2005 election.
Dr Brash ended his speech with a comment that is just as relevant today as it was back then: "In this country, it should not matter what colour you are, or what your ethnic origin might be. It should not matter whether you have migrated to this country and only recently become a citizen, or whether your ancestors arrived two, five, 10 or 20 generations ago. We must build a modern, prosperous, democratic nation based on one rule for all. We cannot allow the loose threads of 19th century law and custom to unravel our attempts at nation-building in the 21st century."
It turned out that plenty of New Zealanders agreed with Dr Brash, even if they were reluctant to say so in public. This situation is unlikely to have changed and replacing race-based laws with those promoting equal rights and a 'colour blind' society, remains a crucial cause in search of a champion.
In 2008, Helen Clark's Labour-led Government, supported by the Green Party, triggered a tipping point through their sustainable development agenda. The measures they announced to improve energy efficiency and water conservation – which included banning incandescent light bulbs and regulating shower heads – led to complaints that they were interfering too much in people's lives.
The accusations that they had turned into a 'nanny-state' government became widespread and contributed to their election defeat.
The elevation of Jacinda Ardern to Labour Party leader just eight weeks out from the 2017 election could be described as a tipping point since it not only dramatically improved the Party's fortunes at the election, but thanks to Winston Peters, elevated them into government.
Another tipping point involving a party leader was triggered in July 2017, when the Green Party co-leader Metiria Turei scored an 'own goal' by bragging about benefit fraud during an election speech on welfare reform. The fallout was dramatic – the party lost a third of its support and the co-leader was forced to resign.
Now, another Green Party co-leader, James Shaw, is embroiled in a major controversy. At issue is a decision he made as the Associate Minister of Finance, to commit $11.7 million of taxpayer funding into the expansion of the Green School in Taranaki.
Having supported Jacinda Ardern's decision to ban new deep sea oil and gas exploration in Taranaki, with an estimated to cost the region $30 billion by 2050 and the loss of 11,000 industry-related jobs, James Shaw justified the Green School funding on the basis that its expansion from 120 to 250 students would create 200 construction jobs and contribute $43 million a year to the region – figures that hardly seem credible.
The Minister rationalised the $11.7m in taxpayer spending by saying, "The support we are providing will help Green School to meet growing demand from parents all over New Zealand, and the rest of the world, wanting to enrol their children. This will mean more families can take the opportunity to put down roots in Taranaki and contribute to the future growth of the region."
What James Shaw didn't spell out is that this brand new school, which has no record of success and hasn't even gained full registration, is a private school.
The Green School charges $5,300 in registration fees, with annual tuition fees of $24,000 for New Zealand students and $43,000 for international students.
With the current roll of 50 students – only half of whom are domestic – James Shaw's grant equates to an average subsidy of $480,000 per New Zealand student. This compares to normal government subsidies of around $6,000 for students in State schools and $1,500 for private schools.
The public education sector is rightly incensed by the funding decision. Last December, when the Government announced a $400 million package to upgrade New Zealand's ageing public school infrastructure, even though many schools are struggling with leaky buildings and other expensive legacy problems, the grants were capped at $400,000 per school. The funding that James Shaw approved for the Green School is thirty-times that rate.
It's no wonder that his decision has created a scandal. It's simply beyond belief that a Minister charged with doing what's right for New Zealand taxpayers thinks it's OK for $12 million to be given to the owners of a private school that caters for the children of the world's most privileged elite.
This issue raises serious concerns about Minister Shaw's judgement and suitability for Office – more so because the funding proposal had been rejected by Treasury. In addition, the four Ministers responsible for evaluating which shovel-ready infrastructure projects should be approved for funding from the $3 billion Covid-19 Response and Recovery Fund – Associate Finance Minister David Parker, Finance Minister Grant Robertson, Economic Development Minister Phil Twyford and Regional Economic Development Minister Shane Jones – declined it as well.
As political journalist Richard Harman explains, "The projects were then considered by the Cabinet Economic Committee chaired by Robertson and with 17 members including James Shaw… the Labour and New Zealand First Ministers on the committee refused to agree to fund the green school."
According to information leaked to Newshub, the proposal was only signed off by that Committee after James Shaw threatened to hold up the other 'shovel ready' projects. An email from James Shaw's office to Government Ministers and Treasury included an ultimatum: "Minister Shaw won't sign this briefing until the Green School in Taranaki is incorporated… Sorry to be the spanner-in-the-works, but if we can get the project included, he'll sign everything this afternoon."
Labour's Education Minister Chris Hipkins distanced himself from the decision, pointing out that while approval of the project was a victory for James Shaw, he would not have funded it.
Finance Minister Grant Robertson said he would not have funded the project either but is refusing to reverse the decision, saying , "I think the Government's got to act in good faith here with an Applicant and so I've got no intention to do that".
The problem for James Shaw, and the reason that this decision could end up becoming a major tipping point for the Greens, is that it goes directly against the party's core policy of opposing private education.
Over the years the Green Party has campaigned strongly on 'phasing out' public funding for private schools, yet their co-leader is now responsible for approving an exorbitant level of public funding for this exclusive private facility.
Green Party members are said to be outraged by the decision. Whether this will lead to them abandoning the party – as they did when Metiria Turei made her blunder – remains to be seen.
The problem for the Greens is that they are perilously close to the 5 percent MMP threshold for Parliamentary representation. Without an electorate seat to fall back on, there are fears this scandal could fatally damage their reputation.
In holding the Government to ransom by threatening to withdraw support for other shovel-ready projects if he did not get his way, James Shaw exposed unprecedented hypocrisy for a Party that stands on a pedestal of integrity and honesty. Their image is now being challenged as fake.
As Stuff explains, "The fear since 2017 is that the Greens would be somehow tainted by the proximity to power. No one minds too much when other parties flip-flop on their principles. We almost expect it from some. But the Green brand is based on a holier-than-thou sense of moral purpose. If that seems unfair, it is an image they courted."
Stuff's political editor Luke Malpass argues that this scandal has exposed the true nature of the party: "The leader of the Green Party, which purports publicly to be the party of the downtrodden and dispossessed, has inadvertently revealed itself for what many think it actually is – a party that mostly serves well-heeled Kiwis in secure and well-paid employment that care about the environment, climate change and want to go cycling and tramping on the weekend."
Meanwhile National Party leader Judith Collins has called for James Shaw's resignation. She says his judgement cannot be trusted.
Many in the agricultural sector who are also victims of James Shaw's appalling lack of judgement would no doubt agree. They watched as he ignored the advice of New Zealand scientists to force onto farmers the harshest restrictions on methane in the world, knowingly breaching Article 2 of the United Nation's Paris Agreement, which prohibits governments from introducing climate change policies that threaten food production.
This week's NZCPR Guest Commentator is the former MP and Federated Farmers President Owen Jennings, who outlines the implications of James Shaw's unwarranted attack on methane – explaining that this trace gas is part of an ancient natural cycle that nurtures the grasslands that sustain the livestock that feeds the world:
"What is new is that the Coalition Government has decided to tax the Methane on its way around this natural, been-there-forever, cycle. The same Methane on its cycle is going to be taxed over and over again. It sounds more like a blatant tax grab than an honest attempt to deal with climate change. It also sounds like very poor quality science. It's not just pennies in the dollar tax. If the full extent of the measures are imposed an average farm will be required to find over $300,000 a year – an impossibility given the profitability of farming."
With serious questions now being raised about the judgement of James Shaw, surely a review of his Ministerial decisions should be undertaken – especially the Zero Carbon Act and the recent changes to the Emissions Trading Scheme, since between them, they will significantly undermine New Zealand's economic recovery.
Concerns have also been raised that the overly bureaucratic measures being introduced by Labour's Minister for the Environment David Parker – that even go so far as to specify dates by which farmers must plant their crops – may become a tipping point for rural New Zealand. These changes are not only being described as unworkable, but there are fears they are turning farming into a controlled activity.
The Minister is even attempting to regulate mud, through his National Policy Statement for Freshwater Management. It specifies that pugging must not be deeper than 20 cm nor cover more than 50 percent of a paddock, even though, as anyone who has had anything at all to do with farming knows, the amount of mud is largely dependent on the weather – if it's cold and wet for prolonged periods, pugging will be worse, whereas if its dry and mild, there may be almost no pugging at all.
So, from James Shaw's breaching of the Paris Agreement, to David Parker's nanny-state outlawing of mud, it's no wonder that farmers are talking about protest action in the lead up to the election. If other New Zealanders really understood the extent to which this Government has been persecuting our country's leading export sector, they would no doubt support the protest as well!
Other scandals will undoubtedly arise between now and the election, but whether any have the potential to tip the election result remains to be seen.
Please note – you can register for our free weekly newsletter by clicking HERE.
THIS WEEK'S POLL ASKS:
*Do you think James Shaw should resign as Green Party co-leader?
*Poll comments are posted below.
*All NZCPR poll results can be seen in the Archive.

THIS WEEK'S POLL COMMENTS
| | |
| --- | --- |
| He is a pontificating hypocrite. | Tom |
| watermelon marxists cannot ever be trusted. green on the outside, red on the inside. yes he should resign, but he won't, wait and see! | david |
| Shaw has no clue about proper science, in the first place. He cannot be trusted to make wise decisions. The greens are happy to take money from those who earn it to squander on frivolous projects | Glenn |
| He's too far left. Should change green colour to dark, dark red. Maybe a flag with a hammer and sickle on a dark red background. | Ray S |
| We wouldn't need to ask this question if that maori who only got 7% at the last election had done what his voters expected an intelligent and honest party leader to do, So what is absolutely clear, the now 2% maori is dishonest, untrustworthy, with not a lot of intelligence, and dare I say — a liar — (ask him if he smokes) I heard that he stole tax payers money, he blamed it on a lack of intelligence, not being able to fill out a simple form. Dear Lord, Please have a chat to the bewildered who might consider voting for this person. | Gerald |
| Going against his own thinking | Ted |
| Surely motivated by self interest. | Peter |
| Keep him their to ensure the Greens won't get the 5% they need to get back into parliament | Diana |
| The narrative from the Greens has no objective truth. They are the most supercilious of all the political groups and doing immense harm to our economy and way of life without having any responsibility to a electorate. J. Shaw will not resign but this lot of misfits will be tipped out of Parliament this election. | Monica |
| I really think he should be fired summarily. We're heartily sick of politicians who pretend to be on the side of good and are plainly bad to the bone. | Shane |
| On many counts, this bloke has to go, he is a menace to our whole economy, especially the Agricultural sector, a major export earner for NZ. Also, he has gone against one of the Green Parties main Manifestos of not funding Private Education, so what was this guy thinking and using Blackmail of signing of "Shovel Ready Projects to get his own way. REMEMBER, all the other members of that Finance Committee signed off on the Green School Funding of $11.7m, so are they not complicit also? | Bruza |
| This minister is clearly not working in the best interests of New Zealand | Mike |
| Leave him there during the election campaign as a reminder that the guy who stuffed up is still the co leader. The more he tries to defend and explain the deeper in it he will get. | Mike |
| he has proved himself not just incompetent but also unreliable. He cant be trusted. Chuck him out, and the rest of his green mates too. | Denis |
| Plus, he is a member of a "Climate Cult" that is Socialist and aimed at de-industrialising western nations based on theories and hypothesis and there is no "Quantitative Evidence" to support their claims. Claims which are flawed. They are economic terrorists and hypocrites seeking power at any cost. | Frederick |
| And the Green Party should at the same time re-name the party… I can't think of an attractive name right now that encapsulates the ethos and direction of the party right now. | Matt |
| Yes, yes, yes – he is a waste of valuable oxygen! | Alan |
| Absolutely. If he didn't know it was against the Green's policy what else doesn't he know? | William |
| Im told he wasn't aware the Green School was private. The green Party has brought in some very good laws. | Katherine |
| We have had enough. | Brian |
| He has Double standers, Plus not following the Paris Food Agreement. | Stan |
| | |
| --- | --- |
| Yes he's a corrupt Mongrel | Elaine |
| Especially as he threw a tantrum and refused to sign off any other deals, unless he got his way. Blatant corruption. | Craig |
| Having posed, during his political career, as a fair and measured man he has outed himself as a hypocrite. Some say "At least he admitted his mistake and apologised" but this only happened some 5 days after he had been outed by the media and had been hauled over the coals by his own party. | Richard |
| one rule for all NZers | Barry |
| His behaviour is completely unacceptable | Marion |
| And joins the nutters party | Warren |
| Sack the bastard and all the others with him. | Reg |
| and pay back our tax payers money | richard |
| He is a two faced b*****d and is as dodgy as they come .Get rid of him and his party and let the farming sector get on with their busy lives. And get rid of that weasel David Parker as well. | ken |
| His resignation may help the Greens climb above the 5% threshold. | Jim |
| The green party should be nowhere near government | murray |
| Definitely resign. What a hypocrite! Never liked the Greens anyway, they're too one-eyed and don't see the big picture. Furthermore, I think he should be fired, not just allowed to resign. | Sheila |
| Flabbergasted and disappointed. | Brian |
| Total lack of integrity – all self interest | Alan |
| Just goes to show their true colours and it aint Green | frank |
| Green policy = cognitive dissonance | Kerry |
| He didn't make a mistake as he claims, this was just an excuse when he got caught. He had blackmailed the government to get his way. | John |
| better he stays so the Greens can be seen as they actually are…….. | Max |
| The longer he stays on the more damage he will do and the greater the chance the party will fail to get 5% in the election | Neil |
| Should resign from politics full stop. There is too much politicking going on. It is time to stop and get people who are prepared to do what is good for the country and not their political leanings or their power plays. It seems pseudo science is ruining this country and the planet as a whole – get some real scientists with no axe to grind to do the research and interpret the results impartially. A lot of the stuff I read in the media regarding scientific conclusions is utter crap. MSc(Hons) holder. | Kevin |
| He should have the strength of character to resign. Regrettably he will be replaced by yet another Marxist in a green suit. | Lee |
| He has made a stuff up and him staying can only enhance the prospects of getting rid of the greens Unfortunately he is one of the few moderates in the party but he is still a water melon Green on the outside and red in the middle Hopefully they will be gone in October but that may mean an un-feted Labour but my prediction is if the left lose their partners (Green and Winston First) it will be a Nat/Act government or at least I hope so | Robin |
| Leave him there to make a bigger ass of himself | Robert |
| Far worse than the previous co leaders indiscretions | Robin |
| Having said that – keeping James "not so" Shaw in office bodes well for a change of Govt. | Fred |
| his remaining will see reminding people, that green politics, is about keeping a nose in the trough more than the environment. | Lionel |
| He should but he won't. | Andrew |
| Let him continue making a mess and therefore make a decent job of destroying party credibility for good. | Bryce |
| and the rest of the 'greenies'…….!! | trevor |
| James Shaw excuses over the "Green School" funding are fraud, his actions taxing livestock methane are fraud, he must go. | John |
| The entire Green party must also resign as their policies are a kindergarten level of intelligence. How can the greens adjust the climate change to zerocarbon, as we all know, carbon is a building block for all living organisms, without CO2…we all die, and as a climate scientist said…remove all co2 and earth will become the same as Mars is today, dead. The greens have their place somewhere, but NOT in government!! | ROD |
| Mind you if he stays the Greens will be more likely to be ousted in the election – perhaps he should stay? | Moyra |
| He's a fruit loop like most greens. | Laurie |
| Most of today's politicians are unscrupulous and have to many hidden agendas and cannot be trusted. | Wayne |
| Goodbye to the Greens. Please! | John |
| Idiot. | Sheena |
| Leave him there damaging his party until the election. | Gary |
| It's all based on pseudoscience. TONY HELLER SUSPICIOUS OBSERVERS | zoran |
| It is best if he actually stays as he is a big facet of incompetent pseudoscience false news narratives and Agenda21 rollout. If "THEY" (clowns and fools Globalist puppets) get back in the stupid lobotomized populace deserve the consequences of the resulting communist state where all but the glorious leadership in their palaces rule over the impoverished "liberated" indoctrinated microchipped enforced vaxxed stupefied slaves. Support Slavery and Sentence a Child to Life in this crazy World. TONY HELLER. SUSPICIOUS OBSERVERS; but hey, cannot reason with stupid subservient idiots…. | zoran |
| Back to Australia for him. Deport him! | Neil |
| And take ALL his unelected idiots with him. Disgusted at the double standard and I call what Shaw did BLACKMAIL. | Carolyn |
| James Shaw should have stood by his decision but he made a grovelling apology which made me think he should go. I don't like the way private schools are taking a beating when we have a government that is ideologically opposed to any form of educational competition. | Phillip |
| Absolutely he is a fraud and hypocrite | steve |
| Green party led by Chardonnay Socialists had the gall not to protect Charter Schools against Comrade Jacinda, Hipkins and Co | Tom |
| Gone by lunch time, yeh right. | Tim |
| Shaw is a corrupt, left wing socialist. He must resign!! | Bruce |
| I can not abide the smarmy know all ,manner of James Shaw. He has been contrite in words of this issue, but it does not save him in my eyes. He is a destructive spanner in the works of the NZ Economy. If the greens get another three years in Government, I despair where NZ will end up as a Nation. This election is that important. They should not be allowed any where near the treasury benches. | Dene |
| So should the co.leader. It is impossible to believe he alone made the decision or used blackmail without her knowing therefore they are equally guilty of deceit. Untenable position for both of them. | Tony |
| What a pack of crocks. Second co-leader who has to go – and for good, plus he may as well take the other one with him as she is no better. | Neville |
| he is a fool | norman |
| Yes, out he goes. Judith Collins is right once again. | bruce |
| Of course he should resign he is a hypocrite of the worst kind a complete prat | Mike |
| What a tossa | Gary |
| Absolutely! | Sefton |
| What an idiot! | Ron |
| Clearly the Greens have moved away from their key ideaolgy of climate change and the environment. They should stop interferring in policies about which they clearly ignorant. | Bruce |
| He is a hopeless case, like many greenies | Tom |
| His apology, and the "I made a error of judgement, and I would make a different decision today, I have listened to what you have said" only occurred because of the backlash his actions received. Totally insincere, and political double speak.. | Gary |
| The whole party should dissolve., resign, do whatever it takes to disappear. | Bryan |
| not fit in the role | gerard |
| And leave parliament, politics and tax-payer funded benefits. Go and get a real job and do something to add to the wealth of NZ. But pigs will fly… | Mark |
| Leave him there for the party to suffer the consequences, they may garner respect if they make him go. | Tina |
| I am voting No, he should not resign. Much better that this fool is kept in place to continue his idiocy and self sabotage! | Peter |
| James Shaw, is a vacuous little man, tripping over his own self importance. The greens are a party of self indulgent envious, small minded people, who have never produced or done anything useful in their lives. Non-productive members of society, trying to social climb their way to the top. As for David Parker, he has an interesting past, best place for him is out of govt entirely , another waste of space. | Merryl |
| His actions demonstrate how elitist and out of touch with the real world he is. | Robert |
| In fact the whole green party should resign en masse so we can get back to realities without being burdened by fanciful ideas and indeed false science. | Alan |
| Botch up. | Iain |
| Peters &Shane Jones should resign first | Ian |
| Let him keep digging out the back door. | Graeme |
| James Shaw is inexperienced. | David |
| He is a stupid fool leading a party of idiots | Miles |
| Goes against their own principles and manipulated the results, to get what he wanted at great cost to his own Party, and other more worthy 'Shovel Ready' projects. Shame on the weak Govt. for letting him dictate terms. | Caren |
| acting as a hypocrite | russell |
| He jeopardises the chances of the Green Party returning to Parliament. | Kathy |
| Not only contrary to his own party policy, and also indulging in pork barrel politics, but also then lied about holding up the authorisation of the other projects. | Anon |
| Apart from this issue–Green school payment, the Green party attracts an image of integrity and trust–apparently anyway. But it's critical to remember that they are the principal driving force, via Chloe Swarbrick, to bring to this precious nation, the possibility of legalised cannabis use and no doubt, easing of conditions around wider drug use. This issue I believe, absolutely dwarfs every other political and economic concern we face at present. This proposal is a disgrace of unprecedented impact, that will successfully erode the moral and ethical fibre of our people. Even Professors Juliet Gerrard and Tracy McIntosh, seem to be sympathetic to cannabis legalisation, which for academic professionals, is frankly disgusting. God help NZ. | Alan |
| James Shaw and his cohorts are a sham bunch of "conservationists. Get rid of all the left-wing posturing and focus on a sustainable green future. | Derek |
| He shows a complete lack of judgement. | Sandra |
| Too many mistakes. | Neville |
| This man and the Green's seem hellbent along with Labour to bring about the downfall of this country with their stupid ideas and policies. | Fraser |
| Because he and his party are a pack of idiots | Peter |
| Hypocrisy | Peter |
| He should also be kicked out of Parliament and /or any position of responsibility. He is toxic | Arthur |
| No, for heaven's sake keep James Shaw on at least until the election because he has to be the best advertisement every political party, except the greens, has ever had. | Rob |
| Leave the IDIOT there and let his mouth and actions be his ultimate downfall | sheryl |
| A hypocrite to the core | Pat |
| A totally evil individual. | chris |
| Definitely definitely definitely!!!! | Joe |
| SOON ????? Like NOW?????????? | Mabel |
| They are all crooks, I h ave given up on politicians – if Shaw is replaced someone worse will follow | Wah |
| No – he should resign from the human race instead! | Scott |
| Nut case ./ | beryl |
| Power crazy politician. Has to go . | Rick |
| And the rest of the phonies should join him and be forced out into the real world. An Australian Senator once said; " The only person worse than a communist is one who is too scared to admit it to others." Marxists, communists, socialists are all the same, they will intentionally destroy the NZ economy to further their objectives. Blame NZ First for empowering them! | Rex |
| Dishonest and blackmailer – don't need people like him running our country | Cecilie |
| so against private schools in the past – just swayed by Labour for their interest- | Beth |
| Decisions by politicians are assumed to have been made after some deliberation and consensus. This guy should go. | Martin |
| Appalling judgement | Jo |
| Of course he should resign. This "mistake" was not one made under duress on the spur of the moment where to not make it might have put someone's life in jeopardy [spelt without the extra 'R' favoured by J.A – 🙂 } it was without doubt a very considered decision which he had plenty of time to retract. Shaw has been found to be lacking in honesty and integrity. – playing "favourites" with tax-payers' money.!! I'm not of his Party but apparently he has also gone against the stated beliefs of those who made him their leader. He must have succumbed to some sort of bribe. | Heather |
| That is gross corruption | Jan |
| And from parliament. For some who has control of $millions Of public money but wouldn't have a clue what actually working for a living is about, ow ever runs business. | Graeme |
| not only resign from the green party but be thrown out of parliament as he has shown how two faced and corrupt he is and by reports he has labour and nzf by the short and curlies or they are so far up shaw's backside you can't even see them, either way the sooner that whole mob is got rid of, the better for this country. | Richard |
| He's making a few too many mistakes | Diana |
| He will be gone anyway, come the election | Mark |
| NO. But he definitely should slink away into obscurity taking the rest of his woolly headed flock with him letting a Green Party emerge that is focused on sensible policy relating to environmental issues. This should be their core business; not social issues. It was Helen Clarkes eventual undoing and it is not what the average voter expects of them. | Gary |
| he's an idiot. | chris |
| New Zealand cannot afford people of his caliber in government! | J J |
| Absolutely. NZ'S are sick of the continued falsification and lies by green , labour politicians . | Darryl |
| The man is a complete idiot. | Lee |
| Shaw-a know nothing wannabe bully. | Kevin |
| Useless prick – but probably better than being a "wealthy prick" | Graeme |
| It's our money they are throwing at a group who are putting their own take on education, it could be precede for other airy fairy groups to ask for same at our expense! | Chris |
| I think he should get out of our lives and go and live in Venezuela. | Murray |
| Reluctantly as leaving him as leader should effectively sink the party. | Jeff |
| NO Winston Peters & Shane Jones should resign | Ian |
| We have enough dodgy pollies as it is, we sure don't need a loony lefty deciding where our hard earned tax dollars go. The hypocrisy of these loonies is astounding. | Steve |
| This is a man who cannot be trusted, and he will connive at anything to get his way, and turn NZ into an absolute mess. | Murray |
| Ray Stevens has a song out, you can get it on you tube, called, vote the bums out | Sam |
| I think he's good for the opposition where he is. If he resigns then he slides into anonymity and the fracas can be forgotten. If he stays the voting public will remember what an idiot he is. | Jenny |
| He is a blatant hypocrite, showing very poor judgement and even blackmailing his coalition partner Labour and apparently NZ First. | Donald |
| I have voted no because if he remains as co-leader it will hopefully lead to the |Greens dropping below 5% in the election | Paul |
| Being a National supporter I am happy to see him in the opposition | Frank |
| Of course | Neil |
| Yes! But so should Cinderella and the rest of the useless lot. | Peter |
| This vote means nothing. What is important that the Green Party get 'woke' (ha ha) and sack him now. But that won't happen. However there is hope that average Greens don't vote for them at Election and they fall below 5%. Woo hoo! | Liam |
| Put him in the green waste bin where he and his green party belong. | Angus |
| Useless individual with only his self interest at heart | John |
| He should but he wont. Forthcoming election : Oh what to do Oh what to do.The loopy left is getting even worse and the National Party will need some of them if they can scrape enough votes to form some form of a coalition. If National left Covid19 alone and gave us some policy for the future the voters make take some notice. Judith is certainly not winning hearts and influencing people. | Bruce |
| Lets hope he has learned his lesson. He has shown himself to be a steadying hand in the green loony bin previously. | David |
| All the so called Greens should just pack their bags and go with him | Richard |
| We all make mistakes.Get rid of our Scapegoat mentality !! | David |
| 1005 yes And if he doesn't then if Jacinda was half the person she makes out she is, she would fire him. | Bruce |
| yep kick him out these parties should be held accountable if they don't keep their promises | paul |
| So good to see some more prize green idiocy on the BBQ. | Robert |
| And the rest of the Greens | Dave |
| His promotion of the virtues he and his party proclaim they espouse have now been shown to be tunnel vision deceptions. | Vernon |
| Nicola Willis said in Parliament, James Shaw and the Greens should be ashamed of themselves using Tax payer Public money for their own ends. Corruption comes to mind. Who does he think he is. The privilege of receiving Tax funded pay check to represent the public and improve the countries standard of living regardless of race, religion, etc has been breached. No trust, No confidence in this Government. Labour signed off on this money and are equally guilty.The public are treated as fools. These toxic greens are costing the economy more financially than any other. The arrogance is mind boggling.. | Sam |
| yes he is a total hypocrite ..underhand actions caught him out ! | Cindy |
| Gone by lunchtime… | Sheila |
| Further evidence of a corrupt Government. I thought Shaw would have better principles but no, tarred with the same brush as his labour cronies. It is all about power. | Chris |
| His hypocrisy has been exposed, plus his clear lack of economic knowledge means he should not be in control of anything. | Merv |
| He should resign, as should the rest of the greens with their unrealistic policies, and take most of Labour with him | Allan |
| Definitely. | valerie |
| National Party leader Judith Collins has called for James Shaw's resignation. She says his judgement cannot be trusted. Coupled with the damage to the farmers, who wants him? Or his party? | Maurice |
| Best to leave him there to oversee the total demise of the Green Party | Kevin |
| The blokes a dangerous deceitful moron like the rest of that deluded cult.In short they are environmental and misanthropic terrorists. | Alan |
| Let him stay on to do more damage to the idiotic Green party. | mike |
| Shaw should resign as he is a traitor to our country he is not green but a bright red and has to many socialist ideas to support Jacinda | Russell |
| Not only has he made massive mistake With the 12 million dollars, but his stated tax policy would destroy the country. It should seem odd that Australia is reducing taxes as the way to gain more revenue to help solve the problem. This will be the Act 's position also | john |
| He probably should resign, however if he does not, he might get thrown out in the election anyway, which would be a better outcome for democracy. | Peter |
| I'll say Yes, but in truth I do not think the Green Party should have any place in New Zealands Governing structure. They are a fringe group of idiots. Their brains are pouted with philosophies that are diametrically opposed to improved living standards and the generation of wealth. They are hell bent on reducing living standards, except for themselves of course. They are not realistic in any way. The most important thing the Greens and everybody else can do is reduce their reproductive rates. In other words stop popping out babies and flying all over the world. Once they've done that they should consider riding their bikes off into the sunset to their bush shacks. James's pet school that promotes all this garbage, should be monitored closely to ensure that Green Propaganda is cleansed from the curriculum. | Dianna |
| It goes further than that. Labour leaders should be held to account as well. It is not good enough to say "It is too late to change it now, knowing a mistake has been made. There is more credibility in correcting an error than standing by it. They are just as responsible, or irresponsible, as Shaw. | Harvey |
| Enough is enough. He is out of his tree | Bev |
| Anybody got a sword for him to fall on? | Graeme |
| Better to have him there to show the voters what a hypocritical, elitist, and out of touch bunch they really are. Why would we want somebody useful in the Green leadership? They might attract some votes which would be worse for the country. | Frank |
| Dangerman | Linda |
| This is fraudulent use of Taxpayers money! | Denise |
| No! Let him carry on to political self-destruction and take the Green Party with him! Go James !!! | Selwyn |
| He is clearly devoid of values and ethics and should resign immediately! | Anton |
| This action by Shaw finally harpoons the integrity of the Coalition's spending of tax payers money, right across our struggling economy. | Jim |
| He definitely should go, but for the good of the country I almost hope he doesn't. His continued baleful presence should then alert NZ voters to the all-consuming dishonesty of this single-issue pressure group masquerading as a serious political party, and consign them to the reject bin of history. His cringing performance when questioned about this sleazy deal exposes his inadequate personality, and his total unfitness to hold any public office. He will not go willingly, send him on his way! | TOBY |
| Should be 'Fired' and .. have left the "building"…..and get lost forever in some green space… | Chris |
| Pursuing his own personal agenda, against his party and against the Country | Annette |
| Definitely! James is the tidy looking probably non pot smoking GRN who is good at communication but viciously against democracy and is also hypocritical. | Ray |
| Definitely | Florence |
| He should be kicked out of parliament altogether and I hope the Greens don't get 5% | Jenny |
| He,s been a DISASTER from day1,it,s gone to his head having power to destroy NZ way of life to HOW HE WANTS IT TO BE & jacinda is weakly letting him get away with it. | Cindy |
| Shaw obtained what he desired by commercial blackmail of the coalition government. And it was against his own proclamations on policy. Yet another clumsy irrational move by a party that should not be in parliament. | chris |
| Leaving him there is good publicity, helping Nationals vote by showing up the incompetence in the Green Party policies. | Jeff |
| I think all the Green MPs should resign as they are all party to the comments of Peter Shaw. | Owen |
| Absolutely. There is no room for hypocrites! | Bill |
| Shouldn't be there in the first place. He knows exactly what he's doing and won't stop till he's booted out. A "dangerous " little man | Don |
| If he wasn't such a monumental hypocrite he would have already stepped down in shame, however as usual the socialist mantra applies "rules for thee, but not for me" | John |
| He has exposed himself as a political pariah | Bernie |
| I would rather see a labour govt rule alone than have Green party as any part of it | chris |
| Corruption must be rooted out | Paul |
| they are a bunch of tossers anyway . | buster |
| Better if he stays as it should lead to the demise of this cranky party. | Graham |
| Hypocrite | Richard |
| Shaw has demonstrated lack of honesty & integrity. The country should have a absolutely no faith in such a man. Parker should go also, his stupidity & snobbishness is beyond belief. | Kathy |
| Most definitely. He is no leader. He simply pushes his own agenda which is very damaging to our economy at a time of severe stress. To approve such a large sum of Tax money to just ONE school shows he has no grasp of reality. | Graeme |
| Irresponsible, bad judgement and wonky science. Not fit to be a minister. | john |
| Better options on the right if he stays | Rob |
| The list of idiotic decisions by Shaw and his cohorts is long. This one is is not the first and wont be the last. | Bryan |
| He is an idiot leading a bunch of other idiots, who don't recognise the fact that they know squat all about farming. Leave it to the farmers! | Heather |
| He should stay on, let the scandal rage on and then let the voters put him and the Green Party out of office. | Gavin |
| Yes he should resign as he has gone against his parties policies in approving the funds for that school and also holding up, other projects. | Frank |
| Shaw lacks integrity. He has demonstrated he does not represent the national interest. | Kathy |
| Absolutely! | Brenda |
| Disgusting show of unprecedented self interest… pride comes before the fall… | Robyn |
| He demonstrates very clearly to the nation a convincing example of complete ineptitude in his political ideas. The Green party portray this ideology in all their plans of how to manage a country. It almost defies belief what they would do to this country should they become the Govt. It is like a series of cartoons fresh out of Disneyland !! | David |
| You cannot trust him – he's coated with the same brush as Labour MP's. These two parties are working quietly together to support each other for the next term – God help us!!! | Glenda |
| His time in government is over. It is obvious that he has not got nous to lead a political party with the best interests of the New Zealand population at heart. He must surely know this and should fall on his sword himself instead of being pushed. | Dennis |
| His conduct is inexcusable. | Neil |
| This party are a bunch of nanny state idiots who should not be in charge of anything. | John |
| | |
| --- | --- |
| Absolutely | Rita |
| He is not fit to be there, he's worse than a joke | Carolyn |
| That he hasn't already done so, nor been embarrassed by pressure from the COL partners; highlights the level of MORAL corruption within this government | bob |
| Another case of one rule for some and the rest go to #ell | Carl |
| Keep his blunder in the limelight. If he resigns it will quickly be forgotten. | Maurice |
| Let the electorate decide | Bryan |
| idiot | Rex |
| It's time for him to go and take with him the rest of the Green Party. Suggest he looks for greener pastures! | Peter |
| He doesn't understand the impact his carbon zero ETS policies will have on farmers AND the NZ economy. The blunder over the Green School has cut the ground from under his feet so the honest thing to do is resign. | Kerry |
| Power-mad! | Barrie |
| Especially now it's been shown that he threatened to block all other "shovel-ready" projects if the Green School funding were not given the "green light". (Sorry for the pun!) His apology therefore rings hollow. | Laurence |
| I have voted yes he should resign, however it may be better for him to stay. Staying would give him more chance of further damaging the already low credibility of the Green Party! | Graham |
| The man has clearly demonstrated a continued inability to make sound judgements and should not be part of any government. | Rod |
| Poor thinking | Jim |
| He best stay there and keeping making the GREENs look bad? | RICHard |
| He has exposed himself as arrogant and incompetent. His "due diligence" on this project seems to have been checking out their website. The man is unfit for office. | John |
| But it wont make any difference. The Green Party never had any integrity and never will whoever co leads it. They are collectively pond scum a d with their extreme left wing agenda an extreme danger to everyone. | Richard |
| yes and take all his other loonies with him including fish and chips adhern and her crowd with her. | James |
| only prob is when he goes, which witch will they promote | Wayne |
| Along with the rest of the greens | Nevkath |
| He's deceitful in his ducking and weaving trying not to own is behaviour | Philip |
| He should resign, but if he stays that is ok from the point of view that the Green Party will be negatively affected. | John |
| it makes you wonder , who would ever vote these sort of people into positions which they have no idea about running. | bill |
| And if he doesn't, he certainly should. However, given the fact that the Green party is full of complete idiots, it would just mean replacing one idiot with another idiot. One can only hope that they never see the light of day again after this election. | Des |
| gone by lunchtime, go eat grass for lunch | Erin |
| He has displayed double standards | Joan |
| Along with all other Green MP's. This movement calling itself a political party is a joke. | Barry |
| What a hypocritical idiot | Graham |
| It's no less than he would expect if some other politician had done the same thing. | Brian |
| It is appalling that not only he 'give' this money to a wealthy private school but more importantly that he tried to blackmail the Government. He is totally unsuitable for public office and should go. | Helen |
| Just another incompetent corrupt left politician hiding behind his parties fake moral highness banner. He's a fraud & dangerous – kick him out on his arse where he belongs. | Mark |
| Without a Doubt !! | Pierre |
| Actually I think all the Green MP's should retire! They consistently fail to understand the consequences of their actions. | Mark |
| he is completely incompetent and should NOT be in government | John |
| He doesn't follow correct procedures! | john |
| James Shaw has never been credible preaching his bogus science. Now he has completely lost the plot at s time when New Zealand needs ideas that will recover the economy not destroy it further. | Mike |
| These Green People have been undermining our main Export which comes from Farmers in this Country by unscientific evaluations of our Natural Climate cycles. To now be discredited in the recent 'Funding' blunder all I can say is " the Lord moves in mysterious Ways " | Geoff |
| | |
| --- | --- |
| We need people in government who are accountable to 'We the People', not puppets with their own agendas dictating unworkable policies on climate change, farming. education, trades etc | Jude |
| No keep him. The more stuff ups he makes the less chance the Greens have of getting back in the next election. No wealth tax then. | Michael |
| Any gone green is a good green | Russell |
| Keeping him there could disillusion voters. | David |
| And take the rest of the greens with him | Robbie |
| He's just displayed how devious he is. Even in politics his attempted now exposed deception is diabolical and thus should be severely publicly rebuked. | Stuart |
| The longer he stays and tries to fight this the more support the Greens will lose, everybody wins | Kendall |
| ASAP! | Donald |
| YES! Never liked him or most of his ideas – climate change included. Let's work with NATURE. More common sense | Doug |
| The greens could never be trusted | Andi |
| The list of MPs that should not only resign but should be sacked and even charged with perjury increases daily . | Vivian |
| Hopefully this will be the end of the greens | David |
| but I don't think it matters too much. The Party will be out of parliament very soon anyway. | hugh |
| Definitely | Graeme |
| Indeed ! This is the only option : Get rid of this hypocrite. This so- called green party has unmasked itself as a radical Marxist totalitarian outfit full of UN controlled glove puppets. I hope that this lot will fail to get voted in this election and- better still – disappears into political oblivion for ever. If they will make it this time, another 3 years of a Labour/ Green Apocalypse Govt will kill us. Damage control will be nigh impossible . | Michael |
| Kick him out. Don't wait for him to resign! | Brian |
| Yes he should. The whole party are still a bunch of activists, not sensible politicians. They are an absolute disaster for NZ. | Willy |
| I voted yes but maybe it would be better for us all if he did not and the Greens were dumped at the next election | Geoffrey |
| Absolutely, he has no place in policy making at all. | Bruce |
| Of course he should. It is a blatant example of not following green policy on private schools, but promoting green ideology. Pre-election "Vote buying". | Bruce C |
| He should stay and kill the Green Party once and for all | allan |
| Bloody idiot.. | Maddi |
| Yes and take the Paris Climate accord with him. | Warwick |
| You don't make decisions like this if you have the people at heart | Dave |
| Can%u2019t be trusted. Hypocrisy He is incompetent. | Rsy |
| No one should vote for Greens. But watch the Labour Green coalition in the next parliament and maori policies of Green rolled out. | john |
| Leave him there. With a little more 'shovel' work he will eventually bury himself! | wally |
| He's out of touch | Kevin |
| Without him, the Greens would be stripped down to their communist roots. With him gone, the Remuera doctors' wives (i.e. the dilettante environmentalists) would have no-one to vote for. | Graham |
| Provided his replacement can demonstrate better judgement! | Vic |
| what he did was blackmail | Graeme |
| Horrible hypocrisy | Richard |
| Absolutely. It doesn't get much more corrupt, self serving or hypocritical than Shaw's frivalous waste of public money | Russ |
| Just get rid of the Greens altogether! | Kate |
| They deserve to be at last thrown on the scrap heap of invisibility. Bring on the elections. | rod |
| absolutely ! he is an idiot ! | Bryan |
| There should be a don't care option. | pdm |
| …….and what about the tax payer's monies…….who will be held accountable ??……..it never happens. | Roy |
| Without doubt, the seeds of deception on the part of the coalition are in full bloom | Rossco |
| He's an ignorant fool who seems to understand nothing. | Mike |
| Definite Yes!!! He doesn't have the right stuff. Weak and frequently missing in action throughout the last three years. Pretty much silenced by the other co-leader. | Grahame |
| | |
| --- | --- |
| Not necessarily. Politicians over the decades have made decisions that should have warranted resignations and did not. Now that he has been caught out and it appears now to be a loan, we move on. We spent $25 million on a flag referendum, now that was a real waste of tax payers money. | Chris |
| Leave him there and keep green party members having to deal with their own problem. | Eric |
| James Shaw normally has helped to keep some of the green Looney stuff at bay. If he goes the chances are greater ideology lacking balance. | Stan |
| So should Parker | Bryce |
| Let Shaw take down the Greens in October. | Sue |
| What a stupid decision after saying no financial help for private schools how can you trust the greens they are useless they are strangling farmers if they got there own way NZ would come to a halt except for the bikes | Peter |
| Shaw is a silly boy with no place in an adult government | John |
| Gone for all money | John |
| That would leave Marama Davidson as the sole leader and she would have trouble tempting me out of a burning building. | Brian |
| I think the Green party should be removed at the election. | Chris |
| Should have happened 3 years ago! He must be mad! | jan |
| He should but will not as Green party rules say there must be a male & female co-leader and as Gareth is leaving that only leaves Dozzo Shaw | Allan |
| Shaw has provided compelling evidence that he is incompetent. Costs (for NZ) outweigh the benefits with this Green Party. Shaw should not resign. He should stay and lead the Green Party to oblivion. | Mike |
| James Shaw should resign as his "loyalty" to the Green cause has now come under scrutiny. However he will not resign as he, like so many other of our politicians, is on , and wants to stay on, his gravy train. Principles do not count in politics but staying in power does., | Tony |
| Who will be the major opposition party to the next labour government? ACT or national? National has lost its way i will be the rise of ACT | michael |
| Absolutely, gone by lunchtime! Just another example of the weakness of the leadership of Jacinda. If it had been such misjudgement and proof of incompetence by National, she would be sneakily signalling to the press and country that Judith should resign. Get rid of Labour and all the incompetence naturally goes away. We font need a B grade actress running the country, so Javinda if she truly wanted what is best for NZ would move over and let the grown ups run the show. We have all long ago seem enough of her patronising prefect act. | LUKE |
| Yes absolutely if he had any integrity. Even better yet,, have the whole green party resign into oblivion and rid us of their insane policies. | Tony |
| James Shaw has absorbed a green virus coated with fairy dust. | Elaine |
| Definitely and immediately | Terry |
| The whole Green party should go belly-up. They and Labour use scare-mongering techniques to SCARE people into their way of thinking, or to submit to their high handed methods. | Joyce |
| The problem is that for the Greens he is probably worth 20% of their vote and they cannot afford to let him go. He is seen as the 'moderate' branch of an increasingly radical Green Party. He is the last of the Environmental Wing of the Party – the rest of the MPs being more about social justice. Also, the Party Constitution mandates a Male Co-Leader but the Greens have only been promoting females – so who will replace him. Lastly, he won the Greens a position in both Parliament and the Government in 2017 against the odds. If he goes from Parliament so does the Green Party. | Brenton |
| He is an unelected lying communist | Greg |
| James Shaw, while ostensibly being a "nice guy" has lost all credibility and must resign. | Rayward |
| It's in line with Green policy | James |
| he can be trusted | murray |
| James Shaw should not only resign as co leader but the government as well, with the rest of his green colleagues and emigrate to Siberia on a permanent basis. | Robert |
| Not only is he elitist, this entire government are. They need to go!! It's all about coffees, working from home online & driving your kids to a private school in an electric car. Real working kiwis are being taxed to the eyeballs & being plunged into debt ready for a state takeover. They all must go!!!! | Hannah |
| With any luck these lunatics greens will be gone from parliament come the election | Murray |
| The man is a total idiot. | Carl |
| No question about it, James Shaw should go, and the rest of his party should be hot on his heels! And we should be supporting the farmers, not destroying them. | Allan |
| Shaws resignation is a no-brainer, and just for starters…..There's a list a mile long I can think of, from "this lot"! | Sharen |
| The party is doomed : Shaw has shown their weakness. Let them all go down together | Peter |
| to much power for a mindless twit | brian |
| Mr Shaw, supported by our PM the Rt Hon Miss Ardern (and also unfortunately by the immediate past National; Parliamentary Leader, Mr Todd Muller and the rest of his MPs) presented a load of lies, distortions, half-truths, and exaggeration of data in support of his Zero Carbon Act. Perhaps the biggest distortion of the the truth is their continual reliance on "the science is settled" and "97% of scientists support this view", both statement being as far from the truth as one can get. Their viewpoint is obviously accepted by other Party members, clearly endorsed by the likes of the Hon Chris Hipkins in the "scientific" lesson plan, developed in conjunction with Mr Shaw, designed to educate the nations's children in the false science that purports to prove that C)2 and CH4 are the MAIN cause of Global Warming/Climate Change and their release is because of anthropogenic sources. Mr Shaw is also the MP who released the Governments position on Crown-Maori relations by stating that the Maori never ceded governorship to the Crown but rather entered into a partnership that provides for co-governance of our nation, and that the Treaty of Waitangi has a set of Principles that must be adhered to by all citizens and residents. And now we have a leader of a party that attracted less than 7% of the party vote, dictating that unless approval is given to provide $12M to a school that actively supports the Green-Party's tenet of ecology before economy, then he would hold up the approval of other "shovel-ready" projects that will supposedly assist in offsetting the unemployment created by the COVID-19 "crisis" (perhaps more correctly called miss-management). Mr Shaw has clearly proven himself to be driven by dogma and almost religious belief, that what is good for the Greens as interpreted by him and his co-leader, is certainly the BEST OPTION for our Country. Who is the Servant – clearly as with all Marxist tenets, the proletariat and not the "elected" Troika wo are more equal than all others. If he packed his bag now it would not be soon enough! | Michael |
| One must believe that in a transparent Green Party the acts undertaken by the Green Co-leader must have been known or reasonably should be known by all the front line leadership of the Party, the leadership which has endorsed and is thus complicit with Minister Shaw. Why not require the whole front line of the Green Party to resign. Oh don't worry, They wont find that much integrity before October 17th So let us as a Nation help them out, or Just put them out. | Richard |
| He's an imbecile. His head is stuck up his rectum. How could the public trust his judgement to run the country. Resign now and take your dimwit mates with you. | Peter |
| He has no other option. He must resign..now. | Jono |
| | |
| --- | --- |
| Absolutely James Shaw should resign – what a shocker he is! | Fred |
| Who in their right mind would give a private school catering for the world's richest elite $12 million of taxpayer funding? | Jason |
| In trying to blackmail the government the Green Party co-leader has demonstrated how unsuitable he is for office. He should resign not only as co-leader but from Parliament. | Roger |
| What planet are the Greens on??? No-one in their right mind would use taxpayers' money to fund that school. | William |
| James Shaw is a disgrace. He is bringing parliament into disrepute, and is trashing the Green Party brand. He must go. | Bronwyn |