November 8, 2015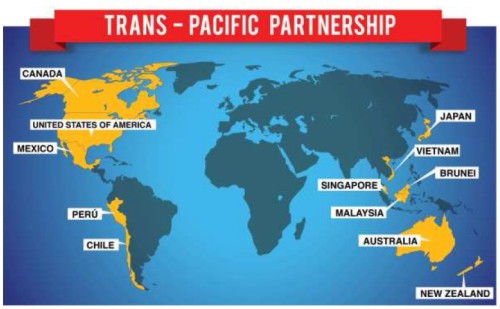 The text of the Trans-Pacific Partnership Agreement, a 12-country trade deal between New Zealand, Australia, Brunei, Canada, Chile, Japan, Malaysia, Mexico, Peru, Singapore, the US, and Vietnam, was released last week. After years of protest, TPP opponents have now gone quiet – it appears that scaremongering no longer works when the facts are publicly available.
Even Labour's opposition now seems ridiculous, more so as they initiated the TPP. To now oppose New Zealand being involved in the biggest trade deal in history – giving Kiwi businesses preferential access to 40 percent of global trade and 800 million consumers – is astonishingly short sighted.
In his conference speech on Sunday, Labour Leader Andrew Little compounded his party's predicament by vowing to fight against the TPP: "The National Government has signed us up to a clause that says we will not be able to make laws restricting the sale of land or housing to non-resident foreigners. That commitment limits what our democratically elected representatives in parliament can do. So, I'm telling you, when it comes to undermining our democracy and our sovereignty in the TPPA, I am totally opposed and I will fight with every fibre in my body to stop it, to resist it, to make sure it never happens in New Zealand."
The problem for Mr Little is that well before his speech, Trade Minister Tim Groser had explained that while New Zealand's restrictions on the sale of sensitive land and farm land to foreigners did not include houses, he had negotiated the right for future New Zealand Governments to set stamp duties at higher rates for non-resident house-buyers – if placed high enough, the tax would have the same effect as a ban.
Essentially, the TPP will provide New Zealand businesses with a platform to build on the $20 billion of goods and $8 billion of services exported to member countries in 2014 – adding an estimated $2.7 billion a year to New Zealand's GDP by 2030. This will not only benefit the business sector directly, but all New Zealanders, through higher tax revenues to fund better health, education, and other social services.
It has long been considered that the success of the TPP hinges on the approval of the US. That came one step closer last week, when President Barack Obama informed Congress that he intends to sign the agreement. Under the rules of the trade promotion authority, the President must now wait 90 days for the deal to be reviewed to determine whether it will meet their approval.
In a release from the White House, the President claimed the deal will not only generate significant opportunities for US businesses, but will also lift standards in member countries: The TPP includes, "the strongest labour standards in history, from requiring a minimum wage and worker safety regulations to prohibiting child labour and forced labour. It also includes the strongest environmental commitments in history, requiring countries in one of the most biologically diverse areas on Earth to crack down on illegal wildlife trafficking, illegal logging, and illegal fishing. These standards are at the core of the agreement and are fully enforceable - which means we can bring trade sanctions against countries that don't step up their game."
Once the 90 days are over, if the US signs the agreement, all other partners are expected to meet to sign as well, paving the way for the entry into force of the TPP.
In New Zealand, once Cabinet has signed the TPP it will go through the Parliamentary treaty examination process. That means the text and a National Interest Analysis, setting out the advantages and disadvantages for the country, will be examined by the Foreign Affairs, Defence and Trade Select Committee, with the public invited to make submissions. Once this process is complete, the legislative changes required to implement TPP obligations will traverse their way through Parliament, including further select committee scrutiny.
Cabinet will only take 'binding treaty action', once all related legislation is passed.
The TPP is a complex agreement, with 30 Chapters, multiple annexes, and over 6,000 pages of text.
In summary, chapter 1, Initial Provisions and General Definitions, recognises the TPP can coexist with other international trade agreements between Parties.
Under chapter 2, Trade in Goods, TPP Parties agree to eliminate and reduce tariffs and other restrictions on industrial and agricultural goods. Over time, tariffs will be eliminated on 93 percent of New Zealand's trade with member countries, saving exporters $259 million each year and opening up massive new market opportunities.
Chapter 3, Textiles and Apparel, requires TPP Parties to eliminate most tariffs on textiles and apparel immediately, and on sensitive products over time.
Chapter 4, Rules of Origin, establishes a single set of rules of origin to define whether goods are eligible to receive TPP preferential tariff benefits.
Chapter 5, Customs Administration and Trade Facilitation, facilitates trade, by improving transparency in customs procedures to encourage smooth processing across borders, promoting regional TPP supply chains.
Chapter 6, Sanitary and Phytosanitary Measures, ensures transparent, non-discriminatory rules based on science, reaffirming TPP members' rights to protect human, animal or plant life or health in their countries.
Chapter 7, Technical Barriers to Trade, establishes transparent rules for developing technical TPP regulations and standards to reduce unnecessary barriers to trade.
Chapter 8, Trade Remedies, promotes transparency and due process through best practice remedies that do not affect the TPP Parties' rights and obligations under the WTO.
Chapter 9, Investment, establishes non-discriminatory investment policies that ensure basic rule of law protections, while ensuring member governments can achieve legitimate public policy objectives. In particular, it will increase investment in New Zealand by investors from other TPP countries promoting innovation, economic growth and the creation and retention of jobs.
Chapter 10, Cross-Border Trade in Services, ensures that, given the growing importance of the services trade to TPP countries, the sector will be fully liberalized. New Zealand sold $8.3 billion of services, like tourism, education, IT, consulting, engineering, accounting and other professional services, to member countries in 2014 – under the new agreement, this is expected to grow considerably.
Chapter 11, Financial Services, provides important cross-border and investment market access opportunities, while ensuring that Parties not only retain the ability to regulate financial markets and institutions, but also to take emergency measures in the event of a crisis. It will reduce the risk for New Zealanders investing in TPP countries.
Chapter 12, Temporary Entry for Business Persons, facilitates business visits between TPP countries by streamlining the application process.
Chapter 13, Telecommunications, encourages the free operation of market forces and commercial negotiations in the telecommunications sector of TPP countries.
Chapter 14, Electronic Commerce, ensures the free flow of the global information and data that drives the Internet and the digital economy in TPP countries – subject to legitimate public policy objectives such as personal information protection.
Chapter 15, Government Procurement, ensures government procurement markets are accessible through transparent, predictable, and non-discriminatory rules. This will lift the restrictions on New Zealand businesses seeking such contracts.
Chapter 16, Competition Policy, ensures fair competition in the region, through rules that prohibit anticompetitive, fraudulent, or deceptive commercial behaviour.
Chapter 17, State-Owned Enterprises and Designated Monopolies, establishes a framework of rules, to ensure SOEs and designated monopolies are commercially focussed and operate on a level playing field with private competitors – as they do in New Zealand. This will make it easier for New Zealand businesses to compete in TPP countries. The provisions do not apply to Fonterra, Pharmac, Vespri, district health boards, or crown research institutes.
Chapter 18, Intellectual Property, covers patents, trademarks, copyright, trade secrets, and other forms of intellectual property, making it easier for businesses to search, register, and protect IP rights in new markets. Where the new IP rules differ from New Zealand's preferred approach, some changes will be required.
In chapter 19, Labour, all TPP Parties recognise the importance of promoting internationally recognised labour rights.
In chapter 20, Environment, the TPP introduces comprehensive rules to reinforce environmental protection.
Chapter 21, Cooperation and Capacity Building, establishes a Committee that will ensure all Parties are able to take full advantage of the opportunities the TPP creates.
Chapter 22, Competitiveness and Business Facilitation, creates mechanisms to review the impact of the TPP on the competitiveness of member countries, through consultation with governments, business, and civil society, in order to deepen regional supply chains, assess progress, take advantage of new opportunities, and address challenges.
In chapter 23, Development, the TPP seeks to become a model for trade and economic integration, by ensuring all Parties benefit from the agreement, fully implement their commitments, and emerge as more prosperous societies with stronger markets.
Chapter 24, Small- and Medium-Sized Enterprises, focuses on ensuring small and medium sized businesses in member countries are able to share in the full benefits of the TPP.
Chapter 25 deals with Regulatory Coherence, to ensure an open, fair, and predictable regulatory environment for businesses operating across TPP markets.
Chapter 26, Transparency and Anti-Corruption, promotes the goal of strengthening good governance and reducing bribery and corruption. The TPP contains an annex on transparency and procedural fairness for pharmaceutical products and medical devices. While this will require PHARMAC to make some administrative changes to increase transparency, it will not change the model, nor its ability to prioritise spending and negotiate the best price for medicines with suppliers.
Chapter 27, Administrative and Institutional Provisions, establishes a Trans-Pacific Partnership Commission, composed of Ministers and senior government officials, to oversee the agreement and ensure that it remains relevant to the trade and investment challenges confronting Parties.
Chapter 28, Dispute Settlement, encourages Parties to expeditiously address disputes over the implementation of the TPP. The mechanism will protect New Zealand investors abroad while safeguarding the Government's ability to regulate for legitimate public policy purposes. It includes more safeguards than previous trade deals, including allowing the Government to rule out challenges over tobacco control measures.
Chapter 29, Exceptions, guarantees TPP Parties full rights to regulate in the public interest. This safeguards the New Zealand Government's ability to make policy in important areas like health, environment, taxation, and national security, as well as to continue to meet its obligations under the Treaty of Waitangi.
Chapter 30, Final Provisions, establishes a process by which the TPP will enter into force and can be amended, as well as the rules that enable other parties to join the TPP in the future, or withdraw.
This week's NZCPR Guest Commentator, former OECD Trade Leader Professor Crawford Falconer of Lincoln University, looks at the strategic significance of the TPP to global trade, and reflects on the omission of China:
"China and TPP were just not ready for each other. Demands on China in Investment, Intellectual Property and Services would have been impossible to meet. Conversely, the political environment in the US for accommodating Chinese market access could hardly have been worse."
He says the Chinese Leadership is well aware that major reform is needed – such changes as "opening up its inefficient services and state owned enterprise sectors, freeing up its investment regime and liberalising its capital account. It is not difficult to see – in fact it is stunningly obvious when you take a good look- that there is the making of a grand bargain here for China and its trading partners in the not too distant future."
Just as New Zealand led the TPP, and looks set to lead a trade deal with the European Union, Professor Falconer believes there is a huge opportunity for New Zealand to eventually bring China into the TPP alongside the US. I will leave the last word to him:
"New Zealand can and should play its honest broker role in bringing the giants together. After all, nothing less than the future of our national economic security is at issue.  All the more reason for strenuous efforts to be made on all sides at reinvigorating a long tradition of transparent and inclusive bipartisanship. Without it, our hand (and our prospects) in future processes will be materially diminished."
THIS WEEK'S POLL ASKS:
Given the Labour Party has traditionally supported free trade deals, is Andrew Little's opposition to the TPP sensible or misguided?

 *Poll comments are posted below.
*All NZCPR poll results can be seen in the Archive.

THIS WEEK'S POLL COMMENTS

| | |
| --- | --- |
| Labour is tying itself in knots – as usual …. | Dave |
| Andrew Little was the perfect Trade Union Official, he should have stayed there. | Athol |
| Totally misguided like Labour is itself. | Craig |
| As usual the labour party condems anything that is good for the country without offering an alternative. Is it no wonder the country has no respect for them. | John |
| From the time of the first trade deal NZ has with Australia, the financial and trade benefits have been abundantly clear. Of course there will be problems but all nations need to trade and any agreement that assists trade is there to be worked on and adjusted to suit the participants. This is just further Labour Party negativity. | Chris |
| | |
| --- | --- |
| I sometimes think that Misguided is his middle name. | Graham |
| By a Great Lack of forsight. | Barry |
| He is trying to play hard ball to make his party look good but any trade deal has economic benefits. | Ken |
| Andrew Little and the labour party are grasping at straws, believing that this stance will appeal to a fairly large block of the voting public, come election time. They will keep this debate going in fear of losing additional votes. | Barry |
| No wander the Labour party are so far behind in public support. Andrew Little need' s to fire all his think tank gurus and get back some credibility to the Labour party. | Wayne |
| Labour have lost the plot. | Neville |
| | |
| --- | --- |
| Little is misguided in most everything he does. That's what the "opposition" does and it is their DUTY to oppose everything, even if it makes them look like dicks. | Neil |
| The Labour Parliamentary wing and its supporters will sat and do anything to regain Parliamentary power. They have proved this regularly over the last 6 years, (ie the Electricity supplier share fiasco that Labour created), and they do not care at all about this Country or the People. They will say and do anything to attempt to regain Power,. Honesty, integrity and truth have no place in this corrupt Political organisation's philosophy ! Labour created the concept of TPP, built the base for negotiations, NOW want nothing to do with it ? ? HYPOCRISY on all levels. | Merv B |
| There is nothing richer in life than to be "free", by being in true democratic control of ones own sovereignty. An historically proven fact and the reason the First World came into being. If one loses freedom, reversal will occur. | George |
| What else would you expect from a n ex Trade Union official. | Jeff |
| The inequality we see today where the bottom 80% of society have 7% of societies wealth si the direct result of the flawed and discriminatory system which breed the suicide bombers and terrorists we see operate around the the world. This means the Muriel Newman the one eyed idealists that propagates the bullshit and crap through her site can never get ahead of where she is now through the system she advocates. Thats right hte system she believes so fervently in will keep her "poor" in real terms. That is stupidity and that will only be progressed under the TPPA whichis not for governments but for the top 10% who controll the worlds commerce. So keep our sovereign right and say no to the TPPA. | David |
| Acceptance is the only sensible course for NZ future trading relationships. Good summary of TPP. | Jim |
| The up side is a few more dollars income and the down side is the control and dictatorship of other major countries. | Peter |
| Interesting choice of words in the question, and "Misguided" is quite the wrong choice here. Andrew Little's opposition to the TPP is entirely politically motivated; therefore if his attempt is to win back former Labour supporters, arguably through guile and misinformation, then his stated opposition is politically sensible. Whilst died in the wool supporters may rally to his cause, one thing to be sure of is that New Zealanders are neither silly nor stupid and may well see his stance on this issue as disingenuous. How will he square this with Helen Clarke's apparent clear endorsement of TPP? Difficult times indeed for Andrew Little. | Peter |
| A man on borrowed time as Labour leader if there was anyone with ability to replace him. | Lee |
| It's opposition for opposition sake. | Carl |
| Page 1 of the TPPA says governments may not have monopolies which leaves ownership of water, power, property etc open for suing. | Tony |
| There could be disadvantages but they could be resolved over or we can pull out if not satisfied! | Theodorus |
| Labour are out of touch with the voting public, no real policies and are not really the opposition, therefore they will be out of govt. for 20 yrs., maybe forever. Andrew Little will never be Prime Minister. | Monica |
| | |
| --- | --- |
| He is picking the wrong issues on which to challenge the Government. | John |
| Sadly, because I like Andrew Little. | Alec |
| Like most of his statements, I guess the only positive is he has not changed his practice of taking unreasonable stances over the last 30 years that I'm aware of. | John |
| Little's policy is driven by jealousy. He will not accept reality. | Aunty Podes |
| Is Labour anti the TPP just to prove they are in opposition. | Elizabeth |
| Little is on a short sighted track.with no vision of the value to our country.  A step backwards I am afraid. | David |
| Once again the Labour party is concerned about existing jobs. people must be prepared to change into better jobs we have an advantage over other countries in the TPP Area. | Colin |
| Although details are now coming out it is not as open and clear as it should be. | Fog |
| Andrew Little is not arguing from a position of strength, not at all. The Labour Party, for it's sins, has a leader whose background lacks adequate depth and understanding of international issues, having been overly concerned in his time or era as a Trade Union leader. Your first three commentators quoted today have said it all, really, New Zealand could be a leader, a catalyst perhaps, and become quite a force in this economic progress if we are not held back by last century's thinking as demonstrated by the Labour leader and his cohorts. Please would they wake up to the broader picture and look forward, not back to the trading habits of the village green. Misguided is definitely the word, and maybe he could do a rethink ….or is that asking too much? | Maggie |
| Signing an unseen document is close to lunacy. | Simon |
| Opposition for opposition sake,no more no less!! Opposition has no business acumen to understand the benefits of the TPP! | Tony |
| In this trade deal. Jobs in New Zealand has come from this deal. If we lose jobs over seas it is not a sensible trade deal. We can not keep on losing jobs here. What will our young people being doing if more jobs are lost. | Robert |
| | |
| --- | --- |
| Trading is our life blood. | Gerhard |
| Still considers himself a trade unionist rather than a leader for a country. | Peter |
| As with any agreement there will be elements that are uncomfortable to embrace and elements that are highly desirable and easily accepted. Mr Little's opposition may be well intentioned but seems more like the Nats support it therefore Labour must try to defeat it. There seems to be little positive, logical and constructive thinking involved. | Michael |
| If it is to advance in business it becomes too complicated for Mr Little sorry but he just does not understand. | Warren |
| Andrew is new on the job. He has to learn the how and what of being partyleader and politician. Give him time to fall down on the job. | Johan |
| Andrew Little still has the mindset of his protectionist, Trade Union past. He's like his cousin – Chicken Little, who thought the sky was falling. | Geoff |
| Absolutely. | Colin |
| I think Andrew Little doesn't know which foot to put his left shoe on! | Stuart |
| Changes his( Labours) mind when it suits. | Ian |
| The TPP is beneficial for corporations in maximising profit at the cost of insignificant individuals. | Rowan |
| Get the feeling that the Labour party is desperate to find anything they can chuck at the govt – simply to score political points – and facts are like a certain American politician said , "An Inconvenient Truth." | Maurice |
| Labour just attack whatever NP does as a matter of principle. Labour has no credibility any more. | Leon |
| I'm beginning to think you are using Ashkenazi logic with your beliefs and they are not good please take off your rose tinted glasses. | John |
| Unfortunately for Labour, not a leader many can trust. | Ray |
| Opposition for the sake of it !!! | David |
| Labour is leading the scaremongering for political purposes. | Joan |
| Unbelievable but proves how fickle Labour and the Greens are. | Bryan |
| | |
| Hypocritical. | Paul |
| The facts speak for themselves. | Lance |
| I understand TPP had its origins under Jenny Shipley's watch, however Helen Clark continued to support it. Her comments along the lines of NZ would be mad not to be part of it sums it up nicely. Andrew little should get in behind it and allow "jobs jobs jobs" to be created. | Steve |
| Misguided – like most of his thinking…….. | Dave |
| The poor man has no idea of what he stands for. Changing his position seemingly randomly, he's like a straw in the wind. | Graham |
| Is this the guy who is going to take Labour into goverment and become primeminister ?? Yeah right……. Hahaha. | Chris |
| But, when a minister of the crown calls those who did voice an opposing opinion a pack of kids, besides pointing out he possibly is a pious pompous civil servant, then I am tending to think that there could be something in the small print. But free trade is what we need as long as we control our own destiny. | Sam |
| On current form Labour's is in opposition to everything National is doing! | Graeme |
| He needed more time to digest the implications of this agreement. | Bill |
| Living in a country that has had a free trade deal with the U.S. for several years I question any trade deal involving them. Even if you win which we have done on numerous occassions nothing changes. It is just one round of court cases after another. When dealing with the U.S. it is free trade only one way whien it is in their interests. | James |
| Typically labour destructive of inovation to world trade. | IAN |
| | |
| --- | --- |
| Labour's stand is short sighted. They are playing politics and don't have the best interest of the country at heart. | Brian |
| Andrew Little has been caught out over this one, but being a politician, he's not likely to want to back down. | Colleen |
| Free trade is the way of the future. Our whole parliament should be supporting it. | Simon |
| Labour was right to raise concerns, but the government has now addressed all of their issues of concern. They should move on. | Kerry |
| That's an interesting case Professor Falconer raises, where NZ could gain a real reputation as a trade deal broker. It follows on from the work that Mike Moore was doing at the WTO. | David |