May 11, 2014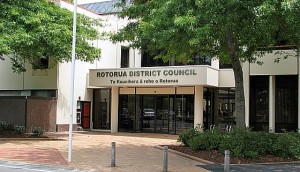 The Maori Party believes that population-based Maori seats in local body councils represent the absolute minimum in terms of meeting Treaty obligations. We believe that the Treaty partners—Maori and the Crown—should be pursuing opportunities to debate new forms of governance and other means by which we may share political power. Democracy is more than one person, one vote. Democracy is to be actively involved in the matters of one's nation and community.
– Pita Sharples, Parliament 2007[1]
All around the country corporate iwi are moving in on local government to protect their assets and progress their power sharing 50:50 co-governance goal. Last month it was New Plymouth, where a plan to appoint six iwi representatives with full voting rights was defeated by a council vote. This month, it is Rotorua, where the Mayor has been planning to establish a new iwi board with voting rights – without the knowledge of the community.
Under the Mayor's proposal a separate new board of 8 iwi representatives with full voting rights would be established, with its own secretariat, the right to form sub-committees, and the power to require the council to explain – in writing – any failure to accept their advice. Two iwi would be appointed to each council standing committee, except for the one dealing with resource management issues, where an equal number of iwi representatives would be appointed as councillors.
This week's NZCPR Guest Commentator is long standing Rotorua District Councillor, Mike McVicker – an ardent opponent of race based representation – who, in his article Race Based Electoral Privilege, explains:
"The issue of Maori seats around Council tables has certainly come to the fore in recent years, largely as a result of the fact that with Treaty settlements coming to an end, Iwi are casting their eyes around for what other resource, or political power they can now accumulate. This is in fact the case with Te Arawa right now, under the guise of improving relationships with the Rotorua District Council.
"It is worth pointing out that in recent years there has certainly been an uprising of young Maori activists increasingly demanding a voice around the Council Table. I have regularly responded via the local media that under no circumstances should this occur as of right, and suggested they should put their hand up at election time. Hence it was with great concern I learned at a Council workshop early this month that there was a proposal to appoint two unelected Maori to all Committee Meetings, with voting rights, plus an equal number of Maori to Councillors on the RMA Hearings Committee.
"What is somewhat different in this case however, is that unlike other Councils who have consulted their communities and consequently carried out a referendum, the Rotorua District Council clearly had every intention of pushing this significant constitutional change through by the end of May, to implement it by 1 July."
Cr McVicker is calling for a district-wide referendum so that locals can decide for themselves whether the proposal is in the best interest of their district.
One issue of particular concern is the Mayor's plan to pass control of the important resource management process from the democratically elected council to iwi – through a committee made up of equal numbers of iwi and councillors. While the councillors would clearly be accountable to ratepayers – to act in the best interests of the wider community – the appointed iwi representatives would have no accountability to anyone but themselves.
Furthermore, by setting up such a committee with 50 percent of the membership based on race, the important principle of proportionality has been ignored. This breaches section 19(1) of the New Zealand Bill of Rights Act 1990 – freedom from discrimination based on race.
The Attorney General pointed this out in respect of Maori Party MP Te Ururoa Flavell's private member's bill to make Maori seats on councils compulsory. The bill made use of a formula that would have increased Maori representation to a level greater than their proportion in the population as a whole. The Attorney General determined that the bill was discriminatory and in breach of the Bill of Rights:
"In a representative democracy, it is important to maintain approximately the same level of representation for everyone. The proposed formula would make the number of council members for Maori wards or constituencies disproportionately higher than the number of council members for general wards or constituencies in comparison to their respective populations. The Bill has a discriminatory impact on non-Maori by diluting their democratic participation in local authority elections."[2]
Essentially this means that the 50:50 co-governance 'power sharing' model favoured by iwi has a discriminatory impact on non-Maori and is in breach of the Bill of Rights. All government agencies established under this 50:50 framework should be disbanded.
Whichever way you look at it, race-based representation is an anathema to representative democracy. The Maori Party claims race-based rights through a Treaty 'partnership', but as Judge Anthony Willy, law lecturer David Round, and others have clearly shown, Treaty partnership rights do not exist in law.[3] They are a fallacy – a political construct invented to persuade politicians and the population at large, that the Treaty confers special sovereign rights that justify iwi being elevated to a position of power above all others.
With many iwi now topping the big business league tables in their regions, the time has surely come for race-based representation to be removed altogether, so iwi can stand as equals with all other New Zealanders. The first step would be to abolish the Maori seats and the Maori electoral roll – if you support this move, please sign our petition HERE. Ideally, this should be an election issue, so that voters know exactly where political parties stand on this important matter.
In 2006, an attempt was made to abolish race-based representation in local government by Bay of Plenty MP Tony Ryall through a private member's bill, Local Electoral (Repeal of Race-Based Representation) Amendment Bill. The Bill would have repealed the changes made by the Labour Government in 2001 – the Bay of Plenty Regional Council (Maori Constituency Empowering) Bill which created three Maori wards against the wishes of the local community, and the Local Electoral Act which contained provisions to introduce Maori seats in any local government area.
That Act allowed locals to challenge any Maori seat proposals through a binding referendum – if a petition to that effect won the support of 5 percent of locals. Although a few councils had attempted to introduce Maori seats over the years – including Nelson, Wairoa, and Hamilton – they had all been defeated by referendum, except for the Waikato Regional Council, which established two Maori seats around the time the community was busy opposing them on the Waikato District Council.
In his speech to Parliament on his Bill, MP Tony Ryall stated, "The National Party view, which we enunciated in our election policy at the last election, is that race-based representation is no longer needed in New Zealand, either at a parliamentary level or a local government level. We believe that it is divisive."
The Bill was defeated – only National, NZ First, and the Independent MP Gordon Copeland voted for it.
Attempts by iwi to control local government have clearly been going on for years. In some cases arrangements have been established through legislation, but in other cases, they have been introduced by councillors working closely with local iwi, often without a mandate from their wider community.
In Auckland, the Independent Maori Statutory Board was established through legislation in 2010, when the new super city was being formed. The Board of nine members has a secretariat of eleven staff and a budget of $2.6 million. Two members of the Board with full voting rights, sit on each of the Auckland Council's standing committees dealing with the management of the region's natural and physical resources.
Since its inception, this Board has never been far from controversy. Aucklanders overwhelmingly opposed its establishment, and there was a huge public outcry over the $3.4 million being sought in running costs. The Board made headline news around the world in 2011 when it objected that building a $2.4 billion rail tunnel in central Auckland might disturb Horotiu, the taniwha that they claimed lived under the Town Hall. In 2012, the Board demanded the council spend a massive $30 million a year on improving the 'wellbeing' of Maori. More recently the Board has been working with 19 Auckland iwi to ensure that in the proposed unitary plan, sites of significance to Maori are given "protected" status, thereby enabling iwi to become active participants in the resource consent process. As a result – and to the great consternation of locals – the number of such sites identified on maps, has risen from 61 to over 3,600, with, apparently, many more in the pipeline. With previous councils having refused to recognise that most of these sites needed protected status, there is clearly a need for a process of independent verification before they are notified on maps, in order to protect the property rights of Auckland ratepayers.
Despite the public outrage and the controversies, the Independent Maori Statutory Board has become a model for the Local Government Commission, when dealing with requests for amalgamation. To date only two such proposals are being considered – in Northland and the Hawke's Bay – and the Commission has recommended virtually identical structures for each, comprising super councils, community boards, and Independent Maori Statutory Boards.
In the Hawke's Bay, the demands by local iwi for a stronger voice on council came through their Treaty of Waitangi claims settlement process. Although the Hawke's Bay Regional Planning Committee has been operating since 2011, its legislation was only tabled in Parliament last month. With the Bill, which gives unelected iwi voting rights on council committees and incorporates a discriminatory 50:50 power sharing arrangement, now in front of Parliament, concerned New Zealanders will have an opportunity to make a submission to the select committee, once the Bill has had its first reading.
The Wellington Regional Council's Natural Resource Management Committee, is also based on the discriminatory 50:50 power-sharing model, with seven councillors and seven iwi representatives with full voting rights overseeing the council's resource management regulatory responsibilities. In 2013, another iwi committee was established with the result that two iwi members with full voting rights have now been appointed to each of the council's standing committees.
The point is that representative democracy is fundamentally compromised whenever power is shared. When half of a council's power is captured by interests that are not only unelected and unaccountable, but race-based as well, the discriminatory impact on non-Maori raises the fundamental question of whether this form of representative democracy is legitimate at all.
I will leave the last words to Councillor McVicker: "Since I released the information about the proposals, and incurred the Mayor's wrath, the support from both Rotorua, and around the country has been amazing. There is clearly a huge groundswell of opinion throughout the country that is saying enough is enough. The time has come for the people of Rotorua, and New Zealand to register their stand on such an important issue as this, as if Iwi succeed in changing the long held principal of one person one vote, such 'reserved seats' around the Council table will become an anathema to democracy".
*To support our call to abolish race-based representation, please sign our petition HERE. 
THIS WEEK'S POLL ASKS:
 Do you believe that local government 50:50 race-based power sharing arrangements are discriminatory?
Click HERE to see all NZCPR poll results
FOOTNOTES:
1. Pita Sharples, Local Electoral (Repeal of Race-Based Representation) Amendment Bill
2. Hon Chris Finlayson, Report of the Attorney General on the Local Electoral (Maori Representation) Amendment Bill
3. Judge Anthony Willy, Sovereignty and the Treaty of Waitangi