April 24, 2016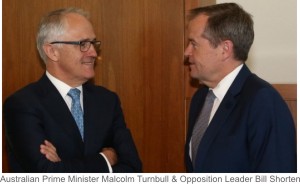 Australian Prime Minister Malcolm Turnbull says militant trade unions are sapping productivity in the building industry and hampering growth. Yet when he tried to pass legislation to curb union power, the Senate blocked his bills. As a result, he intends to trigger a double dissolution election to be held on July 2nd.
There have only been six double dissolution elections in Australia's history. The mechanism, which is set out in their Constitution, is designed to resolve conflicts between the two Houses of Parliament. If a bill has passed the House of Representatives but the Senate rejects it on two occasions – with a period of at least three months between each attempt – the Government can request the Governor-General to dissolve both Houses and hold a double-dissolution election.
This means that all 150 seats in the House of Representatives and all 76 Senate seats will be contested – compared with a "normal" three-yearly election, where all of the House of Representatives seats are vacated, but only half the Senate seats from the six states (senators are elected for a six-year term).
The idea is that a new election might return the Government a Senate majority to end the deadlock. However, if that's not the case, and the 'trigger' bill is again rejected by the Senate, the Government can ask the Governor-General to convene a joint sitting of the House of Representatives and the Senate to consider the bill. Since the ruling party will usually have a majority in the Lower House, which has twice as many MPs as Senators, a joint sitting is likely to give the Government the numbers needed to pass the legislation.
Timing is crucial. Under Section 57 of the Constitution, a double-dissolution election cannot take place in the final six months of a term of a Parliament. Since the current Parliament first sat on November 12, 2013, the House's three-year term expires on November 11 2016. That means that the last day on which a double-dissolution election can be called is May 11.
In preparation, the Budget has already been moved forward to May 3 to allow time for it to be passed before the election is called and Parliament is dissolved.
The legislation at the heart of this controversy is a bill to re-instate the Australian Building and Construction Commission, and a Registered Organisations bill.
The Howard Government established the Australian Building and Construction Commission in 2005, to police the building industry and prevent unlawful industrial action. At that time, the number of days being lost to industrial action in the construction sector was five times greater than the average of all other industries. Once the Commission was established, this fell to double the rate, but when it was abolished by the Gillard Labor Government in 2012, the number of days lost jumped back up to four times the all-industries average.
With delays in construction increasing the cost of building, the Prime Minister wants to re-establish the Commission as a watchdog for construction unions, with enhanced powers of investigation and the authority to clamp down on unlawful pickets.
The second bill rejected by the Senate, the Registered Organisations bill, would introduce an independent watchdog – the Registered Organisations Commission – to regulate unions and employer associations. With enhanced investigation and information-gathering powers, it would police the unions through increased disclosure and reporting requirements, as well as through stronger penalties for officials who breach their duties.
The Australian Labor Party, which has been described as "a prisoner of the unions", is vigorously opposing any attempts by the Government to curb union power.
The Party is said to have changed little since it was established in 1891. Most union leaders still view the Party as a union subsidiary, since they select half of the delegates to the party's state conferences, and through votes from the floor, control policymaking, the appointment of party officials, and candidate selection. Once elected into office, a Labor Government is expected to appoint unionists to plum positions on government boards, committees and overseas delegations.
While trade union membership in Australia has plummeted nationally to just 15 percent of the workforce, union power within the Labor Party has grown. Half of all MPs and Senators have a union background, and more than half of the front bench is made up of former union officials.
During the forthcoming election, the unions are expected to spend around $50 million effectively promoting Labor. Their activists are reported to already be working in marginal seats.
Commentators are saying that Malcolm Turnbull will try to make the election about union power in the workplace and union influence in the Labor Party. They believe that Labor is extremely vulnerable on this issue, more so since the Royal Commission into Trade Union Governance and Corruption – established by the Abbott Government in 2014 – found evidence of systemic corruption and criminality throughout the union movement.
While Labor Leader Bill Shorten, an ex-union boss, believes the party's strong association with the unions is an electoral asset rather than a liability, voters are likely to be wary of any government that intends to increase the influence of the unions.
During the election campaign, Malcom Turnbull, a businessman and investor turned PM, is expected to preach fiscal restraint and promote the benefits of a market economy, as the country makes its slow transition away from a reliance on mining.
Bill Shorten, however, is expected to focus on a range of populist issues, including a major campaign against the trading banks.
Labor has gained a great deal of traction by attacking Australia's banking sector – so much so, that it is now pledging to hold a Royal Commission into banks and financial services if they win the election.
One wonders whether the popularity of the Australian Labor Party's anti-bank campaign is the reason why the New Zealand Labour Party leader Andrew Little – also a former trade union boss with a caucus populated with former union members and a party partly controlled by the unions – issued two recent attacks on New Zealand's banking sector. Is he so desperate for populist issues that he's trying to emulate his Australian counterpart and build anti-bank sentiment here in New Zealand?
This week's NZCPR Guest Commentator, John Third, a Director of the international advisory firm Guinness Gallagher Corporate Advisory, has been looking into the impact of the unions within Australia and New Zealand. He outlines how the "treachery of the largely communist trade union movement led to the deaths and suffering of many Australian and allied servicemen and women" during World War II, and goes on to say:
"The Left's willingness to wreck a free country at its time of gravest peril beggars belief. And they're still at it today in New Zealand. Today's unions make lofty claims to represent their members, while gouging them for funds to support (and control) the Labour Party – regardless of their members' political preferences. They see their job as to dream up and apply ever more costly handbrakes on business in the form of petty, politically correct regulations. In an age when employers and employees understand the value of communication and cooperation, today's union movement is as relevant as the wind-up telephone."
According to the latest figures from the Companies Office, union membership in New Zealand continues to decline from a high of 43.5 percent of the workforce in 1985, to 15.5 percent last year.
There were 137 registered trade unions in 2015, representing almost 360,000 members – more than half of whom are public servants. New Zealand's largest union is the Public Service Association with 59,741 members, followed by the Educational Institute with 47,676 members, and the Nurses' Organisation with 46,688 members.
With total union revenue in 2016 estimated to be a massive $180 million, the union movement remains an extremely powerful force in New Zealand today.
Through our history of British settlement, trade unions have played a central role in industrial relations over the years. But their glory days are now over.
In today's extremely competitive business environment, unions, which all too often prevent businesses from meeting the challenges of the global marketplace, no longer have a place. To survive, firms need to be increasingly flexible, competitive, and innovative – all things that are virtually impossible in a highly unionised workplace.
Research shows that unionised businesses have difficulty recruiting top employees, who don't want to work in an environment where seniority rather than performance is the basis of pay. By scaring off the best workers and protecting those who underperform, workplace productivity is generally lower than in non-union firms. In addition, the higher wages enjoyed by union workers, the exorbitant legal expenses and long delays associated with collective bargaining, and the inflexible union work rules and stringent job classifications that raise costs and render firms unable to meet the changing needs of the marketplace, typically result in business profits that are 10 to 15 percent lower than those in comparable non-unionised firms.
With reducing returns on investment, unionised businesses will usually respond by investing significantly less in capital and in research and development. The economic cost of this on business investment has been quantified as equivalent to a 33 percent increase in corporate income tax.
Under New Zealand's current employment law (specifically the Employment Relations Act 2000) a duty of "good faith" must prevail between the parties to an employment relationship – employers, employees, and unions. It is unlawful for employers to do anything that undermines a union. If unions operate in a workplace, new employees must be invited to join. Employers are required to collect union fees from employees and pass them on to the union. Union employees must be paid by the employer to attend at least two 2-hour union meetings a year. Union representatives have the right to enter the workplace.
But what is truly bizarre is that while a statutory duty of good faith is meant to underpin all dealings between employers and the unions – especially in relation to collective bargaining over pay and conditions – under the legislation, strikes are lawful.
The long-running Ports of Auckland strike showcased to the country the underhand tactics of the unions. Newspapers reported that union bullies were being accused of thuggery and intimidation, including threatening the wives and children of non-union workers.
The three-year dispute was triggered by a port company management plan in 2011 to introduce flexible rosters as a way of increasing their competitiveness and productivity. The union however, alleged flexible rosters would lead to a casualised workforce and they took strike action. At the time, union workers were said to average $91,000 for a 26-hour working week.
While the Port reported that striking wharfies had resulted in a loss of $28 million of revenue and trade over the first twelve months, they also claimed that flexible rosters were increasing productivity, with ships being handled 25 percent faster by their skeleton staff than unionised labour, "simply because we've got people who want to work".
Unions are a legacy of an age long gone. While in the early days, unions played an important role in protecting workers' rights, nowadays New Zealand workers have more than 14 Acts of Parliament to protect their rights, as well as a vast array of advisory groups and advocates.
What is crucial, is that in this day and age, Kiwi businesses have the freedom to improve their competitiveness and productivity in order to take full advantage of the increasing global trade opportunities that lie ahead. But entering new markets requires flexibility, innovation, and an ability to attract investment. If New Zealand's industrial relations laws are preventing this – through restrictive work practices that favour union power and control – then it is surely time that such statutory union privilege was removed.
THIS WEEK'S POLL ASKS:
Do you believe the influence of the unions in New Zealand is too great, about right, not great enough?
*Poll comments are posted below.
*All NZCPR poll results can be seen in the Archive.

THIS WEEK'S POLL COMMENTS
| | |
| --- | --- |
| Too political. Without unions, the labor party would not exist. | Mike |
| | |
| --- | --- |
| I feel that the parliamentary system should be free of any union influence. | Michael |
| Do not undermine union any more or we will have no protection. | Norm |
| Any influence by the outdated leftist unions is too much! | Bruce |
| In all the negotiations I was ever involved with there was never a collaborative stance taken by the Unions or Employers – it was entirely confrontational. Whilst the situation has moved from stand over tactics and attempted bullying (it would now seem to be more covert than overt), there is still a long way to go to complementary action for the betterment of all. | Michael |
| There are so many protections in place in N Z to ensure the safety and fair treatment of workers that unions are a waste of time. A relic of the dark ages. If you think that unions are pleasant law abiding people google The Teamsters Union and find out about the stand over tactics which these thugs employed, not for the total benefit of their members but to feather their own nests. | Mike |
| Always too much influence. | Hylton |
| Another parasitic, country damaging, left wing organisation. | Roy |
| Casualisation is a huge burden for lower paid workers. A worker must have predictable hours or attendence, be paid to be 'on call,, and be paid a living wage. | Huria |
| Unions are exactly why the Labour party is not the govt.. and it may never be again with their shocking backward behaviour. I am already never voting for them. | Monica |
| Unions will always have something of a place in New Zealand. There are workers who are not very articulate and who may feel threatened by their managers for reasons that may well vary from real to imagined. No doubt there are managers who exhibit stand over tactics to win their way and unions may be a natural foil to this type of behaviour. While the influence of unions has generally declined over the last few decades some industries will remain more unionised than others. Union bashing is popular at times and ultimately serves no productive purpose. A few decades ago I took a case against compulsory union membership and argued that at that time there were only two activities that citizens could do without a licence, own a cat and ride a bicycle. It was a gross exaggeration of course, but I made my point and won. I argued that being forced to join a union to get a job was tantamount to buying a licence to get a job. Let those who wish to join a union do so, If their activities become counter-productive they will become known for it and possibly adversely affect their incomes. So be it. For many, union membership will act as a comfort escape valve. Leave them alone! | Peter |
| If we do want New Zealand to progress, get rid of the unions. Union members pay their dues to keep the union bosses in power. | Johan |
| I still remember the days when the Seamans union used to strike on every public holiday, them and the warfies used to hold the country to ransom, not to mention the pilfering that was rampant. | Stevo |
| No where near the problem that it was before the reforms of the early 1990s, but obviously still sufficient to cause disruption to business, however, nurses and teachers do deserve better conditions. | Ron |
| IMO, there is a concerted plan to ensure that NZ workers do not received just payment for their efforts. A low economy does NOT serve the NZ society. | Isabel |
| In the last few years the business world has changed dramatically. Now employers and employees, as individuals or groups, MUST communicate and cooperate with each other if they want the business to thrive. This means working together as a team to get the best possible results for the business. Unions only see their role as making outlandish claims, that do not benefit the worker or the company. As an example look at the health and safety regulations now applied to the building industry that add huge extra costs to every new house. | Ernest |
| Unions can be good f properly supervised. Employers are dertermined to bring the unions to their knees and to hell with the workers who alone are not able to stand up for themselves. | Simon |
| I worked for a major NZ corporate in the 1990s. It was run on pure Business Roundtable lines. Senior management regarded staff as mere units of labour and hated unions. Not a happy place to work, but the unions managed to fend off some of the worst excesses. So how did it all go? After a decade of arrogance and aggression it went spectacularly broke thanks to mind boggling corporate incompetence. No one was held to account, taxpayers and the staff were left to sweep up the broken glass. I'm not convinced that the corporate world is much better now. | Brian |
| Need to use brains. | Barry |
| There has to be some balance in employment conditions. | Ross |
| Unions have a roll to play as there will always be the small number of "money at all costs" employers who remain blissfully unaware that people (ie customers and employees) are any business's greatest resource. Communication is the key and both parties (ie employers and employees) need to engage more efficiently and openly to reduce the need for and power of unions.. People before profit leads to bigger profits. I think anyone with at least a modicum of intelligence will be aware of this. | Hugh |
| However by their own actions they continue to alienate the people they profess to be protecting. This is unlikely to ever change. | john |
| The Unions are dead in the water in this country thanks to the party meant to represent the working class LABOUR. | Diane |
| The unions are now irrelevant, I was involved with the electrical trades union in the 70's. They were always conservative and practical. When I worked at NZ Steel [76-86] there were 12 Unions in a constant argy-bargy with management.. This was fixed with a ground-breaking agreement with Jim Knox FoL Chief. NZ Steel went on to win awards for industrial democracy and I became a senior manager. Most leading organisations are either union free or have sensible share-buying agreements. The most successful solution is worker shareholders and worker reps on Boards. I subsequently spent 7 Years with ICI/Dulux who removed all levels of supervision and elected Teams and Team Leaders. 4 levels of management disappeared. The current government has done little to improve industrial matters as there is a lack of understanding of employee relations. The make-up of Parliament does not reflect the general population! There are not enough technical and practical MPs. There are far too many MPs per se. Cut the number in half and up-skill members with training to minimum standards to be set by an advisory board. | David |
| The unions days are long gone. They need to be made illegal. | Ronmac |
| Having experienced union intimidation on several instances over the years, I consider that this is an area which needs ongoing watching and control. | Brian |
| Unions prevent workers from becoming slaves. Now employers hold the reins and workers are becoming more exploited by the day. | Don |
| | |
| --- | --- |
| The Senate in AUS is an independent house of review for the people. It is not a rubber stamp instrument for any government. As the Turnbull Government has discovered. At the next election – It is likely that the Turnbull Government will be returned with a lesser majority in both houses. Possibly losing 3 Senators and 12-17 MP's in the lower house with the balance of power being held with the Independents %u2013 as before. Even with both houses voting together after the next election they will not be able to corner the average worker and attack individual rights for any reason. The silent majority Voter is finally waking up to Politicians and political parties using any excuse to abuse democratic principles to grab more power for vested interest political gain. They are trying to emulate the Chinese doctrine which to them is more successful! You will notice that Turnbull travelled to China and gained the world stage to kid the AUS Voter into believing that the Chinese political doctrine is superior to the freedom of association that our democracies have in place. All these antics have been unsuccessful in swaying a distrustful electorate. Both the Labour and Coalition are about equal in favour. With the Leader of the Opposition being favoured at 17% and the PM being a miserable 22%. No-one believes that these crooks represent the national interest!!! Take a look at what is happening in the USA. Trump gets rocketed for being the problem when its is the people who are driving his success %u2013 he is the solution to a failed political culture and may assist massive change that is badly needed for the advancement of the national interest. New Zealand has acceptable choice that permits a worker to join or not to join a union. The authorities that monitor the workforce are efficient and a path to the Employment Relations Authority etc is within reach for the individual. It is not the Unions in AUS or NZ that are the problem it is the policies of government itself!!! | Frederick |
| I used to see some unions as being good guys who were only looking after their individually weak members. Even at that time I could see very clearly that some unions, especially those on the waterfront (I include the seamen's union in that) were bully boys without scruples who exploited their position to obtain outrageous rewards and conditions. Since then, over a period of more than 50 years, I have been saddened to see more and more unions in this latter category. | Robin |
| Pommie union influence has been a negative influence in NZ for far too long. Time to move on so we may become more productive | Bill |
| What a crappy article which is tantamount to saying that anyone who goes to a mosque is a fundamentalist and potential terrorist. If you are going to make an argument keep it factual and reasoned. While there are surely some trade unionists that still believe in heavy handed tactics there are far more who operate responsibly with the sole interest of their members the prime objective. In today's world of an increasing gap between the wealthy and the poor trade unions are increasingly essential in looking after workers. I have been a trade unionist all my working life and also an employer who would encourage everyone to join a union. | Phil |
| Times have changed | Elsa |
| We are, along with Aussies and poms are, the only western races that are crippled by the union/ socialist/communist movements applied to our highly unionized workplace.The ideology speaks for itself, we will never be competitive while we give them more rope to hang ourselves. | Ced |
| While you have the public servants, School teachers & hospital workers guided by the unions you will get no where. get rid of then then you could pay all that staff more money. | Geoff |
| In today's world they are a relic from the past. | Frank |
| I was forced to join the PSA while working in Turangi during the 1970,s.. That was in the days of Ken Douglas and co.There was a stop work meeting and they wanted to go out on strike ,they had a division vote , out of 1000 , 6 of us voted NO. I went to work , my immediate boss never spoket to again unless was absolutely forced to. He was Union from the UK. | Richard |
| Maybe slightly too great, but much better than the Boilermakers' days | Mark |
| Too great in the public sector and who pays their wages? we do | Rod |
| more power | Owen |
| Always have been | David |
| They should all be closed down. There is NO need for them anymore. | William |
| A MILLSTONE ROUND OUR NECKS | Peter |
| | |
| --- | --- |
| As an employer I never dealt with unions and we had a happy workplace where I had more applications for jobs than I could deliver. There is no need for unions. Like everything else, the market forces of supply & demand should reign supreme. I.e. bad employers simply would not attract staff, etc. | Geoff |
| There are Union bashing puppets of Corporate greed. Only the business owners win without some form of restraint and society suffers as a whole with a poorer workforce. NZ had the closest recent gap in wealth and a better society when Unions were strongest. There were stupid strikes that let unions down but the overall effect was let of a wealth gap in society. This article lacks any empathy for worker to have protection from employers. | Warren |
| Good to see unions decreasing have had to much sway for a long time. | Russell |
| 17 year old school leaver can negotiate with her corporate employer; yea right? | John |
| Unions are great if not politicised. | Chris |
| Seems a lot of nurses only are NZNO members for insurance purposes. I am one of them. | Ido |
| I worked for one well known freezing works who don't treat their staff that well. They wouldn't even let my union rep on the property when they tried to short change me several hundred dollars when I left. I did get paid eventually. The firm I work for now tried to fire me unjustly some years ago. I had no union support at the time and only just managed to retain my job. Now I am in a union and different job, and wouldn't be without the union. They support me and advise me as employer difficulties are still ongoing. | Ray |
| Dinosaurs!! | Peter |
| Their days are over if this country wants to compete internationally. | Ian |
| Has always been the case. | Dave |
| The unions especially those representing the Public sector are slowing the business of the country down. Many public service paper pushers would not survive in a competitive world. | Colin |
| Unions help workers talk to the bosses and make the work place better for the workers. | George |
| Workers have rights and need protection from unscrupulous employers who just want more bang for their buck. | Sue |
| It varies between different industries. | Jonathan |
| Just get rid of the lazy Dicks, competition in the workplace has never been Stronger that goes for Employees and Employers. | Greg |
| Well passed their time. | Jim |
| Declining union membership probably says most of what we need to know in relation to political influence. It's time for the Labour Party to cut free from the trade union 'apron strings' and build a constituency that is more representative of NZers who are concerned about inequality and dysfunctional communities and families. | Bruce |
| Unions represent power for the elite, not the welfare of members. | Willy |
| Unions are not the severe threat that they were back in the early 50s when we had the waterfront strikes which held the country to ransom. The 60s and 70s as their power diminished we saw the Cook Strait ferry strikes, which always happened at the beginning of holiday travel times. The freezing workers still make trouble occasionally but more recently as the union membership diminished we have had fewer union troubles and it is pleasing that around 85% of workers are not under the iron fist of trade unions. It would be unlikely that unions would ever drop to zero so that the present level is probably about right. We still see remnants of our former unions attitudes in the Labour party politicians but they are mostly insignificant in the scheme of things. | Chris |
| Agree with much of the article. | William |
| A lot of people are too dumb to look after their own interests, they need a third party to oversee their employment affairs. | Bill |
| Unbalanced and only active in capivated work places.. Public service and Education. | Jeff |
| Real wages to the lower median of the working population (below $60,000pa) have been declining for a number of years in regard to purchasing power. The excuse of the economy not being able to support increases, or inflation was only 1-2 % last year are the reasons given but uncontrollable costs (rates, insurance, power etc) continue to increase, hidden costs e.g school requests, doctors fees, are sneaking in & once a person is employed their wages stay the same or have very small increases. I have talked to people who have not had a wage increase in 5 years others 9 years. I was an employer that believed in a fair days work for a fair days pay. Do your job properly & you were paid above minimum wages, slack on the job 7 you find a more accommodating employer. When unions were really strong they screwed the employers, the government changed the rules & now unethical employers are screwing the workers. | Robert |
| I've seen it first hand. | Graeme |
| Being a union member should be a private matter as is being a member of a church, a football club or any other association. Companies should not HAVE to deduct fees or have to speak to them like it or not.Let the employee join and pay their subs if they wish. I would not go back to employing staff under the current rules. | Wayne |
| Thank your lucky stars it's far better in NZ than Oz, where it's a disaster. | Peter |
| Unions are self serving aiming to protect their own workers and not concerned about the rest if the work force, this has meant a lot of bullying by union members. In my work many years ago I had no option but to be a union member even though I didn't want to, I am glad that is not the case today and hope that never compulsory unionism never returns. | Audrey |
| The Australians are watching thier economy go down the drain. | Les |
| Unionistic attitudes encourage work practises that often distroys the businesses where their members are employed. | Alice |
| Unions have had there day, time to abolish. | Colin |
| | |
| --- | --- |
| Government control over people and the work place is not good. They have taken away people rights to much. | Robert |
| Far, far, far too great ! Out of any and all proportion to any claimed benefit that is at all possible to be substantiated. | Jim |
| There is great worker protection in legislation now and the union influence needs to be reduced considerably. | Roger |
| Try working without someone to guide unscrupulous managers in any trade. We would go backwards without unions. watch and learn. | Dorothy |
| I think we were heading the right direction before labor got back in again the last time and Helen gave them back half of their teeth. By now they would have been completely toothless. That's what needs doing again. | Graeme |
| The Education Unions in particular!! i.e. The re-invention of NZ history forced into in the curriculum; the force feeding of "save the planet" slogans and views without complementary points of view; the force feeding of the belief in "victimisation" for offenders and minority groups; the force feeding and privileging of "ethnic values" and the denegration of other ethnic values; the force feeding of the acceptance of instant gratification in all things being the norm; I could go on!! . | Andrew |
| There are a few employers who 'lay them selves open' and need a little 'guidance' sometimes when dealing with staff/labour. But having said that so many jobs have been lost in NZ to overseas because unions have forced wages to an untenable level for employers forcing closures. | Stuart |
| The figure speak for themselves. Is interesting to speculate just how high productivity would go without the unions | Maurice |
| Get rid of the unions they are hell bent on destroying the country in the name of workers rights and looking after their members and they dont give a dam about the hand that feeds and I am talking from experiance. | Clark |
| Worker influence should be directed towards more efficient and profitable outcome for all concerned. | Jim |
| Forty to fifty years ago, the power of the unions held the Western world to ransom, & destroyed the ability of free world to produce consumable products economically. As a consequence, we now import most of what we need from countries who's populations have very little freedom, while our own countries are left with far fewer productive jobs, for the available work-force. To avoid massive unemployment figures, successive governments have created not needed bureaucracies with men & woman employed to run around & tell the rest of us how to do every-thing that is useful. which adds even more costs to the productive jobs that remain. And still the Unions have learned nothing, & continue to demand even more. | A.G.R. |
| Zero hour contracts, people being obliged to sign agreements preventing them from taking up additional employment so they can survive and support them selves and family. Mighty pleased I was self employed and didn't have to dance with that. | Donald |
| Brilliant article. | Mike |
| Key at work again | Lance |
| New Zealand should be a 'Union Free country. | Ian |
| To suggest that Maori have any claims to water is scandalous | edward |
| Blood suckers !!!!! | Ross |
| History shows that unions of labour are as necessary and useful as are unions of business entities in a civilised society…work together instead of fighting. | Julian |
| trickle down does not work therefore some protection is required | grant |
| | |
| --- | --- |
| Their influence is too great by far. Unions should have no rights at all in law. They are just another vested interest group feathering their own nest! | Roger |
| It is ridiculous that unions interfere in the running of businesses. They seem hell bent on fleecing businesses until they go broke. They should have no special powers at all. | Kath |
| Get rid of them. | Simon |
| Unions do immense damage by spreading propaganda about employers. This sort of stuff is repeated in schools as well by the heavily unionised teachers. | John |
| The best workplaces are ones based on cooperation and mutual respect between employers and workers. But the unions don't want that as it would show their members that they are not needed. So they antagonise employers then make a big show of protecting workers. The unions should be abolished. They are now doing more harm than good. | Graeme |