View our latest NZCPR Weekly Newsletter …
– to receive this free newsletter each week by email click the button and register

Dear NZCPR Reader,
This week…
This week we review the funding promises that were made around Waitangi Day and explain why race-based initiative are not the answer to alleviating disadvantage, our NZCPR Guest Commentary is the speech that Dr Don Brash prepared but was not given the opportunity to deliver at Waitangi, and our poll asks whether you agree with Labour's use of race-based funding.
Last week…
In case you missed it, last week we reflected on how deliberate misrepresentations regarding the Treaty of Waitangi are being used to gain privilege HERE, and our NZCPR Guest Commentator Bob Edlin outlined not only the extent to which this Government was splashing the cash ahead of Waitangi Day, but also how serious constitutional changes are being made without informed public debate HERE.
Making a difference…
The NZCPR can only operate through the kind support of readers. In return for our newsletters, are you willing to help to keep us running? If you haven't supported us this year, your contribution is crucial – please click HERE to help.
Ensuring you receive our newsletters…
Please whitelist our newsletter mailing address – newsletter-bounces@nzcpr.com –to ensure they are delivered to you. Adding the address to your 'contacts' list will help. If your newsletter fails to arrive, it will have been blocked by your Internet Service Provider. However our latest newsletter can be viewed on our website here: https://www.nzcpr.com/newsletter.
Have Your Say…
For MP email addresses and other useful information, please visit our 'Have Your Say' page HERE.

Share our ideas…
Please feel free to share our newsletters with your contacts and social media. Anyone is welcome to register for the mailing list HERE.
Thank you for your on-going interest and support.
Warmest regards,

Dr Muriel Newman
NZCPR Founding Director
What's new on our Breaking Views blog…
Breaking Views is administered by the NZCPR – the views are those of the authors.
Each week we highlight just a selection of the many articles on our Breaking Views blog. Mole News outlining the build up of race-based privilege and the Global Warming Policy Foundation Newsletters opposing climate alarmism are published almost daily. You can subscribe to the Breaking Views RSS feed here: https://breakingviewsnz.blogspot.com/feeds/posts/default
NZCPR Weekly:
AOTEAROA NEW ZEALAND
By Dr Muriel Newman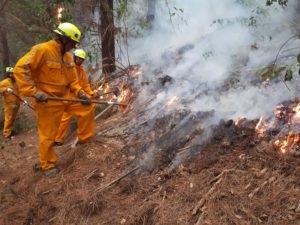 The bushfires in Nelson have been headline news for more than a week. Families watched nervously as their homes, animals and livelihoods were threatened or destroyed. Hundreds of firefighters from all around the country battled a blaze which was said to be one of the largest in New Zealand's history.
The fire, which started in Pigeon Valley the day before Waitangi Day, is thought to have been caused by a spark from a contractor ploughing stony ground. It quickly spread out of control in the tinder dry conditions in the area.
By 8am on Waitangi Day, a Civil Defence Emergency had been declared and residents were being asked to evacuate.
The Prime Minister visited the area the next day, acknowledging the difficulties locals faced: "I can only imagine how difficult it is to pack up what you can and to evacuate so I want to acknowledge the families who have had to do that – and I want to let you know we are here to understand how we can help in the days and weeks ahead."
She then announced that the Government was setting up a $20,000 Mayoral Relief Fund to help the community get back on its feet.
The initial reaction of many of those following developments would have been incredulity – $20,000 to support a community devastated by fire compared with pledges announced in the lead up to Waitangi Day of over $220 million to appease Maori.
After the PM's announcement Labour's public relations machine would have gone into overdrive. It didn't take long for the clarifications to begin to appear – the $20,000 was an "initial" pledge from the Government; the funds were in "addition" to other support from the Ministry of Social Development, Housing New Zealand and the Ministry for Primary Industries; a further $50,000 was available to help farmers and growers in the region…
But in that rare moment of clarity, before the Government's PR team kicked into action, the inequity of the Prime Minister's $20,000 funding promise to assist a distraught community, compared to the $220 million in political favours for Maori sent New Zealanders a clear message about this Government's priorities: appeasing Maori voters is the key to Labour's re-election and takes precedence; helping those in crisis is secondary.
Political commentator Karl du Fresne called Labour's $220 million spending promises 'pork-barrel politics': "Americans call this pork-barrel politics – the funding of local projects in the hope that voters will reward their benefactors at election time."
He goes on to explain, "Pork-barrelling is a traditional Labour weakness, but Winston Peters – perhaps taking his cue from Robert Muldoon, a socialist in National disguise and the man Peters appears to have modelled himself on – is favourably disposed to it too. The announcements will have played well in the regions and to Maori, especially in Northland, where Peters and Jones have their roots."
So what exactly will the $220 million of taxpayers' money pledged by the PM to appease Maori interests be used for?
Firstly, $100 million will be given in the form of grants and loans to the owners of multiply-owned Maori land, who can't get access to bank funding to develop their land. This appears to be a follow-on from the grants that Labour gave the last time they were in office to Maori home-owners to help them fix up their houses.
The Government has justified this latest initiative on the basis that a lack of capital is the major reason why so much Maori land is underutilised and so many Maori families are impoverished.
At the present time multiply-owned Maori land covers 5.5 percent of the land area of the country. There are more than 27,000 land titles and almost 3 million individual ownership interests. The average block size is just over 50 hectares and has over 100 owners.
Adding to the complications, more than half of all such blocks have no governance bodies, and much of the land is landlocked.
Successive government have attempted to reform the laws surrounding multiply-owned Maori land to enable it to be more readily used to generate wealth for the owners. However, reform proposals are always greeted with intense suspicion, including those most recently championed by the Maori Party under the previous National government.
Now, the Minister of Maori Development Nanaia Mahuta is proposing some limited changes including to the role of the Maori Land Court – based to some extent on the changes proposed by the former government.
Since the Maori land ownership succession process currently takes 12 times longer on average than for general land – mostly because every change has to be approved by a Maori Land Court Judge – by enabling a court registrar to carry out uncontested succession applications, the Minister expects to expedite the process.
But the bigger concerns involve the ownership structure of multiply owned Maori land. In a Maori Appellate Court decision, two owners of a block of land who derived revenue from the commercial use of the land to the exclusion of the other owners, were ordered to allocate the revenue that they had received beyond their share to those other owners.
It was a similar story with a decision of the Maori Land Court. They ruled that a minority owner of multiply-owned Maori land was within his rights to grant a licence to a commercial third party to use the land without the consent of the remaining co-owners, since the area of land he was using equated to his own shareholding. So while the trespass action brought by the other owners was not upheld, concerns were raised over whether the income he received amounted to more than he was entitled to, based on his shareholding in the land.
In other words, undertaking any business activity on multiply-owned Maori land can be fraught with conflict. That means that unless the ownership structure of the land is properly set up and administered by either a Maori land trust or an incorporation, complex problems may arise.
In light of these difficulties, it is questionable whether Labour's policy of throwing money at land owners will make it easier for those who are entrepreneurial to create viable businesses, or whether proper reform is the only realistic way forward.
Of the rest of the $220 million that was promised in the lead up to Waitangi Day, $20 million was earmarked for investment in the Kaipara region – largely upgrading roading infrastructure and developing iwi business opportunities, $21 million is being set aside for digital 'hubs' in communities including every marae, and $82 million has been set aside for jobs programmes, to get young unskilled Maori "off the couch".
While a main objective of funding from the Provincial Growth Fund is to create jobs and boost the regions, Newshub recently reported that although almost $26.6 million of its $3 billion fund has been spent, only 54 jobs have been created – that's a cost of around $484,000 per job!
While splashing the cash won support from Maori leaders at Waitangi, it is unlikely to help improve the situation faced by disadvantaged Maori families.
In fact, none of the race-based funding initiatives – including the billions of dollars in Treaty of Waitangi claims settlement funding – have made any real difference to the lives of disadvantaged Maori. You only have to walk down the main street of Huntly, which is in Tainui's heartland – the iwi corporation that settled its Treaty claim almost 25 years ago and now boasts a billion dollar asset base – to see the truth in that.
This is a point that Dr Don Brash, the former Governor of the Reserve Bank and leader of the National Party, attempted to make when he was invited by Te Ahikaaroa Trust chair Reuben Taipari to speak on the lower marae at Waitangi last week.
In spite of preparing an address and travelling to Waitangi, Dr Brash was not given the courtesy of being able to deliver his speech. Instead he was silenced by a protest orchestrated by the wife of the organiser, that guaranteed media headlines for what was otherwise a relatively peaceful and uneventful day.
Their protest sign read "No room for racism". Given the Oxford Dictionary defines racism as "Prejudice, discrimination, or antagonism directed against someone of a different race based on the belief that one's own race is superior", it is reasonable to conclude that it is the supporters of Maori supremacy who are the racists, not Dr Brash who is calling for equality.
In other words, New Zealanders who advocate for equal rights are not racists. And the sooner we have politicians in Parliament with the guts to stand up for equality, the sooner this country will be able to go forward, strong and united, as one people.
But for true equality, more needs to be done: New Zealand should follow the lead of countries like Sweden, Austria, Belgium, and France, as well as many US States, by removing all references to race from our Statute books.
The speech that Dr Brash couldn't give is reproduced here as this week's NZCPR Guest Commentary. He explains why race-based entitlements have not lifted outcomes for disadvantaged Maori:
"There must be at least serious doubt whether the positive discrimination intended by successive governments over the last half century to assist the economic status of Maori New Zealanders has actually worked as intended…
"Not only have most Maori not benefited at all from this growing affirmative action, many have been positively harmed by it.
"Why? Because it has led many Maori to assume that other taxpayers owe them a living, and that in due course other taxpayers will have to discharge that obligation. What on earth could be more demotivating than to be told, again and again, that your poor education, your poor housing, your low income or inability to get a job is not your responsibility at all – it's the fault of a grossly unfair system arising from injustices done to some of your great-grandparents by some of your other great-grandparents?
"It is surely not in the least surprising that too many people with a Maori ancestor are unemployed and poorly educated – the present environment positively encourages helplessness."
Dr Brash is right. Taking a broader view, it is socialist governments that encourage dependency on the State, while conservative governments tend to take the opposite approach by promoting independence and personal responsibility.
The reality is that Maori disadvantage is no different from the disadvantage suffered by other New Zealanders. Much can be attributed to poor lifestyle choices – poor money management, poor education, and long-term dependency on welfare which, for over 40 years has rewarded single parents including teenagers for having children that they struggle to care for. The long-term effects on these children is scandalous, yet little has been done by successive governments to address the underlying causes of the problem.
In fact our Youth Courts are full of young people who are victims of Alcohol Syndrome Disorder because their mothers made bad choices when they were pregnant.
Maori children are the worst affected, not because their ancestors are Maori – but because of the choices their parents have made.
But the Prime Minister's message at Waitangi is that Maori disadvantage is due to differences between races – "our two houses", as she calls it. But by turning a convenient blind eye to the real causes of dependency, the Adern Labour Government will continue the cycle of government failure to make any real difference to the lives of those who would benefit the most from good policy.
The problem of course is that the PM's priority is to retain the electoral support of Maori voters. So she sees nothing wrong in entrenching Maori dependency and appeasing the Maori grievance industry, even if it means giving Maori $220 million, while Nelson's fire victims get $20,000.
THIS WEEK'S POLL ASKS:
Do you support Labour's use of race-based funding?

*Poll comments are posted at the end of the main article.

*All NZCPR poll results can be seen in the Archive.

NZCPR Guest Commentary:

WHERE TO NOW?
By Dr Don Brash

"Let me make one other point about the dangers of dependence. Many years ago, at the advent of the modern welfare state, Sir Apirana Ngata, in my opinion one of New Zealand's greatest Maori leaders – and a man I was privileged to put on New Zealand's $50 bank note – warned of the serious damage which the welfare state would do to Maori society. He believed that readily available welfare would erode the proud tradition of independence which most Maori had. And I believe his warning has been amply borne out, with a disproportionately high proportion of those on the unemployment benefit, and on the single parent benefit, being Maori.
"Decades after he gave that warning, when I was Governor of the Reserve Bank, I met with a prominent kuia at her request. She wanted to talk about Maori unemployment. After a very long discussion, I finally asked her what she would want me to do if by some chance I found myself in the position of a benevolent dictator. Without hesitating she replied 'Abolish the dole with effect from the first of January'.
"I thought at first she was joking, and asked her to explain herself. She said that 'Unfortunately too many of my people don't have many skills. They can't live well on the dole but with three or four of them in the same house all getting the dole, and a few under the table cash jobs, they can live adequately on the dole, and that's a disaster.'
"She was deadly serious, and in a sense was simply echoing what Sir Apirana Ngata said 80 years ago…"
*To read the full article, please visit the NZCPR website.

___________________________________________________
New Zealand Centre for Political Research
PO Box 984 WHANGAREI
Ph: 09-434-3836, Fax: 09 434-4224, Mob: 021-800-111
muriel@nzcpr.com
www.nzcpr.com

To unsubscribe from the newsletter, send this email – but don't forget to reply to the confirmation message.
If you need help unsubscribing, please email admin@nzcpr.com with "REMOVE" in the subject line.
To change your address please email admin@nzcpr.com with "ADDRESS CHANGE" in the
subject line, advising the new address to be added and the old one to be removed.