September 19, 2021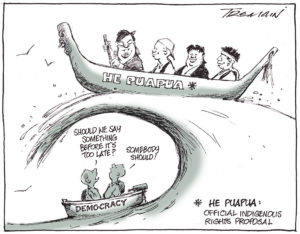 Last week, the Maori Party launched a petition to Parliament to "Change the country's official name to Aotearoa" and to "officially restore the Te Reo Maori names for all towns, cities and place names".
On the one hand they argued that officially changing New Zealand's name to its "indigenous" version would "unite the country", while on the other they claimed, "Tangata whenua are sick to death of our ancestral names being mangled, bastardised, and ignored."
They seem to have ignored the fact that Aotearoa, was never the 'indigenous' name of this country.
Having had no original Maori name, the Dutch explorer Abel Tasman first named the country in 1642, with Captain James Cook anglicising it to New Zealand in 1769.
When the Treaty of Waitangi was drafted, the Maori version Niu Tireni was used.
While the name Aotearoa had been applied to the North Island, it was popularised for the whole country by the Englishman Percy Smith writing in school journals in the early 1900s.
The New Zealand Geographic Board has the authority to change place names and landmarks, but changing the name of the country is the responsibility of the government.
Asked whether the Government would support the Maori Party's petition, Prime Minister Jacinda Ardern said, "We've got no plans to go through an official process to change the name of New Zealand". She indicated her support for unofficial change: "I think there is a natural change in usage, that people are picking up and using and I would encourage that… I do like the fact it is increasingly happening regardless."
The Prime Minister will not put the matter to a referendum because most New Zealanders believe the name of the country should remain New Zealand. Place names should also remain as they are until local communities say otherwise.
If you would like to register your support for the name of our country remaining New Zealand, please sign our NZCPR petition HERE.
Changing the name of our country by stealth is part of a wider agenda being orchestrated by the Ardern Government to replace democracy with tribal rule by 2040 – the 200-year anniversary of the Treaty of Waitangi.
Called He Puapua, this blueprint for Maori separatism is being introduced under the guise of implementing the United Nations Declaration on the Rights of Indigenous Peoples.
He Puapua was developed in 2019, but the final report was deliberately withheld from Labour's coalition partner New Zealand First during election year. According to the former Deputy Prime Minister Winston Peters, "He Puapua was never shown to one NZ First Cabinet Minister. This report was deliberately suppressed… this report is a recipe for Maori separatism, they knew it and that's why they suppressed it till after the election. It was a gesture of ingratitude and bad faith."
The constitutional authority of democratic governments to exercise their powers and fulfil their responsibilities arise from the consent of the people. By deliberately concealing He Puapua from voters during the election campaign, Jacinda Ardern has abused the democractic authority given to her.
A heavily redacted copy of He Puapua was discovered by the NZCPR in early March on the Ministry of Maori Development's website. The full version of the report was located shortly afterwards and is posted on the NZCPR website HERE.
He Puapua revealed waves of radical reforms that are all part of the plan are being imposed onto the country – including replacing New Zealand with Aotearoa, substituting Maori words for English in official communications, re-writing school history, awarding 5 percent of government contracts to Maori businesses, and indoctrinating government employees through compulsory cultural competency training.
With the introduction of 50:50 co-governance – and the power of veto – a key goal of He Puapua, Labour's abolition of Maori ward petition rights under Parliamentary urgency in February can be seen as the first step towards Maori control of local government.
Maori control of water, with a royalty paid to Maori tribes, is another key goal specified in He Puapua, and the Government's Three Waters proposal has been designed to deliver that objective – by giving iwi a controlling interest in the new water entities.
The current restructuring of the entire health sector, including the abolition of community control of local health services, has been designed to deliver the He Puapua goal of a separate Maori health authority – with the power of veto over the entire health system.
In spite of the Covid crisis putting enormous pressure on the health system, the government is pressing ahead with their divisive health reforms. Just this week they announced their new health agency appointments, with Cabinet Minister Nanaia Mahuta's sister Tipa Mahuta taking a top job as co-chair of the Maori Health Authority.
Underpinning He Puapua is the claim that the Treaty of Waitangi guaranteed Maori an equal "partnership" with the Crown. But this partnership claim is a lie – a political construct designed to advance Maori sovereignty.
Under normal conditions, one could expect the media to hold the Government to account and investigate the legitimacy of these fabricated partnership claims – especially when the stakes involve the transfer of the ownership and control of significant public resources.
But that media scrutiny no longer exists in New Zealand – at least as far as much of the mainstream media is concerned. The journalistic standards of fairness, accuracy, and balance have been compromised as a condition of access to the Ardern Government's Public Interest Journalism Fund.
This $55 million fund is only available to news organisations that promote the Treaty partnership fiction. It's no wonder that He Puapua has received little investigative scrutiny from our local media.
Last week, however, Sky News Australia contacted the NZCPR to discuss the He Puapua agenda. The show's host, broadcaster Andrew Bolt, began our interview by expressing concern that Prime Minister Ardern's 'woke' politics are leading the country towards a form of 'apartheid': "Jacinda Ardern Prime Minister of New Zealand has been the poster child of the left for a couple of years now but what she is doing to New Zealand actually amazes me. In fact, it scares me. Be warned this is where woke politics is taking us all – to a form of apartheid." You can watch our interview HERE.
It seems extraordinary that New Zealanders are increasingly forced to turn to the Australian and other international media for any critical analysis of what is happening at home.
Following the Sky News screening, Newshub – a benefactor of the Government's media fund – published a 'fact check' of our interview. In summary, they pretty much agreed with everything that was said, but disagreed with things that were not said!
Political commentator Frank Newman (who last week reported on a MediaBias survey that found State funded TVNZ and Radio NZ had the most left-wing and pro-Labour bias, followed by Newshub) has fact-checked Newshub's fact-check of our Sky News interview, and concluded that while Newshub had confirmed the accuracy of the Bolt interview, it had itself made a number of factual errors.
In his comprehensive analysis – see HERE – Frank highlights the commitment of the New Zealand Media Council to 'Accuracy, Fairness and Balance' and notes, "As Newshub is a member of the NZ Media Council, I am sure there are many who look forward to it upholding those principles and providing a fair voice to those with a view that challenges the prevailing political narrative of the day."
It might be long wait!
Without a doubt, media bias is now a serious problem for New Zealand, as this week's NZCPR Guest Commentator business leader and former media boss Bruce Cotterill explains:
"A free and independent press is a critically important foundation to any democracy. Without it, governments can go unchecked and the rule of law will suffer. One only has to see the events in Hong Kong over the last two years to see the impact on a society where the influence of the press has been extinguished.
"Sadly, our media does not appear to be as independent and free as we should prefer… A quick look at the treatment dished out to the political elite by Sky News Australia highlights the inadequacy of our own journalistic inquiry and how accepting we Kiwi viewers and readers have become."
Unfortunately, things are getting worse.
With the controversial Three Waters reforms now in the news on a daily basis, where is the critical media inquiry into the rationale for a 50 percent controlling interest in these new water entities being passed to Maori corporations, who will no doubt be free to act in their own best interests?
Control of the other 50 percent will be contested by multiple councils seeking representation for their ratepayers who have funded these billion-dollar assets.
In one region, 22 councils will be competing for representation on six seats of their water authority board, while the other six seats will be given to local iwi.
These changes reverse more than 150 years of local council ownership of local water assets. Passing a half interest to Maori under a false notion that they have partnership rights is an outrage that is not being scrutinised by the media.
So, not only are our media failing to report issues in an accurate, fair, and balanced manner, but a purge now appears to be underway to "cancel" anyone expressing opinions contrary to the views of those who claim to be our "sole source of truth".
In January, we saw the axing of John Banks from Magic Radio for describing early Maori culture as 'stone age' (even though New Zealand was a stone age society without metal implements). Shortly after Magic's staunch defender of free speech, Sean Plunkett, was "cancelled".
Back in June, Magic Radio's breakfast host Peter Williams likened the Public Interest Journalism Fund, with its requirement to "actively promote" the Treaty partnership, to "something the Chinese Communist Party or Kim Jong Il would put in place" – and he concluded: "By the way, 'actively promoting' anything is just not journalism. I'd cut to the chase and call it propaganda."
Two weeks ago, Magic breakfast listeners heard Peter Williams sign off on a Friday with "see you Monday", only to be told on the Monday, that he had "retired".
Duncan Garner has gone from the AM Show, and Amanda Gillies and Mark Richardson will be out at the end of the year. As Sky host Andrew Bolt pointed out in our interview, it is a very dangerous time for New Zealand.
Broadcaster Sean Plunkett, however, is working on a new media platform that will stream live and provide balanced content of the kind that is now all too often lacking in our mainstream media.
In a recent interview, in which he explained, "I got cancelled – I got cancelled by wokism", he expressed grave concerns about the implications of government funding of the media: "There can be no doubt that organisations like Stuff, The Spinoff, Newshub are taking money that has strings attached, big heavy strings. And I don't see how you can have a news media you trust as a consumer, as a New Zealander, if someone is paying that organisation to change the way it talks to you and the stories it tells."
Journalist Graham Adams is also extremely concerned about the damage to democracy caused when independent media become puppets for government propaganda, and he suggests: "As a result of such widespread cynicism, one of the proudest boasts for any media organisation is fast becoming the claim it hasn't received any government funding."
Let's make no mistake about the situation we face. Under the cover of the Covid crisis, the government is pushing ahead with a range of reforms that will fundamentally change our society from an open democracy based on the equality of all, to a tribal apartheid system that allocates resources and grants rights according to a person's heritage and the colour of their skin.
Is this really the sort of future we want for New Zealand?
Please note: To register for the NZCPR's free weekly newsletter, please click HERE.
THIS WEEK'S POLL ASKS:
*Do you trust media that have received funding from the Government's Public Interest Journalism Fund?
*Poll comments are posted below.
*All NZCPR poll results can be seen in the Archive.

THIS WEEK'S POLL COMMENTS
| | |
| --- | --- |
| Paid mouthpieces imho. Although I am sure some have received it to survive. | Zee |
| MSM has been bought by the govt (total of $110m since 2020) in order to perpetuate propaganda. | Lea |
| They are being paid for compliance and we see and ear it every day now – very sad | tony |
| Too much " Too much "misinformation". " | John |
| Could we please get US Fox news over here? They are at least fighting the presidency of the mindless invalid, Joe Biden. They have hosts who have hour-long shows such as Tucker Carlson, Laura Ingraham who laughed and criticized Ardern for locking down New Zealand for 1 Covid case. No media here criticize her even though we have apartheid and now blatant nepotism from the Mahutas. A week before Duncan Garner disappeared he conducted a poll on New Zealand's name – 4% for the A-hole name, 83% for NEW ZEALAND; the other 13% was for a combination of the 2 names but nobody is going to call it that-too long! | Monica |
| Whatever happened to democracy? | Sandra |
| i never thought this wonderful country would be in this predicament | kerry |
| NO and I don't trust this devious lying and corrupt government either | Athol |
| I can't believe the opposition parties are not making more of a fuss about this. | John |
| More of the brainwashing from Comrade Ardern! | John |
| Hurry up Sean Plunkett | Bill |
| Government funded media has become like the Pravda was to the Soviet Union – the government mouthpiece, full of propaganda. | Carol |
| We are being dished out a main of propaganda with a side dish of lies | Ginny |
| We are already seeing and hearing it, by the naming of various cities, such as Auckland, with Maori names that originally represented an area of economic or tribal interest! Within those areas, settlers built their towns, many which subsequently became cities and named by those settlers. For Maori to claim that they should be renamed as their historic region's name is appalling. For Journalists or Presenters to perpetuate these town and city names in accordance with Maori demands or Government policy, is a corruption of history. | Vic |
| apartheid here we come,Ardern leading the way | bud |
| They're spreading propaganda. | Peter |
| Why trust any media outlet that has sold out and been 'bought' by the very system that it is supposed to critique and hold to account? | Rodger |
| Definitely not We can see how they champion Ardern's cause They never ask hard questions and are letting Labour and Maori pass race based laws. | Louise |
| Straight out of the CCP playbook | Richard |
| No way. They are just socialist puppets | bev |
| It's scary how mainstream media are acting as left-wing influencers, rather than as journalists questioning the truth. It's scary that so many NZers believe these influencers and don't recognise they are being manipulated. | Kim |
| they are both in bed together ,it is obvious by the way we are getting bombarded with the Aotearoa. Radio, TV ,New Papers . It is blatently obvious | Francis |
| Of course, cindy bought and paid for the media before they were elected stands to reason funded MSM out of the govt fund as well! They are not totally stupid !! | David |
| You can never entirely believe the media particularly if they have an left leaning agenda | Janet |
| The media should not by funded by government | Donald |
| I didn't trust them before they got the fund bribe. | Steve |
| All the media is doing is shrove the govts views down new Zealanders throat's | Harold |
| A SMALL STEP MAYBE, DEPENDING ON YOUR POLITICAL LEANING, BUT REGARDLESS A LARGE LEAP TOWARDS STATE CONTROL | Steve |
| Who pays the piper calls the tune. | Gary |
| Absolutely not. The ratio of propaganda to fact is about 80% propaganda and 20% fact. Even the TV journos notice that nobody is watching the TV news! People are using the internet for news from more trusted contacts. A sad shame as most of us have been and were keen Newsgoers! One challenge to the 'pretty little communist' (Farmers Placard!) was made recently and must have been noticed as the first evidence of teeth for sometime – The PM was accused of scaremongering – what an understatement!!! | Frederick |
| It sickens me what this deceitful government is trying to do to our amazing country NEW ZEALAND. NEW ZEALANDERS fought and died in 2 world wars to preserve our democratic freedoms so we all enjoyed freedom of expression which is the backbone of democracy. NEW ZEALANDERS need to wake up and realize we now have a government that is trying to erode our freedom. FREEDOM STARTS WITH FREEDOM OF SPEECH. | David |
| How can the dog bark or bite the hand that feeds it | Carl |
| No longer is investigative journalism alive in NZ any more, making sure that other sides are presented and located on current debates or checking the validity of Beehive press statements. Even the new language used is straight from those press statements. | Tony |
| And it's reflected in the daily dribble we are now presented with. NZs media are in the PMs pocket. So much for unbiased, open, honest reporting. | Grahame |
| TVNZ would be one of the worst media outlets presenting left wing bias. Now don't read NZ news produced by Stuff etc. | Jane |
| We cant have free press if it is a political tool. Any marxist knows that. | Ash |
| I didn't trust them before. I am certainly not going to trust them now. | Lee |
| the media has been bought by the government and is totally clueless, and so is the government. the parent company for the Herald is Pfizer… | debbie |
| Ardern has seriously compromised the independence of the MSM. The princess of spin desperately wants to control the narrative. | Donald |
| Certainly not! | Ed |
| It is a sad day when our media is controlled on what is said. To loose media staff because of their political bias is a sad day for NZ | Doug |
| So bad it's not worth reading or watching | Doug |
| Radio magic got rid of the 5 most searching radio hosts, Sean Plunkett, John Banks, Tony Amos, Duncan Garner and Peter Williams, with all kinds of reasons that only a fool would believe. Ardern took $55 million of taxpayer money to pay the media off only if they obeyed her and emphasised the ToW and publication that she approved of. What she has done to NZ, is sinister and the damage is going to take years to recover from. | Carolyn |
| The public should shun those media outlets | Harry |
| Do you trust a friendly salesman who receives a commission on every purchase | peter |
| The News media are totally biased and unreliable = now just liars all. Don't subscribe to newspapers anymore nor watch NZ TV at all. | Bryan |
| total disgrace | bud |
| No not at all ! In fact I'm getting the same creepy feeling I had beside the Berlin Wall, 1963. That was one day after the famous escaping bus got stuck in the wall and filled with East German bullet holes –ratta-tat-tat, ratta-tat-tat until there was silence and warm blood running from within ! So much for freedom and I bet those Australian girls from the Youth Hostel , if they are still alive, have never forgotten that sad day in history. East Berlin and Yugoslavia were similar as though unseen eyes were watching our every movement and the students we talked and drank with. I have a sad and very frustrated feeling with this current government, Ardern especially and this will not have a peaceful ending. | John |
| My experience has been business opinion can be criticised, but opponents, eg NGO activist groups, particularly cultural or environmental, are protected as advocates and can say what they want without any factual or scientific support. Such groups do no studies but supply media with cherry picked misinformation which media council, BSA and editors point to as defence, but without scrutinising the context or source. | Paddy |
| Before they were just biased. Now they are seriously compromised government propaganda arms. | Stan |
| I have said from the beginning if the covid "crisis " it is only a situation the Govt is exploiting to control NZers Also telling us cash is dirty and spreads germs so we all have to go digital including the financial etc risks that poses from cyber crime along with the Govt ability to control your finance and Bank accounts. Cash has always been dirty but also anonymous! | Robin |
| Haven't trusted them for a few years now. Things have only got worse with the bribes paid. | Brent |
| The news media companies have prostituted themselves to the socialist party for this handout. They should have had the integrity to declare that they would rather die on their feet than live on their knees. For a share of the niggardly sum of $55 million, they have abandoned all claims to being independent news reporting organisations, and are now the PR arm of 'Party Ardern'. | Tony |
| Outrageous with an answer of NO. | James |
| They are never going to bite the hand that feeds them are they! | kerry |
| Just a division of the Government | Susan |
| Media have been biased and ought off for a long time. | Elizabeth |
| Why should I? The funds dictates pretty partisan requirements on its recipients, which do not all promote the public's interest. | Pieter |
| The Government has purchased the New Zealand Press. | George |
| Do not trust any of the mainstream media as they just spew government propaganda. | Adele |
| Media can not be independent when they take funding from a government. Any government. It is however not the media that should be blamed it is the current government that should be taken to task especially as it would seem they are dictating not only the content but also who should be allowed to work in those media organisations. This is an absolute disgrace. | T |
| I've stopped watching TV1 NEWS,it's become so left leaning and woke.Watch Fox News and you will see how far left USA has become under Biden.We are following down the same path here in NZ.TV1 gets it's USA news from CNN,now called the Communist News Network. | morea |
| It would help if a list of reporters/ opinionists/ news media etc, all those who have received payment from the labor government was published so the public could determine their credibility. | Rex |
| After 25 years of Radio NZ I have turned it off. It has become unbalanced. | Brian |
| It's an absolute nonsense, and journalism in this country is bordering on treason | Alex |
| How can you when they are being paid what to say! | Graeme |
| They are clearly biased and report on nothing that is not part of the narrative directive that forms part of the terms under which they received it. They have prostituted themselves and their profession | Paul |
| No one bites the hand that feeds them. | Roger |
| I do not trust any organization which is funded by the present govt We do not get truthful facts on the 1pm electioneering programe when it is supposed to be presenting numbers only– not rubbish. nov 21st will be a day we can all silently protest– so look for the information everyone, on groundswell | jenny |
| You certainly should NOT bite the hand which is feeding you. Same applies with the Covid crap. On "dubious" positive in Auckland and the WHOLE country ( even the South Island) in lockdown? Come one Cinderella you do have brains, please USE them. | Peter |
| No comment required is there ? | Murray |
| No not at all, they are now all a bunch of hypocrites and promote a totally false view. A sad time for New Zealand. | Fraser |
| They are completely untrustworthy | Craig |
| These reforms will lead to a mass exodus of New Zealanders to other countries around the globe. Heaven forbid! | Raymond |
| I do not trust anything to do with with this scum bag 'government' | david |
| he who pays the piper plays the tune! Just look at how woke Stuff has gone! | Rayward |
| How can they possibly be impartial when they have received the bribe with strings given by Jacinda | Phil |
| I would not believe a word that the now Woke newsreaders tell the citizens of New Zealand. We are also getting inundated with phrases of Maori greetings Etc. Really. | Wayne |
| Because it is a blatant conflict of interest. But if you add the govt advertising accounts the largesse is triple the fund agreement. Quite close to out and out corruption I believe. | Rob |
| Why would you? Their bias is already obvious. There is NO open or balanced discussion and is very difficult for opposition to be heard. | Jane |
| Never | Carol |
| Quite clearly we are now living in Nth Korea and we know how bad that is | dennis |
| No | John |
| Govt's/politicians are notorious for getting other people to pay for their [govt's] ideological 'dreams'.'The man that pays the piper calls the turn, of course the news media is going to play the govt's tune! | Ced |
| History proves that monopolies form, when big corps, money get involved. | Aaron |
| By accepting Government funding they have already committed themselves to a biased concept and can not be trusted to be to have an open mind and concept. | Brian |
| By accepting this money they will in affect become biased and not trust worthy | Brian |
| I now understand why journalists are so pro Labour | Florence |
| I don't trust much of the media at all as they all seem to be promoting go to propaganda with very little criticism or alternative viewpoints | Robert |
| Gov are being paid to only say what Cindy wants just dreadful | Anon |
| I fear it's too late….the horse has bolted | Evan |
| hell no! | kenneth |
| Jacinda, by paying the bribe to msm, now has total control of them. If they report on something against the narrative, the funding stops . | Gary |
| NO NO NO NO NO NO NO – We are well aware of the dishonest reporting from media. LEAVE NEW ZEALAND ALL THOSE WHO WANT A NATION OF THEIR OWN HERE. WHEN MAORI CANOES FIRST LANDED OUR NATION WAS ALREADY BEING DEVELOPING INTO AN ECONOMIC TRADING COUNTRY. THEY HAVE NO RIGHT TO CLAIM OWNERSHIP HERE. GROW UP MAORI AND KNOW THE BEST YOU CAN HOPE FOR IS EQUALITY ACCORDING TO YOUR PERCENTAGE OF THE POPULATION.!!!!!!! | CM |
| What is going on is appalling! | Mark |
| how could they be trusted | jim |
| Whilst the naive intension appears supportive the long term implications are not. Struggling or supportive groups will be tempted to wear rosy coloured glasses to scratch the back of the group that feeds it. We already have a media that is so pro Ardren it is embarrassing and is often only by your NZCPR we get any accountability . If there is any need for extra funding to keep a group in business the funding should not be from any Government group no matter who they are | Alan |
| I did not trust them before they got their dirty money but now completely dismiss mainstream media. | Murray |
| Rampant radical leftism. Dumb down the population and keep them amused. This is not going to end well. | Rowan |
| Absolutely not. I have stopped listening or watching the news. They have no credibility and are purely a PR machine now. | Jacqueline |
| By accepting government funding they become nothing more than marketing and propaganda arms of any administration. The agencies who accept government inducements should hang their heads in shame, in their delusion, claim to be part of the fourth estate. | Bryce |
| Considering most large news sources in new zealand are owned by overseas companies i wouldn't trust them at all. Reporters and ex whatnow presenters opinions are over riding doctors and scientists, it seems just sharing concern is enough to have yourself labelled as an misinformation spreading heretic, so no i DO NOT TRUST OUR MEDIA. And in regards to the money given i see it as funded propaganda to highlight one idealistic version of the facts and squash any other narrative or concerns coming out regardless if it is fact. | Adrian |
| We need to kick Labour and their Marxism out of government at the next election. Then shut down all of their mouthpieces starting with TVNZ. | Will |
| I am disgusted with our sycophantic captive MSM media. They are a disgrace to journalism. | Allan |
| I do not trust the people in the mainstream media enterprises at all. | Charles |
| That's a big fat NOOOOOOOO from the Taxcindy communist party | Anon |
| We have suddenly realised how powerless we feel without a press we can rely on. What is the lesson of history when governments control the media? | Patrick |
| I ceased to watch Newshub TV or listen to their radio after the recent dismissals. This government will not tolerate criticism , a dangerous time for democracy | peter |
| Until this govt is removed from power, this will continue and even grow | Maurice |
| Just like all scientists paid by the Govt. They are going to agree with the hand that feeds them. We can no longer believe a single thing that comes from MSM. | Tony |
| He who pays the piper calls the tune | Kevin |
| Of course you can't trust them. The media that received the payments have explicitly agreed to support specific political positions held by our government, such as the "partnership" view of the treaty. That is all it is – a particular view promoted by those who would benefit from it. It has no firm legal basis and has never been examined, discussed or voted on yet it is treated as though it is beyond debate. You could be forgiven for forgetting that not only does the "partnership" idea not appear anywhere in the treaty, it actually says the opposite! | Captain Cook |
| I'm finding it hard to believe much of anything in print by the news organisations | Elizabeth |
| NO NO NO… they've proven themselves to be bought and paid for. | Maddi |
| My expectation is any media that receives funding from this radical government are merely part of their propaganda campaign to tear down our democratic country of New Zealand and replace by an apartheid state where the colour of you skin and political allegiance determines your rights and how much money Jacinda is going to bribe you with. | John |
| used to now don't feel reporting is balanced. | clare |
| stuff are blatantly pro-green, pro Maori & never criticize Jacinda. | john |
| | |
| --- | --- |
| How can this happen in a so called democracy. Make a payment with strings attached to promote propaganda. the most frightening aspect of this will be continued pushing the lie that the treaty s a partnership between the Crown and Maori. The government is working on the principle that if you tell a lie often enough people will begin to believe it. An utter and absolute disgrace. | John |
| Appalling bribery by government | Jeff |
| No I don't trust the media….Bribery and coercion doesn't work for the truth !!! | rick |
| I have just read last term by Vince Flynn stop do we have to resort to violence 2 get government 2 represent our wishes | Alan |
| Reminds me of the saying "He who pays the piper calls the tune". It is becoming more and more obvious which media outlets are receiving funding. | Kevin |
| History has proven the dangers of this… | Bruck |
| how can we publicise this more and get people to wake up! | George |
| No,No,not ever. | Mark |
| I subscribe to stuff but I'm about to cancel it | John |
| this labour govt and trust are two words that DO NOT go together. This labour govt will go down as the most hated (strong word I know) govt in the history of New Zealand | Rick |
| Try not to read or listen to MSM. | Murray |
| This action by a Govt , or any elected body is at the least suspect and at the worst CORRUPT, I go with this being a corrupt Govt. | Alan |
| it is not possible to believe media that only give one side of the story,spend much of the time talking in a language understood by so few, the televised news spend all its time promoting Arderns views, it not worth the everyday kiwi watching it,. Surely the reporters and presenters must go home at night and cringe about what they have pressed onto the general public, I always thought that with the communications ,television,computers ,phones etc that it would be hard for dictators to gain traction but I can now see just how easy is is. | Keith |
| mainstream media are paid for their compliance and silence. appalling in a so called democracy | Tim |
| Certainly not. Most media reports, regardless of whether their publishing owners have received government funding, should be treated with a high degree of suspicion. I regret that Auckland does not have a newspaper; it has only an opinion paper which i regard as one step removed from the British gutter press. | Peter |
| No I stopped trusting them when they wouldn't provide a balanced view on global warming. | Mark |
| Absolutely not. They are now just part of Labour's propaganda mouth piece | Trevor |
| money vs truth – 99% of the time money wins. | Susan |
| Peter Williams is correct, totally. It is propaganda and nothing but propaganda. | Frank |
| Certainly an outrageous situation. | Tony |
| tribal apartheid | jerry |
| Seriously concerned where our country is heading. | David |
| All this is so tiring. Why is it that we hear Maori names of places that were non existent before European settlement? Dunedin (Otago) should be Otakou. If this was supposed to be helping to promote Maori Language, why aren't Maori place names translated into English – eg. Tauranga, Te Awamutu. A total derailed government; but sadly a derailed opposition leader who won't listen to the nation and got off her throne. Certainly a dangerous time for New Zealand. | Peter |
| Straightforward conflict of interest. | kris |
| Absolutely Not! | Brenda |
| They have become as untrustworthy as (most of) our politicians. | Dennis |
| This is not demonocracy working. It's "Do as I say, not as I do". | David |
| I do not trust this government full stop – the most passive aggressive leadership and an underhand agenda, | John |
| Keep it separate and clean without bias | Laurel |
| Media especially TV one is corrupt and a propa ganda machine for the communist govt under comnrades Adern, Robertson and Hipkins. | mike |
| As a farmer i have not had a love or confidence in the media for many years. | Marty |
| Propaganda | Graham |
| The main stream media is now so distrusted by the NZ public That they are turning off their channels. And going to social media to get their news | Geoff |
| Adern's propaganda tool paid for by tax payers. Time the millennials of NZ woke up to this pretentious, devious show pony. | gary |
| Strong strings attached to funding to toe the Labour Govt line and avoid investigations of the truth. | Tim |
| What is happening in this country is unbridled wickedness. Propoganda funded by the taxpayer dollar is a perilous position to be in. That this Prime Minister has the audacity to then proclaim that it will be the only source of truth? Wake up New Zealand. The only thing necessary for the triumph of evil is for good men to do nothing… | Jennifer |
| Definitely not trustworthy. Most of our mainstream media has succumbed to government bribery. It%u2019s appalling. Blatant corruption of the media. | W |
| I%u2019ll be Our media need to be truly free from all and any political influence. Their funding must be generated by advertising and sales of their products%u2026 like any other business venture. | David |
| Absolutely not, I don't watch the news hardly ever.. | Jeanette |
| The main stream media are showing a disgusting disregard for balanced journalism and far too much interest in picking up financial support from government! | Ron |
| They would not bite the hand that feeds them would they? | Ido |
| The PM only answers questions from Tova or Jessica!! | Julie |
| Show me where a person gets his funds and I can show you their opinions. | Bryan |
| I wonder how these people can stand to look at themselves in the mirror! | Helen |
| For a number of years I have treated the mainstream media's news with a grain of salt, now I do not trust anything they say. | Graham |
| Too much like a BRIBE | Carl |
| Never | John |
| The bias in favour of the Jacinda led government is overwhelmingly obvious. When so many if us sit around discussing how we are appalled at what is happening to our country the things we read in the media do not add up. | Dell |
| Of course you cant trust them, you only have to read letters to editor in NZ Herald same Lefty writers every day. Try getting a letter published if you disagree with these people | Mike |
| Thats a ' no brainer '. This is how the commies work, and comrade Cindy is working it hard. If she gets in again N Z is down the drain. Whoever gets in next must unravel this evil web that is destroying democracy in our country. How gullible are people? It's disgraceful that the news media have caved in so easily. | Peter |
| This country's fascist propaganda machine must be stopped | Patrick |
| Control of the media is desperate and undemocratic. | Janie |
| They even have the gall to blatantly show their bias – they gave been bought and are now controlled from the 9th floor of the beehive. | pdm |
| Very Orwellian. Labour no longer represents working people | guy |
| no because they will no longer be free to speak their mind and expose wrongs | gerard |
| Common sense saysNO | david |
| The mainstream media is parroting the Government's dogma, no balance | lindsay |
| They speak with forked tongues I am deeply shocked that New Zealanders would want to destroy the democracy that our soldiers and ANZACs died for SHAME On Them | Brenda |
| NZ Media for some time now has simply been the propaganda arm of the labour government. I only used to believe half of what was put out, now I believe none of it. NZ media has been bought and paid for by OUR taxes and it's appalling that this has happened | Trevor |
| Hitlers Germany all over again | claire |
| Hell no | Brian |
| There is absolutely no trust in government or media, we have been sold out to evil communist ideals. | Graeme |
| Unbiased debate is critical for democracy | Sue |
| Spineless jackals. | Mark |
| Parliament should start with a haka now and see how kiwimen are in parliament. | George |
| It's outrageous. We are well on the way to totalitarianism. | Graeme |
| I don't necessarily subscribe to the media being bought. However anyone with half a brain can tell how left wing they are. You only have to listen to the questions posed at the 1pm shows to see how pro government they are. | Bryan |
| Govt bought media orgs have zero credibility. Behavior is appalling and anti democratic. Anyone media org accepting govt bribes are criminals. | Richard |
| conflicked | Edgar |
| Absolutely not .. NZ media organisations have accepted the labour party bribe and not just compromised,but totally prostrated their journalistic integrity for a few bucks.. Until there are major changes in the heirachy of these organisations, anything they say is barely worth the paper it is written on. Media control by Government is but the precursor to the overthrow of democracy as we know it.. out Jacinda out! Aa d the sooner the better | Rob |
| Government funding of news is one of the most frightening issues occurring in our county. Without balanced reporting, democracy is in serious danger. I am ashamed of NZ media. | Marg |
| as New Zealand Govt has helped fund media has gone soft on asking any questions that may be critical to get the truth | leo |
| News media should and must be independent of government control and seeing as our news is very much to the left one can%u2019t help but be worried for truth in the future | Chris |
| They won't bite the hand that feeds them | Ted |
| I cannot even get a letter to the editor published when I am being nice and kind,so I certainly can't get one published when i disagree with the "Gummint". | peter |
| They have been caught with their pockets full of sweets from the local dairy and still they liar. | Sven |
| Haven't trusted the MSM for a long time. With the arrival of covid the Govt has made the most of the situation- they started handing out money to keep the MSM afloat – once the MSM took that first handout – the Govt had them !!! Fish caught – hook line and sinker – there will be no going back as it is easy money !! | Sue |
| Anti democratic wokism under a mantle of racist apartheid | Ihaia |
| TV will not now accept any criticism of their racial bias. Their covid adverts show "aotearoa" in large, bold font while "New Zealand" is below in small font. Any argument saying this is to even out the comparative lengths of the words, is easily negated near the bottom of the screen by a maori "translation" of the government's name bolder and longer than the correct name of the institution. Try protesting about that. | Murray |
| Of course not, it is just not possible to take payment and not deliver what is being paid for. If one thinks about, the government is paying everybody to toe the line during Covid. One could be forgiven for thinking the govt. is working from the Joseph Geobbels play book. | Ray |
| "Any man who still has a residue of honour will be careful not to become a journalist (Joseph Goebbels). | Brian |
| Might as well trust Satan to take good care of you. The regime propaganda machine is on full bore by now and massive indoctrination on all levels is running smoothly. 3 waters and Pua Pua will be forced upon us no matter what and the regime will do everything and pay any price to install these evil UN agendas. Citizens have voted for their own henchmen and the ones who did not, will become co lateral damage. | Michael |
| They are only allowed to write or speak according to this Governments Spin. No free speech or comment. | Heather |
| There is evidence every day of the biased reporting on every issue of importance to democracy in NZ , in the Herald, and TV1,2,and 3, and other media "bought" by this govt.. They particularly present Judith Collins in the worst light possible,twisting what she says and scoffing at her in the most abominable way. The best Ive seen from them is (surprisingly) Newshub Nation Tova O'brien interview 25/26 Sept where Judith was given a fair deal until she was battered about her ratings.(Caused largely by media misinformation) Judith however was up to the task!! Mahuta's soft soaping of the Govt intentions with the He puapua water "reforms" on Q & A a couple of weeks ago,was deliberately and mind boggling misleading , and she got away with it. I could go on – – -. | Mary |
| This country — indeed the western world lacks investigative journalism. Now that the media has been bought off by this corrupt government it has got worse. I have NO trust in anything the media puts out in this country other than Leighton SMITH and Mike HOSKING. | Alastair |
| I have no trust in them at all. I don't watch TV news nor read a lot in papers as journalists are biased. They are bullies to National & Act. Simon copped it last year, Judith this year. They only do what we expect of them . . Being an effective opposition that challenges this failing Govt. Keep up your good work too. | Judith |
| No and I longer watch TV and yet you can still recognize when one does gain there 'single source of truth' by the same narrative that is was spouted years ago. The thinking is the same, the narrative has changed. | John |
| ha e cancelled my herald subscription and told them why also do not watch NZ news | mike |
| Completely biased reporting favouring the Labour Government. | Lyn |
| I have never read so many comments after last weeks question about trusting our Government as the source of truth!! | Marianne |
| Jacinda is a communist who cannot be trusted on anything. She is a control freak who is seizing the Covid crisis to implement her racist policies. | Tony |
| No and never have done. The media and its journalists are all cowards and don't openly look at both side to an argument. While they are getting government funding, they will always be one sided. In fact no media should get government funding. They should fund themselves. | reg watt |
| They no longer report the News they report their version of it | David |
| Definitely have very little faith in NZ journalism. I no longer watch biased local TV news and would not trust in any journalism funded by Government bribe money. TVNZ news reporting is very poor in general. | colin |
| Stunning revealtion | max |
| undemocratic | arthur |
| The fact that applicants for grants from the Punic Interest Journalist Fund MUST show "a clear and obvious commitment or intent for commitment to Te Tiriti o Waitangi, including a commitment to te reo Maori" simply means that the media accepting such grants become nothing more than a mouthpiece for the Government and have no real commitment to independent and balanced. journalism. How could anyone purport to trust any such media organisations? | Michael |
| Bribery & Curruption ? Blackmail !! | Bruce |
| Most kiwis would trust the media . Very clever Jacinda | Marty |
| Hardly the free press when they take a government bribe. | kevin |
| The government by offering huge sums to the media has bought control of them and silenced fair and factual reporting. The saying is true: He who pays the piper calls the tune. New Zealand is quickly surpassing North Korea with this government's control tactics. | Laurence |
| When you put Maori elite in power in what is basically going to be a Communist state we will lose every thing we have worked for | Garry |
| That TV news chooses to self-immolate ratings nightly by overlaying their formulaic and tepid reporting in a Pidgin English mishmash is at once sad and hilarious. | Tony |
| I have lived in Nelson, New Zealand for over 80 years and I will not bother to learn hundreds of new names for places in New Zealand which I have no idea of location and can't pronounce, in a foreign language that I don't wish to listen to. Isn't it remarkable that bribing our news media, newspaper and radio/Tv can bring about an obedient change in their staff's delivery of news. I guess it only took the sacking of a few announcers/writers for the rest to give in to the dictator employer. And it all happened in just a few months of this year. Meanwhile the taxpayer foots the bill for this corruption and will also have to repay the borrowed money that was used, as if we didn't already have billions that will affect our grandchildren. The blatant dishonesty of this government is appalling. The theft of the water supply and drainage assets from Councils and rate payers and the gifting of these to Maoris along with depriving non Maoris of their democratic vote by gifting them to Maori wards in order to guarantee the minority Maoris can introduce and change anything they want. is illegal in a democracy but Ardern doesn't care. | Chris. |
| I am increasingly concerned with the bias we are being fed. If i want to live in the sort of ideology that is being promoted by the Ardern Government, I will go to China or North Korea. | Anthony |
| This smacks of "pork barrel" politics, or buying votes, except in this instance the Government is buying the right to direct and dictate to media that have accepted taxpayer funding from the Government. | Dougal |
| We have never been able to trust the Media. | william |
| This is really dangerous for democracy. George Orwell-1984, are we already there? | Andrew |
| it is a form of corruption | ken |
| It has been very obvious for sometime that our media is seriously compromised by the Government's Public Interest Journalism Fund. National radio and TVNZ are basically a propaganda distributors for this government. Nothing these organisations broadcast can be trusted as un biased. | Vonne |
| Most definitely not. | Mary |
| Disgraceful act of bribery, the likes of which has not been seen. Corruption in business is abhorrent, in govt. its obscene and totally unacceptable. | Peter |
| You do ask some silly questions. But it is vital they are asked. The actions of these fund acceptors is proof enough that no 'news' organisation is going to bite the hand that feeds it. Not only are the honest journalists being dismissed, but they are being replaced by the indoctrinated generation who have only one view of the world. It is an old trick that modern governments are adopting. That is, dumb the population down, & they will follow blindly, whoever chooses to lead them.. | A.G.R. |
| Cant have a democracy without a free press | Beverley |
| I've stopped watching the news. Feel like throwing a brick at the TV! | Robert |
| It would be good to know who has and who hasn't received it – although that is becoming self evident through the content | John |
| We urgently need unbiased political commentators in NZ, that are able to reach a wider audience. | Meg |
| Definitely not. The blatant bias is farcical. | Neville |
| It is vey obviously the media are being bribed by the conditions of money applications | Rex |
| There is no such thing as impartial or subjective media in New Zealand. Only "opinion" matters now….. | rowan |
| Red Cindy's PR people have obviously taken pages from Gobble's handbook on how to fool a nation. | Joseph |
| Pure Communist Party way of working! | Sylvia |
| No, the integrity of the media is highly compromised in New Zealand. I agree with Muriel, we are in a very dangerous time, our democracy is under threat. We have a Govt. that has paid off the main source of information and replaced it with repeated propaganda and silenced any debate at all around an alternative view. Very concerned about our freedom and democracy. We must shout out now. | Sam |
| While the media continue to financially feast on the teat of the sitting government one should continue to have doubt about the objectivity and impartiality of all their writings and comment on politics, especiallity because the government's largesse is subject to favourable comment on treaty issues not reasonable debate | Clinton |
| Perhaps any articles concerning the Government should be headed in bold "SPONSORED CONTENT", just like those 'advertising' articles published by corporates and societies. | alan |
| I was calling Stuff the NZ Pravda long before I discovered someone was referring to the PIJF as the Pravda Project!! 🙂 | james |
| Of course not. The moment you criticise the funding stops. | william |
| The main stream media has become the government's voice. | Shaun |
| Media should not be subject to any bribery which is what this fund is. | Merv |
| Destroying our Democracy | Doug |
| Independent journalism is essential for the successful running of democracy. Journalists being paid to promote a political point of view is a serious danger to the independence of our media and therefore democracy. | Gary |
| the anti democratic menu has been practiced stealthily for a while. Parts of John Keys ideologies are questionable too, tying National's hands at times too. A nation needs a value system to platform off, and we are playing stupid games at he moment. | Maurice |
| Absolutely not!!!! It's the old adage follow the money, in this case government handouts bribes which immediately removes the news media independence from being a government mouthpiece of propogranda. | David |
| Sadly there is a giant disconnect in the NZ population. In the circles I move in I am hearing people saying they no longer watch the news or get the newspaper they are just concentrating on their own little world. The government probably thinks silence is compliance. I sincerely hope the silent majority WAKE UP!!! | Neil |
| Disgraceful and a cheap shot. Do they really have to buy the media? sign of weakness itself | jude |
| Disgraceful undermining of democracy | Peter |
| There is almost no independent main stream media critically scrutinising government policy or proposed actions. This has been getting progressively worse over the last several years. Free speech and an active fourth estate is essential for any working democracy. | Maurice |
| That is corrupt third world stuff | norman |
| They can't be true to the facts, because they have signed their independence away by taking the money! | Ted |
| How can Journalism work when government is founding the organizations | Geoff |
| Control of main stream media via $55m bribe money is fundamental to the shaping of public opinion | Bruce |
| Absolutely not%.their biased closing down of free speech has already begun. It's shocking!!!! I was involved and working in a large media organisationin for 18 years a good while back, so I know how we absolutely and foremost gave freedom of speech to see the takeover of this country's once superb fairness is abominable. Absolute communism by stealth. | Lyn |
| Muriel says it all | June |
| How can anyone trust what the media are saying when they bare controlled by this biased government. Do these Media people have no ethics. | Allan |
| Blatant media bias going on here! It shows that the 'current left wing' media and journalists are not asking the hard questions of our Government. | Janine |
| Definitely not | Ken |
| Appalled by lack of transparency and anti democratic policy | Christine |
| This Labour / Greens government is the most dangerous New Zealand has ever seen. Narrative that the result was rigged and this government illegally installed deserves serious consideration. That the whole of the South Island would 'party vote' Labour is just not tenable. | Susan |
| The Corruption Deepens by the influence of the Luciferin NWO criminal Gangsters. They have been at it for over 300 years and their power and financial influence have shielded the lies and deception from the living men and women of this earth. Don't believe it? Do your research and you will be shocked at the depth of the deception. | Neil |
| The mainstream media need to have a good long look at themselves. They may realise that they are the very reason that this country is heading towards being NOT the best place to live. | Graeme |
| Democracy is being rapidly eroded | Tony |
| it is just disgusting what is going on under our very noses. This country has really gone to the dogs and we are letting happen | Lorraine |
| They are not going to bite the hand that feeds them. | Sheryl |
| This is scary stuff. Getting too much like a socialist or even fascist state. | Brian |
| Am I wrong to say this is the most egregious strike at media freedom in the history of the democratic Western World. Not even Zimbabwe or apartheid SA did this blatant censorship. | Kevin |
| Its totally evident in the manner they characterise Judith Collins as some sort of witch!! Tova O'Brien, aka, teachers pet is no journalist in any way shape or form. Gossip scribe in a low rent rag is best description! | Alan |
| Reading what's happening in NZ ties my stomach in knots and makes me feel sick. I now live overseas and will never live in NEW ZEALAND again because I'd live in anger all the time. | Trevor |
| It is bribery | Maurice |
| Absolutely not trusted. The blatent bias is evident every day | Clive |
| totally undemocratic | Mike |
| If you are familiar with the 'Boil the Frog' concept you will be increasingly alarmed at the compliant mainstream media's (MSM) compliance by looking the other way on this subject. The govt with their sleight of hand is buying the media's support by funneling NZ taxpayer's funds to MSM to promote a pro Maori agenda. How is this not 'buying favour? This is an outrage that is not being scrutinised by the New Zealand public. We are being brainwashed. The premise that half interest (50-50) in this country's ownership should be shared by Maori is a blatant lie. Outrageous! How is this not tribal apartheid? We are seeing the introduction of State Control. Freedom of expression is being taken away under our noses. Wake up New Zealand! | Rob |
| The NZ Herald has been Labor biased for at least the past two decades. TVNZ reporting is also skewed. | Dane |
| They have become puppets of the state, promoting the state's ideas. | Theo |
| Political bias in every way we may as well be in north korea | John |
| I am shocked and thank you for bringing this to my notice. I have generally trusted the media to report without bias and did not know about this funding | Warren |
| NO STATE FUNDING for the media!!! It will be "PROJECT PRAVDA" as was the state funded news service in Russia's Soviet Union. It seems that mankind has two unlimited capacities: for LYING to gain power & control and for SUFFERING the afflictions of submission. | Don |
| I cannot believe the lightning pace at which the left is progressing its toxic agenda, nor can I believe how little pushback they're getting from the public. Cindy and her band of lefty racists are getting away with stealing NZ our treasured free way of life and putting the tribal yoke of apartheid on our shoulders. For God's sake wake up NZ! | John |
| The funding is designed to influence media to be pro the current government | Leon |
| Hopefully Sean Plunket will succeed, and the rest of the sacked announcers can join him. The sooner advertisers loose customers because they are propping up Magic and zb etc, and their left wing ideals the better. The old saying, the customer is always right, should be a good reminder to them. If they are feeling the squeeze now with all these fake lock-downs hopefully no customers, might add to their stress, and make them see the errors of their way, propping up the lefty losers. | Merryl |
| I do not trust this government with ANYTHING and never will because they are just a pack of LIARS. | helen |
| Reminds me of North Korea | Peter |
| The danger is gut-retching. | Jasmine |
| They have been bought off by the woke leftist government. Freedom of speech and opinion has been hijacked by Covid-19 | Pauline |
| I see promotion of Government policies, suppression of dissenting views, and the gratuitous use of Maori words and phrases by people who are plainly not fluent Maori speakers as clear proof of bias on the part of media outlets who have been recipients of the PIJF. | Bryan |
| How on earth could you trust "news" that has been produced by something funded by a political group? Simply, you cannot. Any idiot would suspect you are going to get a load of propaganda. What I would really like to see is that every real news service, which has not been bought by some political group, would say so, openly and proudly with every publication. | Rob |
| The continued "wokeness" displayed by RNZ & TVNZ makes them unlistenable or watchable. They are no longer "news" broadcasters but are simply extensions of labours PR propaganda | Dave |
| The kittens of the Cheshire Cat feeding from her nipples have become the apparatchiks of the Ministry of Truth. | john |
| They sold out in order to survive and are now beholden to their masters dictates | Alan |
| The absence of mainstream media objectivity is appalling and borders on criminal behaviour. Using taxpayers money for propaganda will end badly for this government. | Andrew |
| Most of the media with a few exceptions are left leaning anyway but this makes it a lot worse. | Fin |
| Certainly not !! Just look at the patsy questions only from Tova and Jessica !! | Karen |
| No way . . . . . Get Real! It's feeling like Germany pre-WWII | Alan |
| A disgraceful abdication of their responsibility to New Zealand by the majority of media organisations. Traitorous!! | Roy |
| Did we ever trust the utterances of Pravda or Izvestia ? Funny how a state organ of propaganda could be named 'truth'. New Zealand press are never going to bite the hand that is feeding them. As for accessing 'news' in this country, TV news is a joke (even if you can understand what is being said half the time), the print media is so biased it is devoid of reporting other than the 'great achievements' of the 'Party' and radio is essentially purged of any dissenting voice. It would seem that 'dear leader' has learned all the tricks in the communist play-book, and is now playing the population of New Zealand like a fiddle. | Ted |
| Didn't Maori eat the indigenous people who were here before they started eating each other? | Ian |
| The NZ mainstream media now a mouthpiece for comrade Aderns government , very scary! | Colin |
| NO !!! The media have got out of control with the helping hand of the government and a hand out via a bribe and they are now showing their true colours. "NOT TO BE TRUSTED" | Richard |
| Left wing media in nz today is a front for this communist labour/Maori party. Worst of all are the white Maori news readers trying to decide what language we should speak and rename NZ to a fictional Maori name the Maori never used themselves. Wake up N Z before it's to late. | Astrid |
| We have been Watching Sky News for 2 years as we realise NZ media has been Censored. | Rex |
| So the problem now exists as to who do you believe | David |
| Hell NO! Bad enough that most reporters are members of an outfit called Muckrakers. and write rubbish for a media called Stuff.!!! This country is headed for third world territory if we don't vote this lot OUT. | Graeme |
| Suppression at it's best! Not News | Neil |
| Adern mouthpieces.Is there a similarity to what happened in Germany in the 1930s an is happening now in China | Richard |
| It IS what the Chinese Communist Party or Kim Jong Il have in place | tony |
| Stuff has become a laughing stock the blatant way they appear to suck up to Ardern Govt. | Steve |
| Horrified quite frankly!!! | Terry |
| Once again,the country is getting very close to the state Nazi Germany was in before WW2-let's hope we don't get the equivalent to Herr Josef Goebbels !! | Henry |
| Trust them to toe the govt line – yes; trust them to tell the truth – NO. They will not bite the hand that feeds them. | Alan |
| No – that government fund is our money and they are using it to our ultimate detriment. We tossed our TV away some time ago as the unadulterated tripe that spewed forth from it became too much to bear. Our NZ Herald subscription went the same way for much the same reason. Sky News Australia is streets ahead of our pathetic Communist controlled media in terms of quality and accuracy. There is a void here, which desperately needs filling! | Scott |
| They are not "media" but propaganda puppets of a quasi-communist regime. | Philip |
| A bought and paid for media is what now exists in NZ In any coup what is the first thing the protagonists go for THE MEDIA. Controlling the press and the narative is just so important in forming public attitude. I am currently reading Shirrer's history of WW2 and the Germans were fed a constant narative about the atrocities commited by Poland against German nationals to justify the invasion There were no such atrocities but the result was what Hitler wanted Are we heading down the same road I hope not | Robin |
| Trust the media, why? try getting a a leter to the editor [DomPost] published thats in any way critical of anything Ardern and her socialist toadies say or do then ask yourself the same question. | Bart |
| Blatantly one sided, brainwashing with immunity!!!! | Raewyn |
| This constitutes a clear conflict of interest whereby any news will be tainted by bias favouring the Government. Where is the independence? | Gavin |
| Communism is taking over our beautiful country.. be afraid, be very afraid. | Helen |
| Paid to spin a Govt policy. I mean. Seriously. A democracy? The cow and her herd need to be railroaded out of power. | Mike |
| Very few people seem to have 'the balls' to question anything or anyone anymore !! | Leon |
| Outrageous | Yvonne |
| The press I will too easily lose its integrity if it accepts govt funding. It should remain free and independent and do its job in holding govt to account. | Jill |
| | |
| --- | --- |
| They should be ashamed of themselves.They are tractors and should be created as such | Tom |
| The media has been funded by the Labour Party using the bank of the taxpayers, by doing so they have bought them lock, stock and barrel. That was the day all honesty and impartiality in the MSM left the room. | Alex |
| Funding almost always come with many strings attached. When someone funds you they have a big say in all you do. | Mike |
| Pandering to moari, some of whom are extremely white in colour, is pure racism and leading us back to tribal warfare. Even 3 waters has some tribes affiliated with other tribes who don't agree with their ideas. Nothing good will ever come from all these changes. NZ will be ground into the dirt. | Michele |
| I have ZERO trust in our media, and less for our Govt. They have the nerve to call it Public Interest, | Paul |
| It is obvious that much of the media is giving the Govt. an easy ride. The hard questions are not being asked and the bias is too often being exhibited. Just take RNZ and TV1 news for example. Look at 'the Pulpit of Truth' at 1pm daily – how often are the hard, searching questions being asked and who are the questioners being given the opportunity? | Maurice |
| Goebbels would be proud of this government!!!! | Les |
| NZ, under the radical leadership of Jacinda Ardern is fast following the present demise of America under the leadership of the corrupt Biden administration. By providing funding via the Public Interest Journalist Fund to media outlets that can be unduly influenced by the Labour Party is nothing short of criminal so maybe Jacinda should be impeached! The amateur fishing rights of all New Zealanders have already been impacted under the guise of so called "customary rights." | Roger |
| THIS GOVERNMENT SHOULD BE TAKEN OUT THE BACK AND SHOT. WHAT A CORRUPT PACK. | colin |
| No i don't believe any of the Media | RAY |
| all we get is propaganda | Noel |
| Democracy in New Zilland? Don't be so silly | Mark |
| How can you. The media is no longer independent | John |
| Absolutely not. How can we? For some time now I have been waiting for the media to ask the hard questions and they haven't. They are falling down on the job and not serving the people they are supposed to find truth for. | Sheila |
| They have been deliberately suborned by Government and will not expose any of Government%u2019s treacherous Maorification agendas to scrutiny or publish/present any matter critical of Government. We are livings in a State Controlled country heading us directly into a neo apartheid political structure. NO WAY | Hugh |
| Liars…cheats and bloody Waste of broadcasting Space. | Christopher |
| How can we trust them not to be biased! The reporting we get these days leads one to feel strongly that they are all becoming too left leaning, and pro Jacinda, no matter what the topic. | Hugh |
| Apart from Peter Williams. Sean Plunkett Leighton Smith and the AM show, the rest are puppets of the government. The Media and the government are NOT to be trusted I some one knows when and where Sean Plunkett can be heard again, please say | Gregor |
| Propaganda and group think have almost completely eclipsed any 'fair and balanced' media in NZ. ZB excepted. | June |
| They wouldn't bite the hand that feeds them. | Toni |
| Absolutely NOT. | Darryl |
| no one trusts the left leaning media anymore they are nothing more than campaigners for jacindas warped view of the world and her communist remedys for all of us surley these wankers can see that they are puppets hell bent on destroying our wonderfull nation,,what happened to the good guys ,,plunked, garner,pete Williams ,henry,,banks,,laws Leighton,,etc soon Richards,hoskins,,and more ,what the f… dose that leave us with,,do we have to become aussys | tony |
| Acceptance of the media bribe funding is an admission of Political Bias by the media. | bob |
| The "media" have sold their souls to the devil. There is absolutely no excuse or justification for taking money which is tantamount to a bribe by this corrupt government. A free press is the corner stone of our democracy. Shame on those in the industry who have followed this dogma – if you have any moral conscience you should exit the industry. | chris |
| There is already a sycophantic left-wing bias in the press.This will only exacerbate this. | Doug |
| Definitely not !!!! | Alan |
| If it is not spent on journalism then the money has been misused. The government has its own media outlets to push it's programme and always has had that. To say that it now needs to get the support of the Fourth Estate almost exclusively is an outrage and is not constitutional or democratic. | Ray |
| Historically hundreds of years of media funded by governments have shown the importance of independence to be able to examine various views and help readers find what makes sense for their lives. | Catherine |
| Dangerous times indeed. Wake up new zealand | Bev |
| Absolutely NOT! | Derek |
| We are rapidly moving from Democracy to Socialism. This is the midway point on the road to Communism. The government is stealthily moving us towards a race war and we aren't awake to it's woke. | Pauline |
| Well I do trust them to tow the government line . i e lie as required. | mike |
| They have sold their journalistic souls | Tom |
| Hoe could you! | john |
| It is bribery | Kalakanthi |
| As a 90 year old I despair at the disinterest of a great number of our citizens in the future of our country and the way it is travelling | Pat |
| Sadly they are providing the information that the government wants them to provide | Mike |
| We see nearly every day propaganda published in newspapers and on TV and through social media that is used to bring fear to people and shut down open, unbiased reporting of facts…not spin. Also…no articles talking about what the Govt is doing re the He Puapua strategies which is all being done under the radar while COVID is the big issue. We have a media that is sold out to a Govt we can no longer trust and looking towards bring a totalitarian regime. Our media have sold us out. I pray some will began to wake up and stand up for what is right…not purely being puppets for the Jacinda spin. | Fay |
| they are dishonest an frauds cheeply selling their soles they are not journalists | richard |
| This bunch of media are scum bags for taking this money and being lapdogs for a communist govt | eric |
| The media should be ashamed of themselves. An independent media is a cornerstone of democracy. They are now complicit in the destruction of democracy in NZ. | John |
| Controlling the press is another step towards totalitarianism. | Bruce |
| Feed the press taxpayer money and watch the demise of independent and free thought on which a democratic social system depends. | Victor |
| Communist doctrine | Greg |
| The media has changed dramatically since it was given funds from the government. Jacinda is very dangerous. | Laura |
| Once you recieve money you are beholding to the suppler and with media all they seem to care about is their profile and the money that goes with the image .Thank god that we have the likes of Mike Hoskings and those that have been sack for being honest and i hop they get jobs with other media that are not beholding to this corrupt Government. | ken |
| They will reflect the views of government to keep their funding and their jobs | Dorothy |
| Media used to report on the news of the day, they now make the news ! Sadly some of the best have gone, they can at least look back with pride and say we did it our way. | Peter |
| Hard to believe what is happening, and am continually amazed at the how a large sector of the population has been sucked in by the constant barrage of propaganda | Gordon |
| NEW ZEALAND desperately needs an unbiased English language television news service unaffected by blatant social engineering and un-peppered with indecipherable Maori words. Maori have two television channels as well as their own programmes on the mainstream channels. | David |
| The media fund if it is needed at all should be non biased and non political | Barrry |
| Heck NO! | Jacoba |
| They must be stopped | geoffrey |
| Human nature is such that if you receive funding from an external party you become sympathetic to that cause or more beholden to that funder so as to continue receiving future funding sources. | Steve |
| It's hard to find any truth these days. The mainstream "media" makes me sick | Dave |
| Jacinda's "be kind" mantra is nothing more than a "guise" – to facilitate adoption of the socialist totalitarian and communism ideals indoctrinated by herself and Robertson through their (well identified) student political studies. | Floyd |
| There is no way they will be neutral with large Government handouts | Graeme |
| Absolutely NOT. Remember the saying: "He who pays the piper ……… And as I understand – The strings attached are "Funding from the Journalist Fund will be withdrawn should such recipients appear negative or derogatory towards the gift horse! | Stuart |
| Labor Paper. Always putting the opposition down. Jacinda must be the only photo they have. | Barry |
| Well, Hitler took control of Germanys media, read your history books and understand what happened there. It is without doubt New Zealand is becoming a socialist state lead by this government. The problem will grow step by step. As you are aware water is just another step. Not much further down the track there is going to be more regulations placed on New Zealanders. | Owen |
| Using our taxpayer dollars to pay media to promote labour propoganda is a form of communism | Joan |
| we should support Sean Plunkett the sooner his station is up and running the better so we can here the truth not lies | chris |
| Of course not , how can you trust a government that is communist led, only if you are an idiot. | Tom |
| I sick of all this gutless discussions about our Communist Traitors!! Call volunteers together for what is the only answer now FIGHT | william |
| Media have become a propaganda tool for the anti freedom marxist totalitaria Adern is foisting on us all | Tracy |
| It is what all dictators and communist leaders have done throughout history to gain control to obliterate democracy and individual freedoms. | Richard |
| If New Zealanders do not wake up soon to the fact that this government is flooding us with out and out propaganda, then we will end up like a Marxist state. | Bruce |
| Definitely not. They are just the propaganda arm of the Labour party now. | Eileen |
| The rapidity of approaching apartheid is frightening. | Peter |
| That these news organisations accepted money under conditions reflects badly on their management. Totally unprincipled. | Edgar W. |
| An emphatic NO, | Paam |
| how can you if they report Govt does not like they have their funding cut off . anything the Govt media say's is compromised. | Nigel |
| Not at all. Such dangerous times ahead. | Denise |
| Communist followers by stealth. It%u2019s amazing who money can buy (bribe) | Bob |
| When the 4th estate is in the pockets of the Government they are no longer the 4th estate! | Steph |
| Taking a BRIBE under most circumstances is a criminal offence……what's the difference here? Why would anybody trust the NZ media?? | Peter |
| Previous reluctance to foster open dialog will only b exacerbated. | Jack |
| Absolutely not. We have no journalists in nz | Lenise |
| Totally bought and paid for. Cannot tune into radio, tv, newspapers, magazines for nothing but maori and muslims! And total bs re (fake) covid. Since they killed Peter Williams NOTHING for me, apart from foreign sites online. Real Loss! | Coral |
| How can anybody trust a government which is supposedly for the people, but which covertly promote 16.7% of the population. That is Apartheid at its best. | Ursula |
| A bunch of presstitutes and rentboys who have allowed the government screw them And us. Now we have no media we can trust. | Jenny |
| Govt controlled media is overt communism | Bruce |
| Government control of media is standard procedure for socialist governments. There are examples worldwide now and throughout history. Watch out New Zealand. | Frank |
| Absolutely not. I don't follow NZ media anymore . | Diane |
| When you control the Media, you control the Narrative and you control the People. 'The bigger the Lie, the more People believe it. ' Joseph Goebbels almost ninety Years ago | Geoff |
| Comrade Jacinda is the most dangerous PM this country has ever had. The media are her propaganda machine. Sean Plunkett needs all the support he can get to counter the media bias. | George |
| I sometimes get to read the daily papers in the library-they are uniformly dreadful and staffed apparently by people who have no idea about journalism or standards. We need some alternatives – and quickly! | Roger |
| They have been bought & cencered | Chris |
| Blatant conflict of interest | Diablo |
| I gave up on the newspapers and TV as they are government puppets. | Sally |
| Just look at the Utube of the PM's question time where she regularly gives two journalists the offer of first up pansy questions | Graeme |
| absolutely don't trust it. The bias, and bashing of people with differing views and political leanings are appalling. | lynne |
| I%u2019m disgusted by this so called government and they need to be called into line. What are the other political parties doing to stop this evil? Whatever about mental health, just watching any news these days is just devastating, I%u2019m so tempted to leave this country. | Ange |
| bought and paid for | al |
| | |
| --- | --- |
| Definitely not you watch the media favour this labour government all the time. Democracy is dying. | Stephen |
| Communism | Kevin |
| HELL NO!!!! | Mike |
| NZ has got major problems ahead, we as NZers are going to be dominated by a minority population and be made 'secondary " citizens | GRAEME |
| So blatantly biased | Alan |
| As a result we have cancelled our subscription to the Press. | errol |
| Let's get rid of this regime now. | John |
| It's a no brainer question. | Terry |
| Such funding simply has to have a requirement to 'toe the govt's line' and not challenge any govt decision making. | Graham |
| That is a resounding NO! I should add that i did not trust them before the funding e.g there are two sides to the climate change issue – the media in NZ only write what what they read in the other Government funded rags. | Layor |
| Would anyone trust the mouthpiece of a communist government? | Bruce |
| Its the old scratch my back and I'll scratch yours trick | Garth |
| It seems very clear that Comrade Ardern's secret agenda involves removing dissenting voices from the news media and bribing them to parrot Labour propaganda | colin |
| Not good for democracy | Grant |
| I no longer watch read or follow MSM (Main Stream Media) | Paul |
| I have always taken anything the media says with caution. It has become very clear that this government has become corrupt. Buying the media off is a good example. There are huge problems looming in NZ and sadly they are not too far away. | Chris |
| Accepting payment for nothing makes them beholden to the money source & obligated to do their bidding. Particularly if there are strings attached. | Nick |
| taking Payment for supporting the Government agenda. only makes them a stooge for Propaganda | Don |
| Hell NO! | Tony |
| I don't even trust the Government. The Ardern socialist government has an obvious plan (without a mandate) to: enact the He Puapua proposal – steal control of life-giving water – ban free speech – remove democratic right to elect councils – create a separate Maori Health with power of veto including the appointment of the Minister of Foreign Affairs sister Tipa Mahuta to the Board – blatant nepotism – buy the media with the Public Interest Journalist Fund thus creating their own propaganda machine – provide funding for criminal organisations – give control of coasts to maori – give control of Corrections and Oranga Tamariki to a maori minister who goes awol when it hits the fan (Waikeria Prison-judicial interference) – change school curricula to the stage where children can leave school without literacy or numeracy skills, and to teach students what to think not how to think with emphasis on indoctrination of all things maori. Surely this country is approaching or is at the stage where the Government is about to usurp the Monarch by handing back sovereignty to maori which they ceded by signing the Treaty of Waitangi commencing on 6 February 1840. It must be time for the Governor General to exercise The Reserve Powers and dismiss this Prime Minister. Other reserve powers are to dismiss a Prime Minister, to force a dissolution of Parliament and call new elections, to refuse a Prime Minister's request for an election, and to refuse assent to legislation, preferably before the appointment of the next proposed Governor General, who, cynically, is of maori descent. (No surprises there) These powers to act without or even against ministerial advice are reserved for the most extreme situations. This situation surely has become extreme. The other alternative is for the Government to call an election to gain a mandate to continue with their agenda to replace democracy with their intended totalitarianism. Without recourse to any Binding Citizens Initiated Referenda this would seem to be the only bloodless solution to this country's current political problem. | Terry |
| The media has been bought by government cash. The Labour Party is turning New Zealand into a dictatorship where false information is spread with suppression of alternative views | Kim |
| socialist propaganda will dominate the news allowing he Ardern brand of neo-communism to spread | Beyan |
| Commonsense tells you. although I think this word is, now obsolete. | Clare |
| It is very obviously a bribe by the government to promote their separatism agenda and not be questioned by media. | Andrew |
| Bit like the turkey voting for Xmas!! It is high time more media people have the balls to speak up and show all this crap for what it is. It is certainly not what the mainstream media should be falling for. Perhaps the journalism schools have a big bit to answer for? | Tim |
| They must remain independent. Government funding should be outlawed. | Doug |
| It's so blindingly obvious that the media have been bought and paid for… it's really quite disgusting and the censorship that goes with it | Aphrodite |
| Paid journalism is called advertising, and it always advertises the payer. | Robbie |
| Have stopped watching any TV news due to such obvious left bias. | Addrianne |
| They take what this Government states as gospel look at pulpit of covid the PM with out looking up on a regular basis, goes straight to Jessica Mutch for fisher first query. Also where is journalists fact checking on climate change. Zilch, They are not doing their jobs properly presenting us with the truth. If they gave a factual account of other political parties policies when released be a start.. | Gwenda |
| They are not reporting with integrity on a variety of matters from Covid through to issues like 3 waters and the others you have outlined. Globally 'misinformation is becoming a euphanism for any opinion that differs from Government sponsored rhetoric. NZers need to become aware of the undercurrent of change in our once near idyllic country. Before it is too late to have our voices heard. | Lena |
| Hell NO!!. You only have to look at the TV Broadcast on Covid to realise that when question times comes around, it's only the invited ones that are there and there are no pointed questions asked and everyone is agreeing with the tooth fairy. And we only hear derogatory comments from media about opposition parties – nothing constructive at all. all VERY obvious. | Don |
| Its obviously yet another Comrade Jacinta Bribe .All I say is stop supporting these parasite media outfits that will happily support a bribe .I stopped buying the TV Guide, now also Listener due to any investigative areas that put a bribe above honesty ,also i will never purchase another Ch-ch Press . Vote with your pockets Kiwis .Sky Australia is the only source of honest journalism Cmon advertisers stop supporting apartheid with your advertising dollar . | Ray |
| Funding could be needed in some areas but with political strings attached is a disgrace, unconscionable, and corruption of the worst type | Wilf |
| it is extremely concerning that we cannot trust MSM, as they are towing the Government's line rather than seeking a balanced view. it now appears up to individuals to find out the 'truth' | pauline |
| I object to my taxes being used to support media that I will not personally purchase. | Roger |
| Absolutely no way!! We are heading towards another China!!! | Sandra |
| A. Disgusting state of affairs. | Lawrie |
| Bought and paid for propaganda. | Lionel |
| Nothing but woke propaganda | Sarah |
| It's now manipulated truth which makes it confusing and frustrating, therefore dismissive to relying only on that source. | Annie |
| a very dangerous situation for NZ not only an apartheid country but a marxist state also | greg |
| Is the Pope a Muslim? | Michael |
| Media are like most. If there is if their is money for jam they will be in up to their necks. What gets me, is how does the Labour party hope to get away with it. New Zealanders will eventually wake up to this rort. | Dennis |
| The 3 waters proposal is probably the most significant change to NZ governance structures EVER. Has anybody seen a single article from the mainstream media setting out the exactly what is being proposed by the government, the pros (if there are any) and the cons, plus the rights of all citizens and ratepayers (of any ethnicity) to participate in these discussions? It used to be said 'the pen is mightier than the sword' – our media appears to have mislaid theirs. They do not deserve to survive, in their wholesale rejection of their fundamental democratic obligations. | Ian |
| control the people by contolling the narrative | john |
| Absolutely NOT!! This is just another instance of our Marxist government mis-spending taxpayer money for their own benefit. | David |
| We have very few actual journalists in NZ now..we have lots of propaganda spinners in the employ of the Ardern govt. | Barbara |
| I have been challenging Anna Fifield, the editor of the Dominion Post, over its biased coverage and strong slant towards left wing opinion writers that fill the pages of the newspaper. She now ignores me. | John |
| Propoganda !! | john |
| I don't trust mainstream media under normal circumstances but government funded media is worse by orders of magnitude. | Bryan |
| no way. Corrupted by $$$$ and LIES | Gill |
| To quote "Winston Peters" this country is on the path to become another Zimbabwe | Lawrie |
| Freedom of speech – whether written or spoken – is our fundamental right | sheryl |
| True journalism in NZ is dead. All media is leftist dominated & if you have any contrary opinion are deemed a racist or as with Peter Williams are sacked. If Labour get in for a 3rd term the flight of Capital from NZ along with qualified professionals will be huge. Will Maori then follow Zimbabwe & confiscate white farms. | Warren |
| They are not journalists but government propagandists. | Trevor |
| Just like "Pravda" in Russia. The "truth" and nothing but the "Truth"!! | Wolf |
| Of course not! The media that are taking Government funding are putting out propaganda in return. | michael |
| RNZ pro Maori propaganda is excessive. I respect people who contribute positively to society and help themselves before asking for more so that every other taxpayer can have less.. There are hundreds of ethnic groups in NZ we hear little or nothing from. | Nigel |
| Blatant state capture and trampling of democracy by Labour. | Geoff |
| NZ is broken, JA very clever communist leader | kerry |
| TVNZ is a joke !! an advertising fund raising organisation. The word public " Entertainment " does not fit into the TVNZ Vocabulary !! I no longer watch NZTV !! | Pierre |
| Nothing short of corruption and propaganda | Russ |
| Na | Shirley |
| how could you? | Gerhard |
| I don't believe anything in the so called news any longer | Shirley |
| Honest, unbiased reporting is a thing of the past. | FloJo |
| Obviously, this funding will inevitably lead to media bias favoring the government. | John |
| When any institution or organisation comes to rely on central government for a major part of their budget, we should be wary. The principle applies to media, education, health, political parties, services . . . Those in power come to believe their propaganda. | Bruce |
| Truth and honesty and democratic rights are disappearing fast from mainstream media and it is being promoted by the government and other political parties. We also see nepotism with the appointment of Nania Mahuta's sister to a place of power/influence. This government is corrupt and dishonest in so many ways. Time for them to go. | Kevin |
| The media in this country is a weak excuse for serious news/political opinion reporting.They are all parroting each other much like all the Government stooges all utter "morena" first off like a bunch of parrots. I have previously said that the Public Interest Journalism Fund is a propaganda tool ribe fund for favourable propaganda from NZ's media and and should be noted by the World Corruption Index. The name Ardern should be treated in NZ the same as the name Quisling is in Norway. | Terry |
| It is frighteningly obvious that we are are subject to a heavy left wing bias through Radio NZ, TVNZ and Stuff. | John |
| pretty darn obvious, isn't it, totally biased BS at best! | lorraine |
| very dangerous to our democracy. Gordon | GORDON |
| Its obvious there is a bias but how to stop it and make it 'fair' and honest? | Sharron |
| The msm has been gagged. | Vincent |
| back to 1938 in Germany | Chris |
| Our news media is a disgrace never trusted them for years they are puppets on a string for the Govt as you say in your article if you speak any thing other than what govt want you get jumped on we are supposed to be all zombies and follow the leader to our destruction | Russell |
| they scream black and blue when you challenge them on their independence | David |
| No, not when you see good journalists leaving rather than compromise their integrity. | Pammie |
| definitely not! | Patricia |
| These media are just sycophantic puppets of comrade Ardern. Shame on them. They are no better than climate change scientists promoting their political funders agenda. | Mike |
| I am more than saddened by this – I'm really scared. | Jilleen |
| Keep talking to us, Dr Muriel. We need to hear your voice louder in public. | Brian |
| Government funded media makes for strangled journalism. Even if the reporters want to ask the questions, use their investigative skills, I have no doubt it will all be clamped down on by those in higher positions more concerned with how they're going to spend their money rather than do their jobs | Bev |
| How can the "independent" media be partial when fully funded by the Labour Government | David |
| Already He Puapua is creeping in with all new buildings being given Maori names in Christchurch Maori only names! Maori demands are never ending a continuous gravy train. | Lynne |
| Political interference at the cost of the freedom of the press. | Philip |
| A 'dangerous time' indeed – and a throwback to the days of Hitler and Fascism and Lenin and Stalin and all the other dictatorships that have emerged and controlled so many countries since. | Paul |
| the media has sold the people out | graeme |
| Any media that can be bribed by government shouldn't be there | Lynn |
| Common sense | Geoff. |
| media bias is all around | Don |
| We must establish an independent media, radio, television, print and very soon. What is happening is completely incomprehensible, | David |
| No, no and no again. I am very concerned which way this government is heading | Kerin |
| It's a straight up government bribe and our MSM are falling over themselves to take it. Even before the PIJ fund was created our MSM was in a bad way – now they're terminally bought-and-paid-for. | Derek |
| At least here a comment will be allowed, unlike cancelling it out on paid media. | Martyn |
| They are conditioned to be socialists at journalism school so we shouldn't be surprised. | Garry |
| Even before the fund, I had lost trust in mainstream NZ media, especially with the coverage of Covid. | Matt |
| A free press is a bulwark of democracy, which we have lost in NZ | Bryce |
| No, No and No again! Pravda could take lessons from our mainstream media and television news. Mind manipulation on all things Maori and the rewriting of history is grist to the mill to our media. It is all so clumsy it is not even socialism or racism by by stealth. There will be tears before bedtime. God Defend New Zealand. | Bruce |
| Media reporting is generally biased towards the reporter's/editors perceptions and agendas anyway. The accuracy of reporting should therefore be questioned in any case. Government funding would further influence the direction of said reporting in favour of that particular governments political agenda. As tax payers, we are funding biased media reporting as dictated by the current ruling parties. NZ Media has been willingly hijacked by Ardern's government. An independent,un-biased, un-funded source is desperately needed for honest reporting. | Martin |
| Not one iota. In fact I'm so fed up with their propaganda and bias that I'm going to get my news elsewhere. I'm also fed up with being force-fed the Maori language interspersed everywhere. It not only sounds ridiculous but is getting more and more irritating. | Helen |
| No! Never have and never will! They are all part of the government's propaganda team. | Vic |
| | |
| --- | --- |
| Totally biased Media means that we are living now in a developing Neo-Marxist state. | Hylton |
| And lets be clear about the potential 3 waters reforms. Sitting around the table will not be iwi representatives but board members of large multi-million dollar businesses; who don%u2019t pay tax. They will not be representing any New Zealanders; especially Maori !! | Robert |
| Biased and self serving | Barry |
| Not only do I not think they should be funded by the government which is an absolute travesty, they also have become very misleading and divisive with their rhetoric. I don't watch New Zealand tv and I urge others to do likewise. I saw a headline today from one, probably Stuff, putting " The Tribe" meaning New Zealanders here against those trying to return home. I am certainly not part of any tribe" I think Stuff is owned by an Irishwoman, what does she know? I would love our fellow New Zealanders to be able to return home. Most of the "stuff" they write is absolute nonsense. Maybe one of the Kiwis could take her place and she return to her own country. I have nothing against the Irish only this divisive person. | Janine |
| Helen Clark created the Deep State in New Zealand. Governments should not fund the media. | Martin |
| Bribe money to sell the racist maori sovereinty agenda. Wake up New Zealand, we need to get rid of this terrible woke government to return New Zealand to a democracy. Marxinder and her Marist, racist policies must go. Send her to the Un and then New Zealand must withdraw from that useless, destructive organisation as well. As John Bolten correctly stated, if the top 10 floors were blasted of the UN building in NY the world would be better of and the USA would save $5B pa. | VChris |
| No balanced view in media showing both sides of a story | tom & Robyn |
| one country, one people, one government, one vote | hugh |
| a totaly untrustworthy govt | murray |
| remember their pledge to being the most transparent administration ever, the only thing transparent are their answers to any slightly tough questions! To have the media controlled as they are happens in countries like China and North Korea, wake up NZ! | Anthony |
| What CAN we say? Other than our media has followed their idol – ardern – and they ALL lie…. | Lorraine |
| Maybe, your column needs to be linked in every way to all International media, so all that is said on here can be seen by everyone on International media | Bill |
| Remember how the Nazi gained power | Les W |
| Wake up before it's too late New Zealand! The pronouncement by Jacinda Ardern that her government will be the most open and transparent government has been nothing but a lie. Those people who couldn't see past the spin and believed everything that came from her lying lips are responsible for the undemocratic and dangerous path New Zealand is headed. I no longer listen to Morning Report or other mainstream media because I cannot trust what is being reported is the truth. The diet being dished up by our media is no longer accountable journalism and we as a country will pay dearly for allowing this woman into power. What legacy is she leaving for her own child? | Heather |
| With conditions attached as we see this, this is the end of democracy as it should be in NZ. It is a shocking state of affairs this govt has deceived NZers with. | Greg |
| …. I just can't believe your every day Kiwi just can't see what is happening to our country. | Ian |
| Are we being run by communists? | Linda |
| The media are just as guilty as this corrupt treasonous entity pretending to govern NZ. while advancing the global control agenda of the gluttonous elite. They are all being paid off to sell out their own country. Shame, Shame, Shame! | Janine |
| I am fed up with Ardern trying to force the Maori language on to us by stealth. | Geoffrey |
| Absolutely NOT. Our fourth estate have sold out their integrity to the nefarious & devious antics of the Goebbels machinery of this totally inept Labour govt. My news reading is now with BDF News and Al Jazeera. | Tony |
| The State control of the media is yet another step towards totalitarianism. We should, perhaps, ready ourselves for "New Zimbabwe". | Graham |
| They have been bought by Govt to push the Govt agenda. | Gavin |
| Fundamentally wrong. Freedom of press should be upheld and encouraged. | Linda |
| It's clear they've all become mouth pieces for Arden. | Kate |
| What is the point of having a so called free press, wouldn't it be more honest if this government wrote the articles themselves. One paper one controlled people. By buying the press it's very dishonest. | Carol |
| Government control | Iain |
| It is not only cancelling adverse comment on the treaty and three waters, it is also cancelling any comment against climate change mantra, no matter how authoritative that comment may be, | Peter |
| I turned off RNZ four years ago, and TV1 and TV3 recently. Any letter to the editor of the Chch Press that opposes govt. policy will not be published. We are not being given a balanced view by the media- just govt propaganda. No, I certainly do not trust the media. We do indeed have a very dangerous situation. | Ian |
| Absolutely not. These scum media who receive Govt funding and feed total bullshit to the public should be shut down. The situation in New Zealand is deteriorating by the minute and this lowlife Ardern Govt muat be removed immediately. … or anarchy will prevail. | Des |
| I am disgusted by the weak money-grabbing Press, who think more about their financial position than providing a balanced investigatory of what being forced on NZ by this Socialist Government. What galls me most is the blatant denial of Ardern who sidesteps any questions by stating %u201Cit is not on the Government Agenda%u201D. The problem lies in the fact she has lost control of Caucus and it is being orchestrated by Maori Elite, and she is not prepared to do anything about it. I recently cancelled my morning paper stating I was not prepared to subscribe to biased, poorly reported, and inaccurate items. Their reply, thank you. Let us know when you want to re-subscribe! POOR ! WEAK! | Robyn |
| Bias and suppression of comment or analysis | Jeff |
| Criminal bribery | Kevi |
| Nor do I trust Media which are not truly Independent | David |
| It is a disgrace that our press have taken handouts and are now just the govt's propaganda machine. | Donald |
| Hell no. | Sheena |
| It proves the weakness of the present lot of journalists when you can give them a dollar and they'll say what you want them to say and only ask the easy questions. | Bruce |
| Independence cannot be maintained if your paycheck is not independent. | Charles |
| Now days the media is just a government propaganda machine | Robin |
| I think and ask questions. It's a no brainer. | Claire |
| This is how Hitler and the Nazi Party gained so much power over the people of Germany leading up to the 2nd World War. Control the Media and you control the people. | Murray |
| | |
| --- | --- |
| Stinks of fascism in the 1930's and 40's | John |
| This is the worst possible scenario for New Zealand. When the government controls the media and, therefore, the information stream to the vast majority of the population, the result is a totally misinformed electorate which can only vote on what it "knows". A FREE press is a *critical* component of a free society. | Gary |
| Where are all the honest people I can't believe the media can be brought in this way what we are now experiencing is nothing but Communism | Peter |
| Hong Kong here we come ! | Wah |
| The media need to be objective and enquiring. | Mark |
| Bought and paid for! | Rod |
| Propaganda! Democracy is under threat. | Kathie |
| This is something that should frighten us all to the core and the most significant blow to democracy in my lifetime. | Neil |
| No Not ever…it's so obvious that some media is virtually controlled by this Marxist government . | Roy |
| It is a blatant conflict of interest. Conflicts of interests are a fundamental check point from listed boards to community groups, More than anyone it must apply to the media. | Dave |
| This how things are done in a communist country. | Chuck |
| I do not watch TV anymore, I do not read any govt funded news entities. I get my news from other sources | Jo |
| I said is an obvious bribe | Peter |
| I believe this country is sliding very quickly towards separatist society. | mark |
| How are they getting away with all this, sad times ahead | Ken |
| no way, human nature to take the money and run | Graeme |
| You cant upset the BOSS | Colin |
| I find myself shouting at the TV news on either channel it got that one eyed its not worth watching | Alan |
| Well of course not it's appalling | Martin |
| When you receive an inducement from any organisation whether it is the govt or private body your mission can be screwed in their favour. Therefore media will lean favourably towards the govt with news information. Why because why wouldn't you carry on doing the same to gain favour. | Peter |
| I don't trust any of the woke media that sucks up to woke politicians. | Laurie |
| The 4th Estate (largely with a few exceptions) have gone from speaking truth to power to becoming the schills for power. There should be a NZ wide boycott of such media that might hammer home to them that they are not doing their job. Unfortunately most Kiwis are too concerned about making ends meet to have time for politics that affects their lives. | Brenton |
| Distrust the distorted NZ press.Like some local governments, central government is corrupt and there is no long term accountability for wasting our money. They only care about getting re-elected and not the country or cities. | Denise |
| It is was I would call outright bribery. We need New Zealanders to wake up pronto, before it's too late. | Chris |
| They have been bought & paid for, so are now just puppets of the government. What about keeping the public informed with investigative journalism? | Wilma |
| Don't trust anything this government is doing | Jimmy |
| This is propaganda, not true and honest news and should be recognised as such | Murray |
| I no longer even watch main stream media | Ayden |
| Dangerous times indeed | Leonard |
| Since the Government $55m, I expect a newspaper for free each day. Perhaps I am expecting too much! I buy the Saturday paper during winter because I use it to light the fire and wrapping scraps up in. When laid on the garden in summer it helps keep moisture in the soil and works well in the compost heap. I do not watch TV news because they are increasing using a language that I do not understand and, because of PC (Political Coersion), I have no interest in learning. | Kevan |
| I no longer watch or read NZ news not only do the MSM fail to report important issues but they pedal the Govts propaganda at every turn. I watch Sky News in Australia for more balanced reporting. Good interview Muriel | Alison |
| I have not consumed MSM for months. | Ravi |
| I have not trusted the media for some time, but now, with the Marxist Government funding them it is truly sad, to see the attempts to break our Democracy. The best way to deal with this is to stop taking any notice of them. Do not read, listen, fund them. Stop all communications to you where you get addressed in Maori. And so on. | Folkert |
| Absolutely not . This is pure Marxist corruption . Imagine the banner waving ,chanting ,hysterical rent a crowd if the National Party had suggested it! Ardern would have dislocated her finger, waving it around while ranting loudly about it. | Max |
| She has brought them. Mind you most of them are left leaning | Jan |
| MSM is corrupt these days – bowing to the communist government who gives them money. | Clive |
| I used to watch TV news everyday, but now due to such obvious bias, it is no longer a place of interest or trust. I have turned to other places to try and read real news and journalism. I would like to see the disposed parties form their own independent news site. | John-Paul |
| Thank you! Thank goodness this horror is being exposed by NZCPR | Rosalie |
| They're no government stooges, peddling mindless propaganda and outrageous hyperbole | Steve |
| The mainstream media are turning into a mouthpiece of the State. It is supposed to be a watchdog, not a lapdog. | John |
| Don't trust NZ media at all – the Covid fiasco has cemented my total distrust in NZ's media. For several years now I read international news (some Australian media is excellent) to get information that I need to weigh up. Interestingly many international media sources have been critical of Adern, some very mocking of her Covid approach & its devastating impact on our tiny country – a sure sign local media here are nothing but PROPAGANDA distributors, for the world communist takeover. Our public are largely, completely brainwashed. | Hannah |
| Definitely Not | ERIC |
| This is lousy it is a form of muzzling the press by paying for them to keep Quiet not allowing for the press to Comment on any lousy developments This rotten labour Government is putting forward | ian |
| Don't watch tv any more or listen to radio as all biased and no minds of their own. | Kathleen |
| | |
| --- | --- |
| No, I do not trust the media who take government funding. They are not able to delve into the important issues, so do a snow job. They are now just political lackeys. | Graeme |
| The lengths this government is going to to ensure they win another term of government is extraordinary. They are the most ruthless government ever – no other government would try to corrupt the media with bribes. Sadly the media have accepted and NZ is in a perilous state. | Dennis |
| Absolutely not. I don't follow NZ media anymore it has become a shocking PR arm of the government. | Rebecca |
| The media have fatally wounded themselves by taking bribes. I don't know if they can ever recover. | Ivan |
| The difference between Sky News and TVOne is unbelievable. Most of the NZ media can no longer be trusted. There are very few that are worth following. | James |