October 9, 2023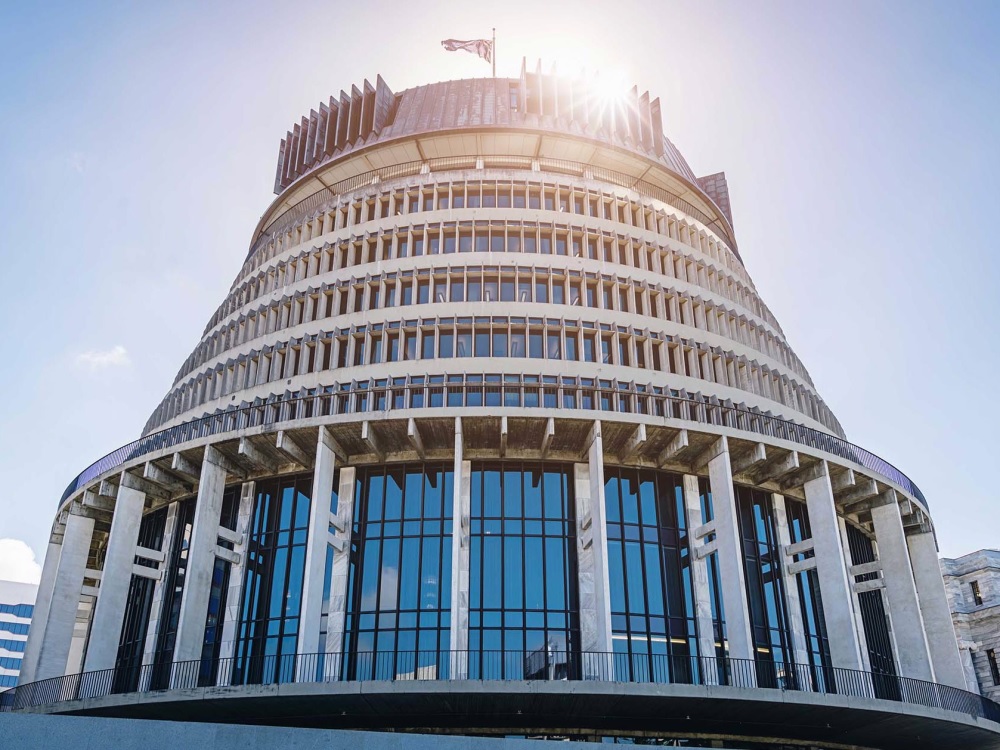 "Our Governments have great powers and great responsibilities. Their exercise of those powers and fulfilment of those responsibilities is legitimate only because it arises from the consent of the people, or, to put it another way, because it is based on the political sovereignty of the people."
– Towards a Better Democracy: the 1986 Royal Commission into the Electoral System.
We are now only days away from election night's 'big reveal', when we find out the direction of the country for the next three years.
Will we enter a new era of hope and opportunity?
Or will we be condemned to three more years of chaos as Labour, in coalition with the radical Greens and Maori Party (which says it doesn't believe in democracy yet happily takes the trappings of office), impose their authoritarian agenda onto our country, undermining democracy, free speech and the Rule of Law?
If Labour wins there will be a literal exodus of Kiwis from New Zealand – those who are not be prepared to subject themselves to three more years of destructive socialism.
And while a government of some combination of National, ACT, and New Zealand First may not be the dream alternative some were hoping for, at least it would close the door on the disastrous Ardern era.
This election has cast further doubts about the integrity of New Zealand's mainstream media.
If we cast our minds back to the last 'normal' election in 2017, their focus was on holding the incumbent National Government to account. Day after day, we were bombarded with stories about hospital waiting lists, homelessness, and high immigration rates.
Yet after six years of Labour, with those issues more chronic than ever, the media has hardly given them a mention. Instead, their overwhelming focus appears to be on helping Labour undermine the credibility of a potential National-led government.
Discrediting an alternative government is, of course, Labour's main election strategy. Since it cannot campaign on its disastrous record in office, it's hoping to win by default. Whether the media's seeming assistance is due to the fact that Labour's $55 million Public Interest Journalism Fund payments are not scheduled to end until January 2026, or to the innate left-wing bias of newsrooms, is not clear. But apart from some stand-outs – particularly Newstalk ZB – the media is giving the appearance of being Labour's propaganda arm.
The debate over tax is a case in point.
The bigger picture is, that in a country awash with profligate spending, Labour plans to increase tax, while National plans to lower tax.
Under Labour, bracket creep will ensure Kiwis pay an extra $3-4 billion in tax over the next four years, while National plans to eliminate bracket creep and provide tax relief.
But by obsessively attempting to discredit National's lower tax plan, the media has appeared so dangerously one-sided and biased, that the new government should include a full inquiry into media reporting of the election in the review that follows every general election.
Three years ago, on election night, Prime Minister Jacinda Ardern promised to govern for all New Zealanders: "To those amongst you who may not have supported Labour before… I can promise we will be a party that governs for every New Zealander."
Yet barely three months later, using Parliamentary urgency, she crushed the fundamental democratic right of New Zealanders to veto council decisions to introduce Maori wards.
The Herald's Chief Political Reporter at the time, Audrey Young, was scathing about the deceit:

"The Government has made a strong case for abolishing local voters' ability to overturn a council's decision to establish a Maori ward. So it is unforgivable that Labour did not put it in its 2020 election manifesto. Local Government Minister Nanaia Mahuta foreshadowed the move in November, within weeks of the October election. It was clearly on Labour's agenda all along. It may be a divisive issue but there is no excuse for Labour having hidden it at the election. No doubt Labour feared it could strengthen the arm of Act or, more importantly, of New Zealand First and did not want to take the risk of saying what it wanted to do in case the issue cost it votes."
It turned out that abolishing petition rights wasn't the only policy that Labour kept from the public. Their whole co-governance agenda, prescribed in the He Puapua report, was also deliberately hidden.
The problem is that New Zealand's constitutional conventions are very clear – to be legitimate major constitutional change requires the approval of voters either through an election or a binding referendum.
Since He Puapua transfers democratic rights and public resources to the tribal elite, it represents major constitutional change. But with Labour securing no public mandate for He Puapua, all policy enactments are illegitimate. That includes race-based quotas in government tendering, the Maori Health Authority, Three Waters, and the requirement for all government agencies and many private sector organisations to commit to a Maori world view and co-governance.
If there's a change in government, scrapping all He Puapua measures should only be the start.
The massive He Puapua deception of New Zealanders, orchestrated by Labour and iwi leaders, should not only be punished at the ballot box, but steps must be taken to prevent any takeover attempts in the future.
Since the Maori seats have now become a state funded vehicle for activists pushing for Maori supremacy, a referendum needs to be held to give all New Zealanders the right to decide whether the Maori seats in Parliament and Local Government should be retained or abolished. This should be a priority for the incoming government.
A second priority is that New Zealand should withdraw from the United Nations Declaration on the Rights of Indigenous People. Although this is a non-binding accord, it was nevertheless used by radicals in their attempted takeover of New Zealand's democracy.
And thirdly, since the Ardern-Hipkins Labour Government has been using the Waitangi Tribunal's reinterpretation of the Treaty of Waitangi as a "partnership" between Maori and the Crown to justify their co-governance agenda, the official interpretation of the Treaty needs to revert back to its original meaning. That has been outlined by the great Maori leader Sir Apirana Ngata in his 1922 explanation of the Treaty as an agreement between the Crown and Maori that established the Queen as our sovereign, introduced private property rights, and gave all New Zealanders equality under the law.
Since the Waitangi Tribunal has been captured by extremists and has been instrumental in the tribal takeover attempt, it must also be wound up.
Another urgent change that needs to be made by the new government relates to the economically and socially reckless Zero Carbon agenda that Jacinda Ardern and the radical Greens inflicted onto the country.
All of the dangerously harsh restrictions that have been introduced are based on measures that the United Nations has now abandoned because they are too extreme. Yet Labour has irresponsibly refused to correct their now-discredited climate models even though they are costing New Zealanders dearly.
Not only are Kiwis now paying too much for all New Zealand goods and services, but communities are being penalised as councils throughout the country use Labour's excessive sea level rise predictions in their coastal planning rules.
The new government must review all climate policies as a priority, so they too do not force Kiwis to pay more than they should for petrol, food and everything else.
This week's NZCPR Guest Commentator former MP and Federated Farmers President Owen Jennings explains what these errors mean for our major export industry:
"Right now, the Government, National and most of the larger parties state that New Zealand agriculture is responsible for 'nearly half of all our greenhouse gas emissions'. The Green party would want us to think its somehow even worse than that. These parties have created their emissions' policies on this basis.
"All of them are wrong. Badly wrong. So dangerously wrong that they are willing to sacrifice some 25% of our sheep and beef sector and 5% of our dairy industry. That's Government modelling numbers."
Owen's call for political leadership is one that most Kiwis could support: "We need a government that stands up for us, for truth and scientific reality and does not buckle to shenanigans fostered by misguided green groups."
Finally, a few words about the election.
Isn't it interesting that while National has rolled out former PM John Key to rally the troops, Labour's former PM is nowhere to be seen. While Dame Jacinda Ardern has miraculously found enough in the tank to campaign on the world stage as a leader in the censorship of free speech – here at home she's considered so toxic that Labour cannot even use her to support their failing campaign!
So, what should we be watching out for on election night?
Of particular interest will be Labour's vote. At the last election, they won 50.01 percent of the party vote, which, taking the 'wasted vote' into account, gave them 65 MPs – 46 electorate MPs and 19 list MPs.
With the latest polls showing Labour's support at around 26 percent, they will be entitled to only 31 MPs or so. Depending on how many electorates the party holds – they won 29 in 2017 – many high-ranking list-only MPs could lose their seats. Those at risk include Cabinet Ministers Willie Jackson at number 8 on the list, Andrew Little at 12, David Parker at 13, and former Speaker Adrian Rurawhe at 11.
Other Cabinet Ministers under threat if there's a strong swing to National include Damien O'Connor on the West Coast at 10 on the list, and Kieran McAnulty in the Wairarapa at 16.
Other battles of interest include Labour's Greg O'Connor in Ohariu, who's being challenged by National's Deputy Leader Nicola Willis; Wellington Central, where vote splitting between Labour and the Greens could see the National candidate come through; Auckland Central where Labour voters supporting the Green Party's Chloe Swarbrick may see her retain the seat; and Ilam where the TOP leader has wooed the media into thinking he may win the seat – in spite of it probably going back to National.
There's a big question-mark over the seven Maori seats. They are the battlefield where factions within Maoridom are fighting for dominance. With the Maori Party supported by younger radicalised activists, while an older cohort supports Labour, both parties are bullish about their chances.
If any party wins more constituencies than their share of the party vote entitles them to, they may create an overhang in Parliament. This has happened three times in the past, with the Maori Party creating a one-seat overhang in 2005 and 2011, and a two-seat overhang in 2008.
Also of interest will be the number of special votes, which traditionally favour the Greens and Labour, and which may reduce the election night seat tallies for National, ACT and New Zealand First.
Voter turnout will also be a major factor in this election. A low turnout will be bad news for Labour, as disgruntled supporters stay at home, while those wanting a change in government will be highly motivated to get out and vote.
At this stage, the polls are showing around 10 percent of voters are undecided, and a further 6 percent intend voting for parties polling well below the 5 percent threshold for Parliament. Whether those minor party supporters stick with their favoured party, allowing their votes to effectively be re-allocated to successful parties, or whether they will switch their vote to ensure it counts, remains to be seen. But collectively, these voters could have a significant influence on the final shape of our Parliament.
Let's hope that one way or another, that as far as the future of our country is concerned, the election night result is one to celebrate!
Please note: To register for our free weekly newsletter please click HERE.
THIS WEEK'S POLL ASKS:
*What's your election prediction – will it be the left block of Labour, the Greens and the Maori Party that wins through, or the right block of National, ACT and New Zealand First?
*Poll comments are posted below.
*All NZCPR poll results can be seen in the Archive.

THIS WEEK'S POLL COMMENTS
| | |
| --- | --- |
| If the Right Block don't get in, well NZ will be stuffed for a very long time….! | Bruce |
| Right | Ross |
| It should be National and ACT. Any plonker that believes Winston and NZ 1st will behave any differently than they did in the past is off their bloody rocker. | T |
| And thank GOD for that, it's about time we had some one with some sense. | COLIN |
| still dont trust winnie not to get in bed with liebour, greens and hori just to spit at ACT and luxon is just as bad as key if not worse, so Australia looks like a good place to go to shortly | Richard |
| Right only. | galem |
| It will be a clear win. | Christine |
| Heavens above I sincerely hope so | David |
| Last HOORAH….. For USELESS LIEBOUR!! Look to get booted, into touch, for a long. long time… By ANGRY VOTERS, that will GET EVEN, on SAT 14Tth OCT!! | David |
| It has to be. Can not afford to have another 3 years of Labur | Don |
| And bring on the referendum on Treaty principles | Bronia |
| Bloody hope or I'm off | Phil |
| New Zealand has been my family home for 5 generations in Wellington. I recall growing up as a proud 1970's white boy in this nation. Its health systems, education, the courts and the way in which people behaved towards each other. I felt safe and free. Those feelings are long gone. Today I can openly say I am ashamed of the politicians from Labour and the media. The millions given to gangs. Businesses are struggling to survive in a totally wrecked economy by way of compliance overreach, severe operating conditions that includes being a landlord. The insurance I have to carry to protect myself and business from extreme penalties. Maori rights exceed that of all others. Even our gender inequality is beating down only men in family courts and free services but not if you are male. The suicide rates are red lining and frankly laws have pitted one group against another. I am male. I am not stale. Closing down these unnecessary government departments and keeping a weather eye out for Marxism is a must. By chance, I had the opportunity to meet with Mr David Seymore in the Johnsonville mall a few days ago. He is sensible and driven. Unlike sheep politicians who would rather be passengers bowing to separate groups. I am quite certain David will make the necessary adjustments to get us back on track. One could only hope to work with a leader like that. | Luke |
| Labour are bunch of misleading and ineffectual idiots | Kath |
| The right block will win, but only because the public are heartily sick of labour and it's divsive, racist tactics. No one in their right mind wants to see this continue | Trevor |
| So long as the elected new government forever expunges the Marxist ideologies and apartheid policies of the morally bankrupt Ardern hiding out at Harvard, US. | Monica |
| Anything otherwise would be an absolute disaster for our beautiful country | Carolyn |
| May the Good Lord bless and keep NZ | Pierre |
| The only option for our successful future. A Labour led win will result in New Zealand spinning out of control into anarchy and chaos | Bryan |
| Well I certainly hope so! | Colleen |
| we cant go through any more shit like we have over the last 6 years | Alan |
| Come election night N Z First may struggle to get to 5% and i predict a National and A C T government . Bring it on | ken |
| Must be the right or NZ will be taken over by radical Maori. ( He Puapua Pua ) We all on this platform must keep convincing others to vote out the evil Labour, Greens and Te pati maori radical, racist undemocratic Govt. | Allan M |
| Unfortunately Chris Luxon did not rule out the Winton First Party early – thus giving that charlatan and liar a voice and platform. By ruling him out Luxon now possibly (if we need him to form a Government) gets him to hold New Zealand to ransom, and he might go with the Left if they offer him more baubles like they did in 2017. | Brenton |
| If it were mandatory that Labour leaning voters view River of Freedom documentary before voting, theb only a witless fool could vote for more of the same. | Chris |
| Desperate time indeed. My wife and I are now octogenarians so can look back on a long life that is ending on a depressing note triggered by a marxist government hell bent on implementing their agenda. In my 64 years following political events in the U.K., British Commonwealth, USA, and Europe my wife and I are completely depressed contemplating what is to become of the world. We now have 8 great grandchlldren and an extended family that are spread in 5 countries so much is at stake. As members of ACT we have been spreading the word, attending meetings and bumper stickers etc. The media have in many cases have joined forces against the people. We read the Oz Spectator magazine each week,which is always helpful in maintaining our sanity. | David |
| Just with the last centimeter over the ditch. | peter |
| Democracy prevails. My vote goes to Casey Costello for all the good she has done like Muriel. | Peter |
| Not sure NZ First will go right. Good chance they will go left if they do not get their way. | Andrew |
| Right, but only just. Both Seymour and Luxon have committed major errors by slagging their opponents and will pay a hefty price at the polls. | Peter |
| May God save NZ | Pierre |
| I hope right for the sake of NZ and to end the nightmare ! What a tragedy of mismanagement and the ruination of our beloved country.by a jack-booted pack of bastards. Ardern was bad enough and to listen to Hipkins lie, lie ,lie turns me purple in the face with frustration. I think of Putin, Trump, Hitler ' Stalin and Goebbels–a lie told once is a lie forever but told a thousand times becomes the truth. Our biggest worry now are the uninformed masses due to the slimy media and their constant support of the left. . With a change of government heads must roll and Labour as usual will be the architects of their own demise . A total political shambles. and not helped at all by a weak opposition. But as I've mentioned before this country is desperate for new ideas and these are emerging with the small parties. Saturday will be very interesting but the 'pruning of the deadwood' is what I look forward to. Good luck New Zealand.! | John |
| The Trump effect in play here where when polled people don't want to admit to voting Right to eliminate so called Co Governance. Hence the polls underestimating the Centre- Right Vote by 10-15% Mark my words!! | John |
| Just but do not trust Winston Peters and go forbid he iif needed to form a viable govt does not hold out for 100 Days and leave us all in Limbo.!!! | Barry |
| I hope that the RIGHT block wins through and we as a country can get rid of the Socialist block and their tribal elite hang on's. | Derek |
| If the Left win, I fear for New Zealand's future. | John |
| I hope. | Pam |
| Well that is what I am hoping for, although latest polls are starting to suggest otherwise. | Fraser |
| If the centre left of Nat's, ACT & NZ first does not get in the socialist extremists, what is can only be described as a racist party & a malignant lunatic fringe, so called green party (really RED) will completely destroy this country. We will be a combination of North Korea, Venezuela & new version of old South Africa. Hey maybe that's what we need to wake New Zealanders up to the reality of Socialist Extremism sweeping the western world. | Tracy |
| We're doomed to more Marxist-Leninist government if Labour leads a Green & Maori Party coalition after election day. This time they will ram through all their far left agendas and some we don't even know about yet. | Colin |
| Have never felt this desperate to get a National win! | Janet |
| Time for a change. | Margaret |
| It will be close. I only hope I am correct in my vote. | Mike |
| Hopefully National with a very strong Act presence, making Winston First unnecessary. | Gavin |
| Liebour…. using every marxist trick, in the book to try and lie their way, so as to get dumb labour supporters vote by telling huge curlies about their last7 years in govt……as tyrants!!! | David |
| National, ACT, NZ First MUST put NZ in power. NOT Labour etc as NZ will be completely destroyed and would be become that little country down under of NO consequence. | Robina |
| If liebour win, they WILL lose the top money earners to OZ in the exodus of 1Million or more, and that WILL plunge NZ into 4th World status | mike |
| Heavens preserve us if the meglomanic left get in again! | Michael |
| Neither the left or the right blocks will be the winners if we can call it that. The voting and more importantly the non voting public are I think sick of both of them. The minor parties will be the beneficiaries of their displeasure and apathy both. The outcome does not look optimistic either which way. | Gary |
| Right but without Winston Peters | Ann |
| There will be lots of celebrations when Labour & co get dumped on Oct 14th. | Rosemary |
| I'm just hoping and praying that I am right otherwise Australia here I come | Andrew |
| It has to be the Right – otherwise we are doomed – can people not comprehend this? | Scott |
| Heaven help us if the left get another 3years | Gary |
| If the left get back heaven help the future of our belovered country | Bryan |
| I hope with all my heart | Christine |
| If by some miracle the left go in then the country will be ruined | Chris |
| I cant see anyone in their eight minds voting to continue with this bunch of clowns in the circus that exists today. The MSM should all be charged with treason. The media fund should be abolished and then see how long they exist then. | Brian |
| Hopefully without the need of NZ First's support. | Gavin |
| | |
| --- | --- |
| We have to be rid of these lying wankers… | kenn |
| No one seems to have given thought to the possibility of Nat & Labour forming a Coalition MMP makes for strange bedfellows when parties cling to power | Maureen |
| WE CANNOT LET DEMOCRACY DIE AND RACIALISM RULE OUR COUNTRY | BILL |
| Got to be to save us all | John |
| We need the right block in power to stop the left block controlling the news media in this country.Under this lot we are heading for an Authoritarian Communist Dictatorship. | Malcolm |
| Actually, I am not voting [for the first time ever] for any of the Parties in this Poll above. My Party vote will go to NZ LOYAL who will completely change our whole country. Will rid us of all of the corruption in this country, change the whole system of Parliament itself! | Valerie |
| N Z F in the mix only as a last desperate resort to get rid of Labour Green and Maori | Michael |
| We can only hope at least. There has been no good inputs from National in past 2 weeks, and voter swing has happened back toward Labour! Speak up, Nats! | Hugh |
| The only way to go | rob |
| A turning point for western society. | bruce |
| Hoping for the change we need | Kelvyn |
| By a major majority | David |
| Common sense – if this still exists. | mary |
| Seriously considering getting out of this country if the looney left retain the treasury benches. | Neil |
| More smaller freedom right parties wil be a surprise | chris |
| I've lived through left wing governments, never supported them, I could go on, I'm 79 and have lived through Crap! | Ian |
| Hopefully minus nz first | Carol |
| anything else will be disaster | lone |
| 'This current lot' must go post haste. They have virtually destroyed the New Zealand we have known and loved. They are toxic to our wellbeing. | Helen |
| If the Left wins, I'm leaving NZ | Alastair |
| N.Z. desperately needs three right block to winning or the country will lose its best & brightest | Don |
| I despise guessing but for the sanity and sanctity of New Zealand, I hope its the right side of life that prevails. Why has one culture taken over the country when such a large variety of cultures reside in New Zealand? Do New Zealand residents from China (who slogged their guts out on railway lines), India, Pakistan, Italy, Croatia, UK, USA, Hungary, Poland and many other countries not have a say? The wave of maoridom currently overtaking New Zealand is a native culture which belongs with that race to be nurtured, revered and shown as an ethnic celebration. Other countries of the world do not force feed their culture onto residents but proudly celebrate when and where required or as they feel the need. If it wasnt for the treaty cash, the current bunch of millionaire radicals would just be normal New Zealanders like the rest of us, including all ethnicities who chose to migrate here for a better life. | Sharron |
| Left or Right, NZ is in trouble | Charles |
| time for change is now. | gerard |
| If NZ First is attracting the Party votes of a significant number of National supporters because of its stance against co governance it might have been better if Chris Luxon had ruled out governing with Winston, thereby leaving those National supporters with no option but to party vote for ACT. | John |
| If I had my way I would rid NZ of Labour, Greens and the Maori party altogether. | Alan |
| I am hoping without NZ First but hope NNP become king maker | Colin |
| The public have had enough of labours operating with out mandate. | Gavin |
| Please God !!! | mary |
| I hope. Otherwise God help New Zealand ! | Alastair |
| It will be a globalists led right block this time around. | neil |
| Surely there are not enough idiots in NZ to back the Lefties? If they do end up winning I will be one of the people leaving New Zealand for good. | david |
| I was going to vote national until they said they'll restore live shipments of animals, so I'll protest vote Winston as I hope he won't support live shipments. | Catherine |
| If it's the left you will see an unusual phenomenon. flying kiwis. | Diana |
| A very good post Muriel. It should have been read out at all of the National Party's public meetings. I think it will be close but National and their mates should squeak in. Surely we as a collective lot are not that dumb??? | Garry. |
| It had better be to the right, or this waka will sink. | Alan |
| Sadly. the new government will have Winston clinging to the handbrake. But at least Winnie will back ACT with strong anti-co-governance legislation. Unfortunately, Winston is a Muldoon clone on economics, namely Keynesian. | Duncan |
| NZ cant afford another progressive 3 years and sadly National needs a good kick up the posterior to get a reality check and allow Kiwis to live in areal world | tony |
| Before I vote on Friday I will be stocking up on a lot more ammunition in case the unbelievable happens and the Labour Government wins.If they do it will be the end of NZ as we know it, | Steve |
| For the survival of of country, let's pray for that result | Peter |
| Time for a pendulum swing | Hilary |
| That is NOT a prediction, it is a wish. It may well be too close to call. | Vic |
| We are leaving if the left get in. Corrupt.. | Steve |
| just praying | linda |
| More of a hope than a prediction. The Labour Party of old that represented the working man is long dead. Today's Labour Party is made up of Chardonnay socialists, school teachers, social workers, children and drag queens – most of them unfit to run a bordello let alone a country! | David |
| For the sa,r of the country we cannot endure another 3 years of Labour. | Jane |
| Most people I know are sick and tired of the divisive tactics employed by Labour, their lies and their overspending. In addition their rewriting of the Treaty and school curriculums in history, science and sex education. Their promises amount to nothing and though millions more were spent there is little or nothing to show for it. | Carol Brooks |
| Liebour…. GONE BURGERED…. by Dinnertime OCT .14th. maybe see you back in about TWENTYONE YEARS OR SO….maybe NOT.. | David |
| Lets hope so! Another three years of Marxist/Racist rule will destroy New Zealand. | Peter |
| National and Act without NZ First. | Graham |
| We can't possibly afford another 3 years of incompetent misgovernment !! | Henry |
| Well one would sincerely hope so, however it is not a forgone conclusion and depends whether Luxon will swallow his ego and give the people what would be the best solution for all. | Robyn |
| I think National will need one Seat from NZ First to form a government given there will be 121 MP's | glenn |
| Labour are just useless | Allan |
| BUT FINGERS CROSSED I FEAR LABOUR HAVE PLAYED SUCH AN UNDERHAND AND DIRTY GAME THAT PEOPLE ARE CHANGING I COULDN'T STAND IT | sheryl |
| god helps if the other mob survive | rob |
| In my opinion, none of the previous parties care about the welfare of New Zealanders , They are all tarred with the same brush and whats in it for them. Not like the old days when Act first started. With that in mind, I am choosing the slightly lesser of this lot, and hope that Winnie doesn't let us down this time. We need him to sort the others out. | Kath |
| Won't requireNZ First | John |
| Hopefully it will be the Right,though they are not much better than the left | Barbara |
| we cannot afford another 3 years of the dangerous mad left | Dave |
| My big worry is the aftermath. It seems Luxon / National just will not declare themselves on putting an end to and unwinding , dismantling , eradicating and abolishing the Maorification of New Zealand , nor will they seemingly commit themselves to recapturing, reinstating and ensuring the preserving of our democratic system and its rights and values fully intact and without compromise , going forward. Just what do National stand for ? | Hugh |
| Lets hope the voters think straight and turf this ignorant Gov. out. Where does Grant Robertson get his fig. from that 20,000 would have died if they had not closed the country down. He has a great imagination. | Robert |
| Let's just hope it's Nats Act. Australia may beckon if the left get in otherwise | Lawrie |
| WE need change! | Ian |
| Anything else we are sunk | Beverley |
| only without NZ first | kerry |
| I prefer democracy to communism any day. | Kevan |
| When national, act, and nz first are elected to govern we as a country are still on the globalist path, as things will not really change. Think your awake? No your not, nowhere near it. Your grandkids will one day ask you why? | Alan |
| It has to be, or we are doomed to be just another Island nation in the Pacific. | Peter |
| I sincerely hope that I am right! I don't think the country could withstand another 3 years of a Labour/Greens/TPM Government. I know that I couldn't. God Defend New Zealand! | Heather |
| With National, who proved they were aligned with the W.E.F when john Key signed the Paris Acord & U.N.D.R.I.P And ACT promoting the U.N abortion & euthanasia laws, we can only hope that NZ-First gain sufficient seats so as to moderate the Zero Carbon Agenda madness that will totally destroy our economy, & introduce The Great Reset that W.E.F, and its followers are aiming for. This is no longer a conspiracy theory. Just study the policies & past records of National. The proof is all there. Jacinda won the 2020 election using CHINA FLU scare tactics. Labour do not have that trick up their sleeve this time. Some STUPID voters, even voted Labour to keep the Greens out. That wont happen this time either. But a proportion of those votes will be replaced by INDOCTRINATED first time voters. So a change of government is not guaranteed. | A.G.R. |
| But only just!! | Jan |
| It will depend on who Winston decides he wants to govern with | Grant |
| I'm praying Labour will NOT get back in. | caren |
| It's a dire need for these parties to work together to overthrow the damage caused by the left. | Laurence |
| The other option can not be tolerated if we want to get back NZ the way we want it for all. | Tony |
| Fingers crossed | Marlene |
| The Right combination is NOT ideal But that's what we've got at present. Based on that, this has just gotta be RIGHT or many of us will be looking for a 'Desert Island' or another Planet !! | Geoff |
| Should be a landslide | Warren |
| If this doesn't happen. This country will be driven into bankruptcy | Roy |
| Or we are off overseas to live.. | Don |
| If the left get in Australia here I come NZ will be ruined | David |
| I hope without NZ First. | Dick |
| Can't come soon enough. | Mike |
| I don't think I could last another three years of the worst govt. in nz history. | Ross |
| I sure hope so. | Allan |
| | |
| --- | --- |
| Will stil be a tight election | Jan |
| Liebour and the Greens have damaged New Zealand beyond belief. Time for them to be thrown out by the public of NZ.!! | Ross |
| Otherwise I leave this what would become a Maori communist republic | Shaun |
| I hope so?? BUT the left could get 110% turnout!!?? | John |
| The right, but preferably without Winston Peters. | Cherie |
| If we do not get a government with NZ First with an influencing role this country is toast. Luxon and Seymour are so far up themselves that they will not even consider the wishes of the electorate and are so frightened of the maori activists that they will continue along the same path as the present coalition of cock-ups.After the demonstration of complete incompetence shown over the last six years, anyone who wants a repeat is either a raving communist, or braindead, or both. | Terry M |
| I dont want to see Labour/Greens WIN after the lasy 6 years I just want them GONE…. | Carl |
| Australia bound if the left continue in control of the destruction of NZ Inc. after Saturday nights results are announced. | Chris |
| Praying the Right bloc and righteous will win on the night. | Hohepa |
| Priority voting is to get Labour, Maori and Greens out of the door ASAP and let them self destruct and get NZ back to what it used to be with common sense. What we are being offered as an alternate is not to your liking suck it up and vote for them then sort it out at the next election. If we do not vote this way NEW ZEALAND as we knew it is doomed, pack your bags and shift to Russia at least you know what you are getting. | jeff |
| A change of Govt. has to be the outcome after 6 years of chaos and mishandling of the economy. | Rhys |
| I hope I'm wrong but around my area in a predominantly Maori and benefit (unrelated just a fact) support is for the left. Our local council has already started the co-governance move. Gisborne District Council. | mike |
| And God help us all | Rose |
| I hope my prediction comes true. Otherwise God help our country. | Valerie |
| Has to be otherwise Aussie with my m0ney?? | ian |
| By a significant margin. The Country is angry, many people have had their lives turned upside down by this so called government of the people. Out they should go!!! | Grahame |
| If your aware of the past 6 years of Labour and what they have done you'd have to be nuts to vote them back in. The current inflation has been caused by Labour. | John |
| Has to happen to save us all! | Jeremy |
| Hope so to save our Country. | Iain |
| Will be close | John |
| I am praying for the Right. God defend New Zealand from social experiments, and give us a return to national unity. | Pamela |
| While I really hope Labour don't get back in I'm worried National/Act will govern the same. Hoping NZ First will hand brake them from also continuing to destroy our democracy | Deb |
| I just hope I am correct | Warren |
| It could be touch and go though. You cannot underestimate the dirty tactics of the left and certainly the ineptness of National and the schoolboy petulance of ACT could make it very close indeed. | John |
| The left has already shown their path forward and that is against how our Nation was born. The left has far too many radicals who want it all their way. | Ken |
| I just hope Sir Bob Jones is right and it will be a landside to the right. Read Sir Bobs latest excellent blog on his No Punches Pulled site. While you`re there check out Julian Batchelors comments,never a truer word. So if you have not yet voted then you must vote for National or Act or NZ First VOTE FOR DEMOCRACY AND FREEDOM NOT FOR LABOUR ,GREEN, MAORI which is a vote for RACIST TRIBAL RULE. Lets kick Labour greens Moari all the way to Texas. | Brian |
| I sure hope the right win, or NZ will be more of a Banana State than it is now. | Ted |
| Oh how I hope its a national/Act win. Luxon should have come off the fence and said no to NZ 1st. He's played right into Peters palms.With both major parties saying no to him that would make more people vote for national and act parties. God save NEW ZEALAND. | Peter |
| It's the only way forward. | Audrey |
| For all New Zealanders' sakes ! | Pete |
| The country will be in turmoil if the Marxist left get back into power. I can't believe NZers would be so stupid as to allow this to happen. | John |
| If not, watch the brain-drain to off-shore! | Graeme |
| Fingers crossed there are enough intelligent people still in this country to kick out this socialist lot. | Clive |
| only the right will save the doctors from closing down their practices in whangarei leaving 20000 patients without prime care. | stephen |
| Another three years of chaos would severely wreck New Zealand. | Dennis |
| Anything else will be a disaster for New Zealand. However National and Act have to grow up and recognise that it will be NZ First who will ensure they get across the line and I vote National/Act. | Geoff |
| god make it the right with ACT with a good percentage to cancel all the bullshit that Labour have brought in, I doubt the Nats will get rid of it all | Nigel |
| The right block has to win or NZ is doomed to another 3 years of disastrous divisive government. | |
| It will be a landslide victory to the right. Dont believe the MSM polls | Neil |
| Certainly the right block has question marks against it but is a far more promising arrangement than the other | Jeffrey |
| The right block -hopefully without the old con-man Winston ruining everything! Erratic and unreliable as well as a liar, the man is NOT to be trusted ever again. | Roger |
| For the sake of peace in the country it has better be National, Act , NZ First. Any other mix will bring strife. | graeme |
| For the sake of NZ sadly we need the Nats and Acts NZ First. There are some minor parties that have great policies sadly won't get a look in. Let's . hope they stay intact and grow their bases ready for the next election. I'm not in Luxon camp at all he and offsider two green Luxon will not consider that what he termed so called sceptics have valid arguments against the activist greenies.. Shame on him. | Gwenda |
| Has to win Labour win will be NZs undoing completely | Bev |
| If labour get back in, we are doomed as a country and I am off to Aus. | brucee |
| It had better be the right block. | Ian |
| NZ has no option, for the benefit of all NZers | graeme |
| The Right block must win to save NZ from self-destruction that the Left wing politicians and leftist media have imposed on the country | Kerry |
| The country can't afford to let labour continue to damage it | Carl |
| The silent majority will win | Geoff |
| Labour, Greens, Maori party. Not fit for purpose Disgraceful Deceitful | Wayno |
| This is the only way to vote to ave this country | Peter |
| We.z.is doomed if labour and Their cohorts get in! | Chris |
| I fervently hope that National & Act win enough votes and seats to form a strong, stable, competent government | Philip |
| Landslide | Natalie |
| Hoping to see the end of the coalition of chaos. Also to turn the tide back against radical separatist agendas. | Bruno |
| Left losers | Dave |
| Racial equality & truth about carbon emissions are essential to move NZ forward. | Doug |
| If it goes left, we to will be joining the exodus to Australia, closing our business of 35 staff and going. It will be unbearable to watch the demise of what we held dear. | Steve |
| and it will be stable | noel |
| LGM coalition has done enough damage. | Phil |
| God help us if Labour get in again. | Jenny |
| I feel this is likely the most pivotal election in NZs recent history. The Left here have become a dangerous coalition of extremists. determined to destroy our democracy so that they 'can build back better'. They need to be convincingly defeated now while we still have some ability left to restrain their agenda. | Peter |
| Hopefully | Bryan |
| hopefully without NZ First | Colin |
| I cannot believe that NZ's still believe in the Labour Party. I am ashamed at the state of the nation and what has happened to race relations under this lousy troup of politicians, including the one that buggared off. | Erin |
| National suicide if we retain the existing rubbish! | colin |
| If not I am off to another country | Alec |
| Thinking positive! | |
| Overwhelming slide to the right. | David |
| Only hope left for New Zealand | John |
| By a mile is my prediction | Paul |
| It is make or break for this country's future. | chris |
| Hopefully. All references to Maori in legistration must be deleted | Gareth |
| naturally | Graeme |
| I hope for a big swing to National | Albert |
| Absolutely hope so!! I don't want to live in OZ | Giles |
| Apartheid – OUT | David |
| Labour is polling to low for a come back at this point, even with MSM TVNZ 1news & TV3 Newshub playing the Vote for Chippie show every night | Stuart |
| Hoping for all of us | Alan |
| Has to be the right or New Zealand is doomed forever and we become another Rhodesia. NZ needs to abolish the UN indigenous act that was signed under false pretenses. The Treaty tribunal to be abolished. | Wayne |
| Please! Please! Please! – Right! | Ron |
| I pray (and I am not religious) that we have a change of Government this Country will be doomed if Labour gets back in. | Trish |
| National, Act, NZ 1st. Must win or I'm leaving the country. Labour, Greens, Maori Party are the most dangerous govt ever and will destroy NZ. They cannot be returned to parliament. | Kevin |
| Hope and pray! | Laura |
| I Hope | Ranald |
| Please, please, please!!!! I don't want to go to Australia to live, but its on my mind if the incumbents stay in power | John |
| Hopefully get rid of the racist elements in NZ | Ross |
| I prefer to see it as national, NZ First and Act. all the hoo ha about Winston clearly demonstrates both Nat and Lab are scared of him. They are strongly trying to discredit him because he was sucked in by Ardern the same as every one else. He is the only party leader that covers ALL the issues faced by us REALISTCALLY | ROB |
| The right must win. The left has been the most despised, dispecable, dropkick govt ever. Hipkins is the smiling assassin of democracy. | Allan |
| Hoping for the right outcome | sandra |
| If the right don't win – get ready for 1000s more to leave. | Shane |
| I hope NZ first does well. National still a bit purple. | Michelle |
| There is no other sensible alternative | Bruce |
| It must be an National, ACT and NZ1st Government. Even then there is no guarantee National will have the courage to repeal race based laws. If not, New Zealand Democracy will be history. | Sam |
| If it's left this country is doomed, we will be shifting to Australia | Ray |
| Surely there can't be that many stupid people in this country? | Mike |
| NZ is doomed if the left are returned. | Ian |
| Please! | Wiremu |
| God help us if it is not. | Peter |
| New Zealand cannot survive another 3 years of the racist divisive incompetent government of Labour Maori Green government | Peter |
| National/Act – if not then the NZ voter is more stupid than I thought! | Graham |
| Preferably without Winston | Bruce |
| RIGHT | RICHard |
| I hope so | Murray |
| No doubt | David |
| To save the country from slipping into severe depression | John |
| It better be this result or our country will go further backwards financially, racially, politically. The Maori caucus with its racist and divisive agenda has dominated the Labour government. Enough is enough! | Laurence |
| God help us if that Left wing mob ever see the light of day, if they do, then I'm off across the pond. | Don |
| anything is better than Labour Greens, Maori group. now if only National has the guts to overturn Labour rubbish. and go back to everyone on the same playing field. | Chris |
| If labour's win well be off to Aus. | Jana |
| Labour has to go and Luxon must promote stop cogovernance instead of sitting on the fence. Seymour must shut his big mouth and get on with Winston Peters. | Greg |
| Let's ensure we never ever have another 3 years like the one we have just had. | Don |
| NZ First will likely be required to form the Government. While there is a historic mistrust of Winston he will keep the Nats/Act on their toes as Luxon is very woke with his CEO based mentality. Reality is he is keeping the PM chair warm for someone else . | Ken |
| It's time for a radical overhaul of our political system to get some sensible government. | Bruce |
| Let's hope that the right block can play nicely together! | Mark |
| Must be | annehone |
| Primarily the predominant polling is that the country is headed in the wrong direction. I predict a HUGE defeat for Labour. | Geoff |
| I am hoping just National and Act get the most seats. I have always liked Winston but I feel he let our Country down last time so doesnt deserve to have a say. L ook what he subjected us all too. | Barbara |
| National ACT will not need Winston First. | pdm |
| Please God | kevin |
| This needs to happen our future. | Murray |
| Kick Labour into touch, they have ruined New Zealnd!! | John |
| For the future of our country, we need to have all three right parties in the parliament together. We need a fully thrashed out recovery and long-term future plan for the next generations of Kiwis. | Jim |
| Winston Peters is the only one of the major parties defending nation state sovereignty and one law for all. If the triumvirate of evil, the UN, WHO & the WEF dictate a borderless world's terms then all our politicians will just be puppets. Decouple from these criminal organizations before it's too late. | Donald |
| It is not perfect, but we can't go back to the left wing combination. | Bronwyn |
| I'm trusting that the polls can't be that wrong. In fact, if we ended up with a Left win some serious questions would have to be asked about the average intelligence of Kiwi voters OR, dare I say it, election fixing! | Derek |
| Fingers crossed | Athole |
| The right block, or we're off to Australia. | Peter |
| People get the government they deserve! | David |
| NZ needs this to destoy the Jacinister unlawful experiment. | mark |
| The Socialists who have governed NZ for the last six years have already wreaked havoc upon our nation so Heaven help us should they be re-elected! | Barbara |
| Either way it's going to be a mess. | John |
| In spite of Liebour's negativity, the Greens hysteria and the media corruption, the right should make it. Hopefully, convincingly. | Philip |
| It is either Natioanal coilition or we would be better as an Australian state. | Robbie |
| Even the mouse learnt he only got one go at snatching the cheese. We are not that foolish to do labour again. | mike |
| Preference is National & Act not NZ First. | Barbara |
| Better be to the right | Edward |
| Why would anyone with common sense vote for ongoing disaster after disaster, including racist policies. We need to reset our country to our number 8 wire values. | Raymond |
| Right is my hope. A left block will be absolutely disastrous for New Zealand. Surely most New Zealanders will see what needs to be done and vote accordingly? We will find out. | Lee |
| good of sorts, will prevail….. | Gill |
| If it does not happen – our once proud and free democracy is doomed. The Left apartheid will destroy New Zealand. | Doug |
| Unfortunately the Blue team are the Best of a terrible bunch of globalists. It will be business as usual under the blue team, selling our sovereignty to the UN and WHO, and opening up the door further to Big Pharma. | mark |
| What a disaster if not | Hylton |
| We need the right to correct the disaster that Labour has created. | Andrew |
| If this does not happen the foundational constitution of NZ will be changed forever. The treaty will be put into a constitution as a partnership. There will be two separate sovereign Nations. Maori with all their own Government Departments and as partners, 50% of the tax taken to run them. Joe Williams ex head of the Waitangi Tribunal has been appointed to our Supreme Court. He has said he will bring Tikanga law into the legal mix of NZ Law. This is passed down hearsay law. Hearsay law that is not allowed in courts, is going to become law. This is what has been passed down verbally through the generations. We saw this operating in the beach claims in Wairoa. To claim ownership in pretrial proceedings, it was decided Maori had to show continuos use of the beach since 1840. In the case the judge rule they only had to believe it. | Dene |
| The right, right in every way, should win. But there are enough sheeple (those who still believe what they are told) that who knows what will happen. | Paloma |
| I just hope for the sake of NZ future | Stan |
| The right will win with God's help. | Warren |
| | |
| --- | --- |
| Problem with your polls is they are preaching to the converted. The greenie lefties don't subscribe | Prue |
| Given the news media bias and the number of such polls coming from this so called "source of truth" I fear that most such polls are ficticious | Rob |
| maybe because i am concerned country is going to left,i need to think about my children and theirs as we are leaving a lot of debt that despite what government says needs to be paid back at some stage | wade |
| NZ First are needed to bring some FACT & TRUTH to the table, and EXPERIENCE. Winston has that in Spades! | John |
| No Winnie | Pj |
| Has to be otherwise will consider moving across the ditch! | steve |
| The rest to the dustbin. Too much interference by the media. Mahauta should be tried for treason. | Kevin |
| Hopefully just National | Phil |
| Right wing win is imperative | Basil |
| Surely common sense will prevail. | Graham |
| Heaven help us if it turns out to be the Left | Mary |
| NZ First wont be required | Michael |
| It depends on whether Winston and Hipkins are true to their word – both are hugely untrustworthy. Winston would go with whoever gives him the best personal deal and Hipkins would change tack without blinking an eye! | Martin |
| Except NZ First will not be required | Michael |
| Hopefully without Winston First | Anthony |
| If the Left win I'm out of here. New Zealand will be finished. | Trevor |
| The RIGHT thing better had happen, or I'm off to Oz! | Graham |
| Hopefully ??? | Mike |
| Hope its just National and ACT | Maureen |
| Surely this country has enough intelligent people to do the right thing. | Mike |
| At 64 it will be time to do the OE for 3 years if the left block get in. | Toni |
| Nat and Act only – without NZ irst | Gerry |
| Can't stand another term of the status quo. | Terry |
| Labour, Greens and Maori Party MUST all go, for NEW ZEALAND to survive! | Des |
| Muriel your article is absolutely brilliant – it should be printed in every newspaper in NZ | anna |
| Here's to a progressive future. Can the leftists to damned obscurity! | MARSHAL |
| That's my hope Also hope NZ First is not in the government | John |
| Please God that I am right as the present Government has been a total disaster for NZ | Sidwell |
| we have to get rid of the lunatics that want to ruin New Zealand | Les W |
| Has to be | Brian |
| Only just, however which way will crafty old Winston go. Trust him at your peril | Peter |
| Has to be. Or we are truly damned. | Paul |
| Another term of the current coalition of chaos will totally destroy New Zealand | Gary |
| Please right block for the sake of this country | Dianne |
| Well it better be if it's not I for one will be leaving the country as another labour government will finish the county off recovery will be impossible | Peter |
| No question at all. | Evans |
| Option 2 doesn't bear thinking about………….. | Dave |
| I pray that I'm correct. | John |
| A total 'Landslide' win for the Right is a must… | Chris |
| Right will win – as Labour has the worst Government in NZ's history, affecting everyone in adverse ways. They are a horror story. All Governments are supposed to serve their people, this Government are only interested in serving themselves and clinging to power. | Bruce |
| If New Zealand voters come to their senses and remember the last six years | Terry |
| It must be the right block or our nation will be in the gutters. This election is so crucial for the radical marxist block that they will try everything to influence the results in their favour. I fear that they might use the 'Dominion software' to falsify numbers of votes to their advantage as was done to influence election results in the US, Argentina and other countries. Otherwise I am not sure how many people in NZ have stopped using their common sense and are suffering seriously from'Stockholm syndrom'. | Michael |
| Better be right or I'm off! | David |
| Hopefully the polls will be right for a change, but who knows? | Rod |
| To be anything else would spell the end of democracy as we know it. | Brian |
| I really hope for NZ that kiwi's remember the last 6 years under the heel of Labour & what they have done to destroy this country. If not Robbo's removal service is going to be busy. | John |
| But I think NewZeal will also be in the mix | Paul |
| Desperate | Jeff |
| I cannot believe with the total unachievement by Labour in the last 6 years that anyone would vote then back in. They need to be gone. | Vivienne |
| Close but the right must win for the good of the country and sanity. | John |
| Good always prevails over evil! | Robin |
| Need a second election if Winston is in the mix. I have a long memory | Ivan |
| Labour allways has somedirty tricks | Tony |
| hopefully without winston ! | mike |
| No longer a proud New Zealander. Labour has utterly destroyed my faith in human nature. Over the past 6 years New Zealand has experienced the worst government ever along with an opposition that didn't oppose. WE as a nation are doomed. | Richard |
| We can only hope NZers can see the sense. Otherwise I might be another to leave. | Phil |
| Anything else is unthinkable | Marie |
| Better be | neville |
| Tribal elite will divert any monies to their own pockets and day to day Maori will see very little. | Adrian |
| Go Green | Dorothy |
| Unfortunately, National has produced some terrible policies in the lead up to this election and they, and Act's Seymour, have continued to insult Winston Peters and NZ First, in the same manner as they did in previous elections. They have shown no respect and appreciation for the actual MMP voters, who they will have to serve with professional dignity after the Government appointment decisions are announced, This election should have been a very easy win, given Labour's abysmal record in office. Hopefully, the management of the country will be much better than the campaigns. | David |
| The disgruntled will make a statement with their vote to the minor parties, win or loose. We need a new system. | Phil |
| Lol. This ignores Old Two Face completely. Peters will go Labour. | Max |
| Labour will lose in a landslide in my view. National/ Act government without Peter's. Can't happen quick enough. | Max |
| Luxon and his mate's admin and pr has been pathetic. Labour MUST GO but I fear the worst. Luxon is not yet a politician | Anthony |
| a revolution if this does not happen | chris |
| Hopefully Nat-ACT alone with Peters on the cross benches. | John |
| It has to be or we loose good hard working Kiwi to Australia. | pavithra |
| Has to be or we are all inTrouble. | Richard |
| I hope so. But the Media is bias and many are sound asleep. | Charlotte |
| Hopefully the right | Daphne |
| I think it will be the right as people want a change | Kate |
| The Right block with Luxon and Seymour will still be a disaster with the problems of maori, jabbing and climate. Only Peters has a totally sensible approach to all three. | ross |
| Media make the polls. Media are biased. It will be a landslide with ACT being the biggest winner. NZ needs ACT to influence the National majority away from the destruction wrought on NZ by the current government. Should Labour win, I personally will deinvest in NZ, as will many others. | charles |
| Winston will get about 5.5% and be asked by Labour on about 30% and Greens on about something % to form a government | Ray |
| It's time to shift the emphasis on to stabilise the country quick smart. | John |
| The countries survival demands the right block must win. however I don't believe they have the courage to make all or any of the necessary changes you propose in your excellent article Muriel. I pray that they prove me wrong! | Ian |
| Liebour….. have told far to many lies! they also haven't got any policies, they will be on the opposition side of the house, for a long, long time ! | David |
| Another Labour-led government would be disastrous for NZ. | C |
| If the Right don't win this election, New Zealand is finished. I will never understand people supporting the Left with their record. | Carole |
| The survival of a democratic NEW ZEALAND depends on the left being put in the dustbin of history. I'll bet you anything the real books when opened will be far worse than PREFU, there are very rough times ahead. The abberation of co-governance must go and all race based legislation removed from the statutes. Let's face it, they at no stage had any constitutional mandate to enact and try to entrench these divisive policies on New Zealanders. It is treasonous. Be gone permanently. I for one have had a full gutsful of the Left. | Carolyn |
| National, Act preferably without the divisive "Winston First party". | Greg |
| Labour has lied and deceived from the, get go. | Frank |
| | |
| --- | --- |
| If there's not a change in government, New Zealand is doomed. Surely Kiwis aren't stupid enough to give these morons another term! | David |
| National with ACT and NZF MUST be the new government otherwise we are out of here. | Mike |
| The left wing block would be a disaster. Surely to goodness Luxon, Seymour and Peters can act like grownups and sort out an agreement to benefit the country and heal the damage Labour has done, | Angela |
| There must be change. Labour deserves to be decimated so they cannot govern again for years. They are now so dangerous, they must be kept out of government. | Cameron |
| A National-led government is a must. They have a very big challenge ahead of them. | Gordon |