September 3, 2017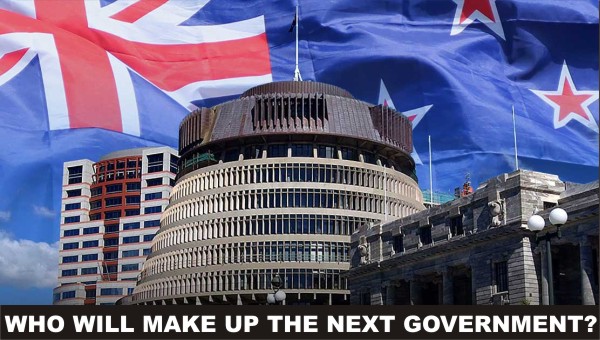 Last week we looked at the economic policies of the Parliamentary parties – see HERE. This week we dig deeper into the party manifestos.
While the Labour Party has changed its cheer leader, its policies and loyalties remain the same. It is proposing major reforms of the workplace to reward its trade union affiliates. While their influence within the party is clearly evident, this has received little mention in the media.
Another matter largely escaping the attention of political commentators is the extent to which Labour is undermining the Green Party, by ruthlessly appropriating Green policies and promoting them as their own.
It now appears that behind the smiling faces that announced the Memorandum of Understanding between the two parties last year, the daggers were drawn, with both planning on strengthening their position at the expense of the other.
The first to make a move was the Greens. When Labour was falling in the polls under the leadership of Andrew Little, Metiria Turei targeted their social justice supporters with her admission of benefit fraud and plans to overhaul the welfare system. Ironically it was the rising fortunes of the Green Party that led to Labour's leadership change.
Now it is Labour that is moving into the Green Party's territory and targeting their supporters. Clearly Labour wants to win back Green voters, so it can achieve its goal of being the first cab off the rank when it comes to post-election coalition talks.
This green and red battlefield has some parallels with the exchanges between National and New Zealand First – but more on that later.
If the polls are correct and Labour leads a new coalition Government, the country will face a significant change in direction.
In industrial relations, Labour intends turning back the clock to allow the unions to dominate the workplace – just as they did in the seventies and eighties when strikes crippled the country.
At the present time, individual employers bargain with their own workers to develop employment agreements which suit the needs of the business and the employees. Labour will replace these established arrangements with a system based on 'Fair Pay Agreements' – their new politically correct name for national awards.
Under this new regime, the unions will have the power to override employers and determine employment standards across industries, including wages, allowances, weekend and night rates, hours of work and leave arrangements. This will inevitably erode productivity and seriously undermine the competitiveness of the New Zealand economy.
Labour's other proposed changes include increasing the minimum wage to $16.50 an hour, and abolishing youth pay rates – a move that would prevent tens of thousands of young workers from even getting their foot onto the employment ladder.
Labour also intends amending the 90-day trial period law, by introducing a dispute resolution service, which will enable employees to challenge a dismissal, where they consider there are no demonstrable grounds for termination.
Such a move would water-down the scheme, exposing employers to challenges and risks that do not exist at present. As a result, employers will be less likely to hire people with problematic employment records.
Under Labour, the cost of government bureaucracy is set to escalate.
Labour plans to 'rebuild' the state sector, introducing the Living Wage of over $20 an hour as the minimum for all workers in the core public service.
They would further require all organisations with regular public service contracts – such as cleaners, caterers, and security guards – to also pay their workers the Living Wage, forcing up the cost of their contracts. This will no doubt be reflected in the cost of doing business with the State, and may also distort the overall labour market, as private sector employers compete for workers against agencies that use taxpayers' money to pay their wages.
Along with Labour's immigration policy, which would "reduce net migration by 20,000-30,000", these changes will have a significant impact on labour costs, productivity, and supply.
Labour is also proposing radical changes to policies about climate change – an issue which Jacinda Ardern has referred to as the "nuclear free moment" of this generation. Their policy, which was released on Friday – ahead of the Green Party's climate change launch on Sunday – contains a new goal for zero net carbon emissions by 2050, which coincidentally is the same as the Green Party's policy.
Like the Greens, Labour would bring agriculture into the Emissions Trading Scheme, even though the only way to reduce greenhouse gas emissions from livestock is to reduce stock numbers. The cost on the sector is expected to be hundreds of millions of dollars a year and will be reflected in higher supermarket prices for food and lower export earnings.
Like Labour's water tax and capital gains tax, which will be decided by a Tax Working Group after the election, the actual cost of the carbon tax that farmers and all other sectors of the economy will be forced to pay under Labour's 'beefed up' ETS, will be decided by a new government bureaucracy – a Climate Commission – after the election.
In addition, Labour wants the whole public sector and all state agencies to lead the way on reducing emissions, and they are planning on involving school children as well.
But what about National?
The National Party's biggest hurdle is incumbency – they are being judged on their record and the realities of government, whereas Labour is being judged on their promises.
In essence, this election race is a battle between idealism and realism.
A new pledge made by Bill English during a recent television debate is to lift 100,000 children out of poverty. National has already legislated for a Families Income Package to come into effect on April 1st, which will lift the first 50,000 children in low-income households out of poverty. A second round of tax cuts, to lift the other 50,000 children out of poverty, can be expected by 2020.
In a general sense, National's approach to managing the country is far more 'hands off' than Labour's would ever be. In essence, they want to empower people to get ahead by helping to create a lower tax environment that is conducive to wealth creation. Their major investment in high speed broadband and roading infrastructure is now opening up regions that have been left behind to the benefits and opportunities of economic growth.
And when it comes to supporting those in need, National's social investment approach enables welfare, education, and health assistance to be targeted far more accurately than ever before.
One of National's problems has been their mishandling of the Resource Management Act reforms. Instead of overhauling the law, as Nick Smith had promised – using New Zealand First's offer of support – National opted instead to introduce the Maori Party's race-based co-governance provisions, leaving the law in a far worse mess than it originally was.
But rather than fix the problem, National is now proposing to bypass it with a new set of urban planning laws to operate outside of the RMA. Given their abysmal handling of these reforms and Nick Smith's double-speak, there is little cause for confidence that these problems will be addressed in the foreseeable future.
There is no doubt that RMA reform is an issue that has cost National support to New Zealand First – particularly as a result of their kow-towing to the Maori Party's racist agenda.
While National's tough talking on crime and its plans to boost regional development have undoubtedly been designed to attract back supporters lost to New Zealand First, it is likely to be too little, too late.
Unless National can assure their former supporters that any Government they lead will refuse to pass any race-based policies, they are unlikely to win back their voters.
Ironically, the Maori Party, having extracted its pound of flesh from National, is now turning its affections to Labour. National has been extremely naïve and is now paying the price.
When it comes to the Green Party, their decimation by Labour is reminiscent of the impact on ACT of a resurgent National Party under the leadership of Don Brash. In that case, ACT's vote collapsed during the 2005 election campaign, and the Party went from having 9 MPs to just 2. It only survived by winning the Epsom seat, but it has never regained its popular support.
Without an electorate seat to fall back on, and with Labour aggressively targeting their vote, the Greens may well find themselves out of Parliament altogether.
The Party is campaigning on three issues: ending child poverty, climate change, and making all rivers swimmable – another policy that has been commandeered by Labour.
But the Greens are also heavily committed to Maori sovereignty.
In their manifesto, they state they would implement the radical United Nations Declaration on the Rights of Indigenous Peoples, entrench the Maori seats in Parliament, support Maori seats in local government, and introduce the compulsory teaching of Maori language and Maori tikanga into all public schools.
New Zealand First's growing list of 'bottom line' policies include retaining National Superannuation as it is, hiring 2,000 more police, re-entering the Pike River mine, building a rail link between Whangarei and Marsden Point, moving Auckland's container port to Northport, buying back power company shares, and holding a referendum on abolishing the Maori Seats and on reducing the number of MPs in Parliament.
In addition, the party would oppose the Emissions Trading Scheme, ensure foreigners cannot buy New Zealand housing and land, ensure all policies are based on need not race, remove Maori wards in local government, abolish youth pay rates, raise the minimum wage to $20 per hour, and reduce company taxes to 25 percent.
The Maori Party's manifesto shows they are indeed New Zealand's most racist party.
Their policies include requiring new immigrants to swear their allegiance to the Treaty of Waitangi in order to gain citizenship, introducing compulsory Treaty of Waitangi "training" for all international students, entrenching the Treaty of Waitangi in all legislation, empowering the Waitangi Tribunal to make binding recommendations, implementing the United Nations Declaration on the Rights of Indigenous Peoples, retaining the Maori seats in Parliament, legislating for compulsory Maori seats in Local Government and District Health Boards, making Treaty education and Maori language compulsory in all schools, making all towns and cities bilingual, and legislating for Maori control of freshwater.
To be quite frank, racism of this nature has no place in a modern democracy and it is to National's shame that they have embraced the Maori Party as a coalition partner.
The ACT Party's less interventionist approach shines through in its Manifesto. It has the least number of policy promises of any of the Parliamentary parties, reinforcing the fact that winning the Epsom seat is its key priority.
Their focus is on building more houses, replacing the RMA, extending charter schools, introducing performance pay for teachers, scrapping the independent school funding cap, reducing the number of District Health Boards from 20 to 5, raising the retirement age to 67, and supporting further immigration and free trade.
This week, our NZCPR Guest Commentator, property analyst Frank Newman, has provided us with an excellent analysis of what the parties are proposing with regards to rental property:
"What is evident from the policies is that if a National led coalition is back in charge it would be pretty much a status quo approach for residential property investors. A Labour led coalition would result in significant reform to the taxation of residential property investment, and changes to tenancy arrangements. Some landlords will be of a view that what the Greens and Labour are proposing is simply the first instalment of an intention to move towards a more regulated and controlled rental market based on their social objectives."
I would strongly urge all voters to closely examine the Manifestos of their chosen parties, so they are confident that they know exactly what they are supporting when they cast their votes on Saturday week.
THIS WEEK'S POLL ASKS:
If New Zealand First holds the balance of power after the election, do you think they will support National or Labour?


*Poll comments are posted below.
*All NZCPR poll results can be seen in the Archive.

THIS WEEK'S POLL COMMENTS
| | |
| --- | --- |
| God help us if they don't!!!! | David |
| I think it would be the sensible way for WP to go with National.. With National we have the devil we know . Labour under Jacinderella will send us off into a socialist / green / racially influenced LALA Land and nothing good can come from that. WP has to keep National honest and on the straight and narrow from now on. | Michael |
| I think Winston will go with the party having the largest vote. | John |
| They need someone to kick around. | Warren |
| I hope so. Have told Winston I will vote for his party if he will make friends with Bill. | David |
| I hope he does not get the opportunity. | Catherine |
| But I believe he will go with neither party, just sit on the sidelines and try to keep those shonky politicians honest. | Carolyn |
| Hopefully! | Graham |
| We desperately need a referendum on abolishing the Maori seats and TAXcinda Ardern's Labour party will not agree when her deputy, the nasty Kelvin Davis, is sitting in one so how can Winston PetersNZF work with them? The racist Maori party need to be voted out of parliament forever. 4.9% party vote deservedly for the Greens. | Monica |
| While not perfect, at least the National financial policies are less bad than Labour's. | Alan |
| Winston for PM..haha | Russell |
| Hopefully. | Andy |
| Hope common sense prevails. | Norm |
| No reason, just hope it works out that way. | Audrey |
| Just hope they support national as that may close down that gready bunch of half cast's that are sucking up to labour who will cripple NZ if they get in with the other bunch of half wits that are on the side lines. | Richard |
| National should swallow their pride, admit that they have been done in the eye by the Maori Party, (who are now looking for fresh hosts to attach themselves to, like the parasites they are), and do whatever they need to do to form a strong alliance with NZ First, starting right now! Given their stated policies, I really cannot see NZ First aligning themselves with any of the other freak shows on offer – this is the stuff of nightmares! | Scott |
| Enough has been said – we await the result on Sept 23. | Brian |
| Their NATURAL partner is Nat's but Peters is such a devious critter he'll go with whoever gives him the highest title. As Taxinda is equally devious – he'll probably go with her. A marriage made in hell! | Ron |
| N Z First has more in common than with Labour or any other party for that matter. Ultimately Winston is to the right of centre. | Mike |
| Whoever wins, it will be more mixed-economy socialism – quicker to the left under a Labour coalition and slower to the left under a National coalition. To stop this slide to the statist left , ideas must change to more reason and free market capitalism. That won't happen until our state-funded universities and schools are desubsidised and privatised. Until then be prepared to suffer a slow death towards more authoritarian socialism of the fascist or communist variety! | Don |
| Trust NZF goes with National. If they don't my vote will have been wasted. | Mike |
| I would hope NZ First will support National or it might be time to pack up and go. I do not want to live in a land of racism and the unions run riot again. | Wayne |
| They will understand that Labour policies are too dodgy. | Ursula |
| His supporters will not allow him to go with Labour. | Mark |
| Let us hope that NZ First will support the National party as Labour is not a choice in my book. However, at election time promises are made, but are they kept???? Lets hope that NZ First will deliver their promises. | Frank |
| At the expense of No Moari party status in the ruling coalition — party — National have gone too far in accomodating and kow towing to Moari demands to the detriment of the ' Av New Zealander' | John |
| Heaven help us it has to be National, the alternative is frightening! | Peter |
| Especially after Winston's comment today that Labour should make its tax policies clear before the election and not wait for working group. | Laurence |
| Winston will throw his lot in with the winner, whoever that is. | Terry |
| Don't really know he is so unpredictable. | Anthony |
| More likely to share some of Nationals views and then bend them into his ideas, but if labour is in the play, they would need to make some major changes. | Des |
| Labour will be prepared to give Winston more than National in desperation to gain power. | Geoff |
| I can hope so otherwise NZ is 'doomed"!If National and NZ First try to work together there may be some common sense around Race Based Politics. | Steve |
| I hope National gets in !!! | Simon |
| As Winston is not into the Moari propaganda. Also he knows they are not indigenous to this country | Ron |
| Only if the thinkers forgive the unforgivable who supported the racist Maori party. | Lance |
| Not labour, too much is unknown or being kept from public view. Hopefully Winston can displace the Maori bias and get some sense back into National | David |
| I'm not sure that NZ First actually have any principles other than NZ First first. | Paul |
| It will be National despite the fact that they have committted treason on us in regards to pleasing the the tribal elite. NZ First is here to keep these bastards honest!!!! For starters——. We have to get rid of this unholy influence of the Greens and the Maori Party. I took a bit of time to read the Maori Party's program. Racist at best!!!!!!!!! Nothing about how to include or consider anybody or anything non Maori for that matter . It is either conform or f–ck off. That lot is dangerous!!!!!!!! | Michael |
| Maybe | Howard |
| Our chance of some sanity in parliament | Neville |
| I sincerely hope they go with National as we will face an economic downturn if Jacinda and the Idiotic Greens get in to stuff all the long an painful recovery under National for the last 9 years will thrown away to fund all their wasteful spending on a the promises they have made to every man and his dog. | Colin |
| Lets hope we are right….the mind boggles at the alternative!!! | Ron |
| Labour are desperate to regain the treasury benches and will promise more to get NZ First on board. What a sickening thought! | Peter |
| Either way, heaven forbid this comes to pass, Winston will not know, it will come down to what can he gain personally from either party. | Rob |
| After Ron Marks comments tonight he sees repealing the RMA as pivotal in getting their support. | John |
| And it will still be same shit, different day | Mark |
| If Winston decides to align with the Labour Party after the election then this will be the last time that I will ever vote for NZ First. How could he support a party that has the goal of including a mistranslated racist version of the Treaty of Waitangi in a new constitution? By the way, why is there never any mention of Queen Victoria's 1840 Royal Charter that is NZ's first constitution? | Mitch |
| I use to think Winston was ok but I think nz first has become the Maori party in drag when you look at nz first party policy on treaty issues its nothing like it now and when the government gave the Tuhue a national park Winston was silent. | Stephen |
| I don't think Winston could "click" with labour, and dare I sat it, the greens, so I would hope that the country's economy would come first, and National are the only party with the New Zealand economy as a priority. As well, I believe that only Winston and National could halt this racist maori movement. | Neil |
| I think that Winston Peters will see Labour as easier to manipulate, that National will be more pragmatic and less likely to sell its soul. | Trevor |
| The need for a change of government is about the same as the need was to change the Clark Government of some time ago. National has mislead the people by using untruths about the state of the economy. They have created a false economy that looks great on paper but in reality fails to meet the needs of the majority. This was the reason that the great Aristocracies of Europe were removed by revolution some 300 years ago. Today, thankfully, the power of the vote is still with us and National will be removed by the vote. Remember, Oppositions are not elected – Governments are removed!!! NZ First believes that NZ is a mess and Labor Party policies in areas of contenction are similar. If the National Party is removed that will see the voluntary departure of English, Joyce, Smith and a number of other entrenched MP's who have exploited the weaknesses of MMP. | Frederick |
| NOTE – I'm only giving a click on Labour so that my vote will go through. Labour are possibly more likely to attract Winston if he doesn't get sufficient numbers to do anything else. Actually -I don't think Winston intends to support either party! I think he will opt for the cross benches, assuming enough people give him the party vote and that may well happen because many of us are sick of what both National and Labour have done or intend to do. Please note who Jacinda Arden's mentor/heroine is! And can anyone see whether either Steven Joyce or John Key will influence much of what National ends up doing! If Winston gets the opportunity to sit on the cross benches, he will be able to influence best policies from either the party in government, or the party in opposition! This will mean he has controlling influence and keep excesses to a bare minimum and as has been said often before – he can keep the b*****ds honest! Why would he want to be in a coalition? | Rod |
| I don't think that Labour would entertain Winston if the Greens were avaialble. If the Greens aren't avaialble, they could possibly have enough with the Maori Party to go without Winston, but God help NZ if that occurs! They would find it very hard to work with Winston – if he keeps to his promises as I would hope he will. | Ted |
| | |
| --- | --- |
| He did last time and shafted use who believed in him you cant trust winnie. | Paul |
| They will firstly offer support to the Party with the most seats. | Pdm |
| After listening to the minor party debate the other night when the maori party representative said they would work with labour that will mean NZ First has no option but to back National. | Dennis |
| God only knows what Winnie will do as he doesn't know himself. He will go with the party that offers him the most important position. | Rod |
| NZ First isn't really the one to have an opinion…Any NZFirst "product" will have to do as decreed by Mr. Peters. So it all gets back to a One-Man band calling the shots on the night it the election is really a close finish. I'd like to think Peters would support National, but that's probably a pipe dream..WP will support whomever is his fancy of the moment based on the philosophy of "What's in it for Meeee? He's about as reliable as a weathercock and ;about as straightforward as Donald Trump,, (Who isn't, we all know that…). I doubt if even Winston Peters would be daft enough to join forces with, and support a very verbal but politically and , uneconomially untrained or experienced Labour leader unless he is given the Chair, or the PMs job, either or both of which he has craved for decades… Oh do Get real. This year is going to be the the NZ lottery of the Century (buy a ticket or cast your vote NOW???) and there is little we can do to restrict the avalanche of the emotive but under-informed voters. The Herald has a lot to answer for in reportage, too. Happy days??? | Mabel |
| National has repeatedly stated they will not work with NZ First. | Bryan |
| Under labour our export industries will not thrive. | John |
| If he doesn't his days in politics are numbered. | Maurie |
| Unfortunately. | Leonie |
| Would like to say they would support National but think they won't | Geoff |
| I hope Winston will see the sense in it | IAN |
| NZ First policies are more in line with National | Jim |
| I would prefer them to support National but they seem to be more likely to support Labour. | Allan |
| Winston is a Nat from way back. Im sure he will see through his departure from the National party seconded by Bill english. He doesn't see Labour as a party who would be good for NZ. Like last election the rise and fall of Dot Com before poling, will repeat itself with the new hat of Labour falling of the perch because the media are at last starting to question the substance and the action bits behind the sound bits. Remember Hillary was in front by all the polls at this stage in the US elections?? | Murray |
| Having bothered to read NZ First policies on their web site, they are so obviously Labour/ Greens aligned. There is no way NZF could be considered a centrist party when they are spend up large; interfere in a market economy; regressive (to the 1970s) like Labour and any Left party. Their policies state they are going to heavily favour Maori ~but not on the basis of race or colour; whilst claiming they might dissolve maori electorates. A vote for NZ First is a proxy vote for Labour | Peter |
| Labour policies scare me I feel we would become not a third world economy but a bankrupt nation | David |
| I would like them to go with National, but I don't think Winston would get his demands with National so he will go with Labour | Dianne |
| | |
| --- | --- |
| NZ First will make their decision after the election when it finds out what is on offer and if it will be beneficial policies for all NZ. | Margaret |
| Has to or we'll drown in Labour's undoubted inability to govern. | Hugh |
| I like none of them. Labour, Greens and Maori party more so. | John |
| One can only hope it is National and that ACT get Seymour back in plus 5% to also demand National show some backbone. It's to be hoped that Winston takes one look at Labours red manifesto and runs screaming from the negotiation table. If we don't get a center right government then will the last sane and sensible Kiwi left please turn the lights out as they leave. | Ronmac |
| I hope as the policies that Winston is campaigning on are not compatible with Labour. | Lynn |
| It needs to be National. We need to rid this country of race based policy and fix the RMA. | Lachlan |
| The xperts are saying that nzfirst will go with labour because they will get more of their policies installed. I don't see it that way as both parties policies are polls apart. Ideally a National and N Z first coalition would have a more stable out come where as if we have a Labour led government god help us. The young generation are in for a big shock. | Ken |
| It will keep National honest & get rid of the maori party for good as IT SHOULD HAVE BEEN DONE AGES AGO | Cindy |
| No way would Labour support getting rid of the Maori seats, less MP's in Parliament or even less immigants. A lot of Winstons policies will not fit the Labour pscysce plus the thought of Bill English retiring from Politics within 18 months would give Winston, as Deputy Primeminister, the position he's been looking forward to for years. | John |
| They will be bloody stupid to support Labour | Graham |
| NZ First have always maintained that we are one people and have no time for Maori elitism and crazy notions of dual governance. | Frank |
| I hope… | Mark |
| Winston will do what is best for him, as he wants to be the first Maori PM so he will do a deal with any one, as the Old expression gose he is Cunning as a Maori Dog. | Geoff |
| Such an accommodation could actually benefit the country,bring National more back to it's conservative roots. | Steve |
| Voted Nats on this but Winnie probably going where the money is! | Roger |
| You left off a further option and that should have been "either". The first to hear from Winston will be the one with the most votes. I don't envy him as National and Labour have Parties attached that he wouldn't want to work with for very good reasons. | Di |
| Don't go with any party that supports apartheid | Iaan |
| NZF policy is more aligned to National than to Labour's. Hopefully Winston could shake national out of their marriage to the racist Maori party. For too long parliament has wasted time on racist issues that don't really exist. We are supposed to be ONE PEOPLE. | Graeme |
| Hope to god they support Nats, but depends if they even have that option – ie Nats may not get enough votes!! We have a very stupid electorate! This is due to dumbing down – and what is ultimately to blame for this – PC of course! PC is always the root of all evil. WAKE UP NEW ZEALAND! | F |
| Winston came from National. | Graeme |
| They would support National because they can see a steady progressive future with National, whereas Labour would take the country backwards. | Tom |
| Way overdue! | David |
| Supporting Labour would clearly be suicide – QED. | Peter |
| Hopefully it will be National but I don't know the answer to this question. Asking us to predict what Peters will do is asking a question that is impossible to answer. This poll should have had a 'Don't Know" option. | K |
| Despite his bluster, Winnie had more in common with National than Labour. And I can't see him playing second fiddle to the media star Jacinda. | Catherine |
| Winston had better. | David |
| But its hard to tell in politics. | Steven |
| Because they have more commonsense I would have thought. | Clark |
| I think the tooth fairy is losing glitter. | David |
| Actually may depend on which party gets the highest vote | Terry |
| I believe Winston Peters is astute enough to realise that we cannot afford to have Labour in power. The 'Jacinda effec't' is indeed simply 'lipstick on a pig'. That is not as some suggested , a slight on Jacinda. .It simply means that she may appear more attractive but Labour (what it stands for – its policies, its history,- is still the same . I am disappointed that many New Zealanders , encouraged by the news media, are so shallow as to not recognise that. | Harvey |
| | |
| --- | --- |
| What about neither? | Alan |
| Some of that would be determined by Bill & Nats. They have been so keen to rubbish Winston they may get their wish. They seem to forget they should have our best interests at heart, not ego trips and old dislikes. | Frank |
| National will warm the backbenches for nearly a decade. | David |
| Don't really know, but hope national for the sake of the country. | John |
| It is anyone's guess but I hope NZ first go with National and have enough leverage to remove race based laws/policy. Labour policies are created on alarmist thinking. Sadly many people do not fully understand a Labour governments financial costs to keep the economy balanced or the implications of ongoing racial separatism. | Sam |
| It is likely that Labour will have control and would be more likely produce a major port-folia, it is his last shot at power | Douglas |
| National I hope, butI think he will go with the party that will concede to the most of his bottom line | Vaughan |
| More logical given Winston's views. | Gerry |
| Logically Winston would not work well with Labour. | Raymond |
| Labour; but maybe its just wishful thinking on my part. PS; I have never been a Labour supporter in the past but National are now too heavily biased to supporting the minority wealthy whilst pretending to care about middle NZ with a few lollies at election time. | Gary |
| At least National will talk to them. | Gerd |
| I HOPE!!! | Phil |
| Can we trust Winston – hope so as he has some good bottom lines. | Marianne |
| It all depends which party has the most votes. He could go either way. | Andrew |
| Hopefully Winston's preference is the same as mine, because we and National need NZ First to ensure the repeal of all race based legislation. National has the ability to maintain and grow a strong economy, but lacks the common sense that is coming from all non-maori sources to eliminate preferential ethnic treatment in the law. ONE nation, ONE people, ONE law. | Alan |
| Although would not be surprised to see Winston get into bed with whichever party offers him a job of some importance. | Roger |
| Winston will go with whoever offers the most !!!! | Ian |
| Its the only way for them to go | Bruce |
| I don't like that idea but I think they will | Eric |
| National has insulted Winston one too many times. Stupid National has blown it and we will all suffer under ayatollah Ardern. | Mike |
| Could you imagine Winston as a deputy prime minister under Jacinda? Winston has been with National before and most likely will go again and draw it out for weeks and weeks like last time! | Frank |
| Only if there is no inclusion of the Greens with Labour | Sam |
| Winston is an ex-national MP | John |
| Only because, hopefully, NZ First can wind back on some of the racist policies that the Maori Party is blackmailing the National party into following. | Owen |
| Peter's made a hash of it when he was in coalition with National and carries a grudge because they fired him from the position he was given. | Max |
| Who knows what Winston will do? He used to be a National MP, so based on that and the fact that he has a good deal of life experience and some common sense, on balance I think he will go with National. I don't believe he would support Labour's raft of galloping taxation policies. That is my hope anyway. | Dianna |
| Princess J would be too much of a threat to Winston's ego and if it involves the greens, that would be too much for him to bear. | Willy |
| A tricky question. We have a tricky person in Winston, and he will do whatever is best for Winston on the day. He should go with National, but it really is a 50 50 bet | Lloyd |
| NZ First's policies are more closely aligned with National than Labour. NZ can't allow any further movement to the left if we are to ensure a prosperous future for all. Labour and the Greens are way out of touch with reality … it's frightening to contemplate a future NZ under a coilition of these Marxist clowns | Steve |
| | |
| --- | --- |
| If we have a Labour NZ First government we will have chaos. | Les |
| I /we hope and will provide genuflection given the opportunity. | Dick |
| Winston Peters' heart lies with National; however, I doubt whether he would offer his support to them whilst Bill English is leader. Were the National caucus to see sense – especially when faced with the prospect of three years in the opposition wilderness – they would support another leadership challenge, this time to be won by Judith Collins. She and Peters would make a 'dream team'! | Graham |
| If Winston throws his hand in with Labour he is looking after Winston first. If he is with National then his is considering NZ and the people. | Elizabeth |
| Winston Peters has said he would consult with the biggest polling party and I believe that will be Labour. Because of the polls National have dropped their arrogance which has now exposed them as visionless and a bunch a catch up Charlie's. | Don |
| And change the LAWS, ONE LAW FOR ALL. | John |
| NZ First are the only possibility holding us back from a mix aprthied & marxist anarchy. I am at the point where I feel we deserve what we are about to get. | Tracy |
| But with Winston you can never be sure! If Bags just offer an ordinary Cabinet role and Labour, Deputy Prime Minister, I am sure we all know which way he will go! | Hugh |
| I hope! | Colin |
| Really unsure. | John |
| It could make for a better balanced government with out sending the country back to the 70s. | John |
| I don't really care as long as he carries out his promise to de power the part Maoris .As I have said I can't fathom why National has gone mad and given in to all the part Maori claims , this will cause huge problems in the future and will see our country racially divided when the majority wake up and realise what National has given away to the part Maori . When will it all stop e.g. The apology from the National govt to the part Maori for a supposed wrongful arrest a hundred years ago , come on . Watch this space next will come the huge compensation claim just like the ridiculous $17 mill to the Chatham Morioiri for the attack by the Taranaki Maori in 1835 , paid out under a Treaty of Waitangi which wasn't even signed until 1840 and didn't include the Chathams .If redress was required surely the Taranaki Maori should have paid it out of their settlement. | Jock |
| Let's hope this is way he will go. | Richard |
| With an eye to DPM!! What an absolute disaster – almost as scary as Labour/Greens coalition. | Andrew |
| | |
| --- | --- |
| Either party | Sandra |
| If Winston is smart the Nats as Labour with take us to the financial cleaners in three years. | Graeme |
| Still not sure. This is a hope he will rather than know he will. Think it will depend on poll results. For this reason I'm hesitant about co NZF | Elizabeth |
| Better option than no National Government, although I would prefer National not to need anyone else. | Chris |
| ….New Zealand First may have a chance with National as their political support of pushing their realistic goals and also prevent this Nation becoming divided by the racist "iwi" mafia …. | CHowes |
| Winston isn't a communist supporter | John |
| Labour have taken on Green policy which is anathema to Winston. Can,t for the life of me understand why National wanted to shaft Winston. Their lack of insight will be the reason they go down. | John |
| Hopefully | Lynette |
| A no brainer | Bruce |
| The devil you know … | Paul |
| I hope NZF go with National but who would know, which is why a NZF "protest vote" could have a significant downside. | SJ |
| Winston is not silly. He wont have anything to do with the Greens either, The good Lord save us from a Labour/Greens/looney fringe government. | Bruce |
| New Zealand first could support Labour as long as they get some of their promises in place. | Robert |
| I do not know who NZ First will support. Given the manifestos I want them to support National. | Ian |
| I am hoping | Colin |
| Labour? Unthinkable! | Peter |
| NZ First must realize National still uses some greater amount of rational judgement toward policy decisions than does Labour' "knee-jerk" response to stay in power. | Jim |
| The greens have made such a polarized mess with their policies that it impossible to see NZF could work with Greens ever and maori party with respect to areas of incompatible difference are no better. That means would labour get enough votes to bring about a sound govt with only NZF to partner. Winston might welcome Labour as their front line weakness opens the door to substantial power gains for NZF. But truely can he NZ voting public be so gulible as to squander its national sovereignty on the alter of international socialism and forfeit forever its traditions of home ownership and small private enterprize to the global socialist tax confiscation monolithe. manipulated by unelected and unaccountable socialists behind the scenes. If labour by chance advance in this election, then it will focus the whole electoral system of the failed MMP into massive overhaul., maybe then we will see racist policies booted out for good and sound policies returned. National too their shame have not committed to eliminating racist policies but If they join with NZF then they have a ready made mandate to effect permanent lasting and beneficial change. This may be their plan. Any other plan will undoubtedly see a replacement leadership in National, because we do not want an entrenched apartheid system. | Richard |
| | |
| --- | --- |
| I think Winston Peters will go with National – at least I hope he would go with National! | Stewart |
| Given that National will need NZF if they are to govern I think their strategy of attacking Mr Peters has been foolish. It might even have forced him into going with Labour. | Bill |
| I'm picking that Winston will sit on the cross benches and play hard to get with each bill! | Jason |
| National. But he won't want ACT anywhere near the coalition. | Pat |
| I think Winston will go with Labour – without the Greens. In fact, the way Labour is poaching their vote, I think the Greens will be out of Parliament. | John |