October 17, 2023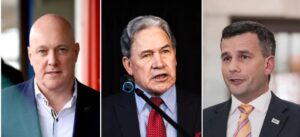 After six years of the Labour's lies, bullying and deceit, New Zealanders have overwhelmingly voted for change.
Labour's party vote has been slashed from 50.1 percent in 2020 to 26.8 percent on the provisional figures. The party was decimated in the electorates losing 28 of their 45 seats. With 17 constituencies and 17 list seats, they now have only 34 seats in Parliament down from 65 in 2020.
With voter turnout falling to an estimated 78.4 percent from 82.2 percent in 2020, it appears many disillusioned Labour supporters stayed at home.
The Green Party scooped up some disgruntled Labour voters to win 10.78 percent of the party vote, up from 7.9 percent in 2020. As a result, they will have 14 seats in Parliament – up from 10 – including three electorate seats, up from one.
The Maori Party scored major victories in the Maori electorates, winning four out of the seven Maori seats, up from one in the last Parliament. With 2.6 percent of the party vote – more than double their 1.2 percent 2020 result – the Maori Party is only entitled to three Parliamentary seats. As a result, their fourth has created a one-seat overhang in Parliament.
This week's NZCPR Guest is political commentator and former local body councillor Frank Newman, who shares his election analysis and explains the significance of the Maori seat result:
"The biggest talking point of the election is the battle for control of the Maori seats.
"That fight was vividly expressed in the seat of Hauraki-Waikato. Nanaia Mahuta has been defeated and without a list seat as a life-line, is out of Parliament. Mahuta held the seat for 27 years. She has been defeated by Hana-Rawhiti Maipi-Clarke who will be the youngest MP at 21. She represents the new generation of radical Maori that are now aggressively challenging their more conservative elders. The departure of Mahuta would be a cause for celebration if it were not for the fact that she is being replaced with a member of a party that is even more radical and anti-democratic.
"The losses are a massive blow for Labour. None of Labour's Maori seats are safe from the Maori Party offensive. No doubt they will be looking for a clean sweep in 2026.
"Ironically, Labour has massively advanced the Maori agenda since 2020. The He Puapua blueprint for co-governance that Labour had concealed from the public prior to the 2020 election had been put into effect throughout the government service. That radical initiative was clearly not radical enough for the extremist Maori Party."
Frank explains that thirty of the 121 MPs in the new 54th Parliament have Maori ancestry – that's 25 percent: the Maori Party has 100 percent, New Zealand First 50 percent, the Greens 36 percent, ACT 27 percent, Labour 26 percent, and National has 10 percent.
"The obvious question is why we need the Maori seats at all when Maori are overrepresented in Parliament via the general seats. The argument for the abolition of the Maori seats in Parliament (and on local councils) is even more compelling if one accepts these seats have become vehicles for radical factions intent on undermining our democracy. The Maori Party only gained 2.6% of the vote despite Maori representing 17% of the general population so it cannot be said that they represent Maori or have a mandate to speak for or on behalf of Maori."
Frank is right. Radicals have captured the Maori seats. New Zealanders need to ask if the Maori seats are helping Maori, or whether they are helping subversive elements within our society to spread their divisive and destructive agenda. A referendum on the future of the Maori seats is surely needed as a priority.
The election has delivered to New Zealand a new Prime Minister. Christopher Luxon will become the country's forty-second PM. National's election night party vote was 38.95 percent, up from 25.6 percent in 2020. They won 45 electorate seats – up from 23 in 2020 – and 5 list seats, giving them 50 seats in Parliament, up from 33 at the last election.
ACT has risen to its highest level yet, winning 9 percent of the party vote – up from 7.6 percent – entitling them to 11 MPs in Parliament, one more than in 2020. ACT also won two electorate seats this time around – Epsom and Tamaki, giving them a stronger base in Auckland.
New Zealand First was another election success story, winning back a place in Parliament, after being wiped out in 2020. They received 6.46 percent of the party vote, entitling them to 8 list MPs.
On election night Winston Peters indicated to Christopher Luxon that they were there to help.
The 'wasted' vote for the minor parties, which amounted to 5.3 percent, was effectively reallocated to parties in Parliament.
An estimated 567,000 special votes – 20.2 percent of total votes cast – won't be counted until November 3rd. Since they include many students, who study away from home, these votes, which traditionally favour Labour and the Greens, could tip the balance in a number of tight electorate races.
Furthermore, thanks to the vagaries of electoral law the number of Parliamentary seats will increase to 122 when the Port Waikato by-election is held on the 25th of November.
As a result of these factors, National and ACT would need 62 seats in a 122 seat Parliament to govern alone. At the present time they hold 61 seats. While National is expected to win the by-election, in 2020, as a result of the special votes, they lost two seats. It therefore seems likely that National will bring New Zealand First within its coalition.
So what does all this mean?
New Zealanders categorically voted Labour out of government. So while their dreadful reign is over, the serious damage they have done to our democracy through their fixation with Maori privilege and their disregard for public sentiment, remains.
The Hipkins-Ardern Government, which has surely been the worst in our history, appeared blind to the anger they created. Jacinda Ardern, their greatest asset turned into their greatest liability. But by the time she – or more likely party strategists – realised they could not win with her as leader the damage had already been done.
Without a doubt, Chris Hipkins was given a hospital pass. The public had already lost trust in Labour by the time he took over. Voters had realised that while virtually none of their promised policies – like ending child poverty or building 100,000 homes – had been realised, a secret co-governance agenda that divided New Zealanders by race had instead been forced onto the country.
Since Labour could not campaign on their record, nor with any credibility on political promises, given their six years of incumbency, their strategy was to attack. They hoped that by undermining the credibility of the alternative government, they might win by default.
Their relentless assault on National and their potential partners, not only drew attention away from their policy failures, but also from the extremism of their own "coalition of chaos" with the radical Greens and Maori Party.
And they had the media on their side.
In fact, the performance of much of the mainstream media throughout the campaign was appalling. Instead of scrutinising the government and holding them to account for their failure to deliver, they aggressively attacked the alternative government.
While we all know that the media as a whole is biased to the left – as indicated by journalists themselves in the latest World of Journalism study – what we saw during the campaign appeared to be manipulation against a change of government.
Whether this was in part due to the fact that Labour's $55 million Public Interest Journalism Fund ran right through the election period – and is scheduled to continue through the first year of the new government, only ending in January 2026 – is not known. But since PIJF recipients are required to "Actively promote the principles of Partnership, Participation and Active Protection under Te Tiriti o Waitangi acknowledging Māori as a Te Tiriti partner", the effect was to mute opposition to co-governance in the mainstream media, even though it had become a major election issue.
Reviewing this funding and its implications for the freedom of expression in New Zealand is just one of the many issues that will need to be addressed by Prime Minister Luxon and his team, since an independent and unbiased mainstream media is fundamental to the health of any democracy.
In fact, it will fascinating to assess whether the level of media scrutiny of the new government will be equivalent to what Labour was subjected to, or whether the bias against them that was evident during the campaign will continue. If it does, that will no doubt strengthen the independent media that has emerged over the last three years to fill the gap created by the failure of traditional media to provide balance.
In the run up to the election there was, of course, a great deal of interest in the polls. While some overestimated the votes of Labour and the Greens, and underestimated National, they all correctly identified a change in government.
So, what does the future hold?
The Labour Party has been decimated and will take time to refresh and rebuild. It's a process that's likely to span two terms of Parliament – the second, to bring in new talent.
The Greens have been strengthened but their gains were largely because Labour was punished so heavily. The problem the Greens now have is that they are no longer green – but radicals promoting an extremist woke agenda. Even their co-leader James Shaw, who likes to present himself as moderate and reasonable, is now showing his true colours by threatening violence if the new government tries to hold a referendum on the principles of the Treaty of Waitangi.
The President of the radicalised Maori Party also threatened violence if democracy prevails, and a referendum goes ahead.
Meanwhile, Australians have shown us that the democratic process can be used to stop government attempts to divide the country by race. The Prime Minister's plan to enshrine Aboriginal rights in their constitution was defeated last Saturday by 60 percent of the votes in The Voice referendum to 40 percent. It was also categorically rejected it in all six states.
What New Zealanders now need to consider is that even though the most destructive government in our history has been defeated, they have left democracy in a parlous state. It has been undermined by the co-governance agenda driven by a radical cabal of Labour's Maori MPs, led by members representing the Maori seats. Through their co-governance arrangements, Labour has given unelected and unaccountable representatives of multi-million-dollar tribal business corporations, power over our lives.
Not only should all such arrangements, throughout the public and private sectors, be disestablished as a matter of urgency, but democracy itself must be strengthened to ensure this can never happen again.
In light of the radicalisation of the Maori seats and warning of the 1986 Royal Commission on the Electoral System that Maori would gain a disproportionate influence in an MMP Parliament if the Maori seats were not abolished, since every party forming the new government has, at one time or another, promised a referendum on the future of the Maori seats, isn't it time it was now held?
With local body elections set for October 2025, a referendum asking the public whether or not Maori seats should be retained, should be held next year, so it can impact on those elections as well.
Democracy belongs to the people and these matters are too important for us not to have a say.
Kiwis do not want to be divided by race. Let's hope our new government has the commitment and the courage to restore our democracy and rebuild our country so we can once again stand united and proud to call ourselves New Zealanders – first and foremost.
Please note: To register for our free weekly newsletter please click HERE.
THIS WEEK'S POLL ASKS:
*Would you like to see a referendum on abolishing the Maori seats in Parliament and Local Government held next year?
*Poll comments are posted below.
*All NZCPR poll results can be seen in the Archive.

THIS WEEK'S POLL COMMENTS
| | |
| --- | --- |
| Vote on ability not race | Ian |
| It divides people and race | Frank |
| This is a MUST: not NICE TO HAVE or HIGHLY DESIRABLE | mICHAEL |
| ASAP | Bryan |
| The participation of Maori in parliament clearly indicate that the Maori seats are irrelevant and a thing of the past. Abolish them | tony |
| Democracy must be the rule | peter |
| Already,Totalitarian IWI are whining, and complaining bitterly, about Acts, idea to have a referendum on the obsolete fraud treaty, just shows, how much they hate DEMOCRACY !! | David |
| Sick of being held over a barrel, for misconstrued ideas of some 200 year old agreement that has no relevance in this caltral soup we have in nz now. | Aidan |
| Let's hope this coalition Government will have courage to keep their word. | Dianne |
| The maori seats were supposed to be dropped when mmp was introduced. | StevoC |
| I can only pray that the new Government has the courage to simply turn our country into an ethnicity free country….we are all one people. | Bill |
| This should happen in the first 100 days of the newly formed government if they have the courage. | Roy |
| As apointes out as a democracy with one person, one vote all New Zealanders as individuals should stand on their own merit. | Andrea |
| Most unfair nonsense ever. Bin them. | Mark |
| It was recommended that the seats for maori be abolished once we stumbled into MMP. Do it! | Rodger |
| Yes definitely, it is long over due. | Paul |
| OUR CHILDRENS CHILDREN WILL WONDER WHY WE WERE SO GUTLESS TO LET IT HAPPEN ,IF IT COMES TO PASS.OUR MP'S WERE ONCE WARRIORS FOR DEMOCRACY AND FAIRNESS FOR ALL KIWI'S.LET US HOPE THEY HAVE NOT BECOME GUTLESS SHEEP. | Bill |
| If not abolished I am moving countries | Hendy |
| The requirement for these Race based seats is way past its use by date. MMP has now ensured that every race is well represented in Parliament. Preference given because of race has no place in our Democracy. It is now time to consign them to the dustbin of history. | Allan |
| | |
| --- | --- |
| Most definitely yes!! | William |
| Maximum pressure needs to be maintained with this new government by the voting public so we can get rid of this scourge of Maori seats, unfairly undermining our democracy. Other things like abolition of Waitangi Tribunal, withdrawal from UNDRIP and repeal of CMA etc. can then follow. | Monica |
| Its time to end this nonsense permanently. Binding referenda is critical in all referendums. Unbiased question wording also critical. | Paul |
| Not before time | Ken |
| We are all New Zealanders irrespective of ethnicity, colour or creed. To have totally race based [with a minimal amount of 'maori blood'] is not only completely and utterly racist. … it is UNACCEPTABLE | Rainey |
| It is essential. | gale |
| I believe the Maori seats are decisive and are disproportionate to the Maori population. | Daniel |
| Definitely need a referendum. | Clive |
| These are anachronistic and no longer needed. | Colin |
| This is the only rational solution to the racial problem that has developed in this country. | Janet |
| Don't need them | Neil |
| We dont have designated non-Maori seats…… | Bob |
| enough of devision | Geoffrey |
| YES YES YES, THE SOONER THE BETTER | COLIN |
| This would ensure what the population really wants based on democracy and not race. | Warren |
| As per the Royal commission. | Mike |
| And a referendum re co- gov. | sven |
| Maori don't need help to get votes . | Dianne |
| We are ALL NEW ZEALANDERS – regardless of ethnicity ! | Donald |
| It is high time it was held | Theo |
| Any new government led by the National Party or Christopher Luxon will have neither courage nor commitment so don't hold your breath. This will be a government of mediocrity replacing a government of incompetence. | Matt |
| racism at its worst. | Christopher |
| if winston gets in this will never happen as he wanted to abolish the maori sets but backed off when he got into parliment last time and suspect luxon will be too scared to do it so lets hope to hell that ACT can force the issue but certainly the seats in local govt need to go as well as the 3waters,and the treaty crap that has allowed this country to go down the gugglar with the likes of adern, shaw and matua and the other bent bastards in the beehive that bleed us dry. This time next month will show how this country will survive or not. | Richard |
| The average community Maori are not involved in politics and have not been for my 7decades. Today the radicles have sown false history – they are racist, deceptive and are liars. It will only get worse – They do not need undemocratic controls to live happily and successfully in NZ. | Maurice |
| I believe with the radicalisation of the Maori Party, most of our Maori brothers would also agree. | Peter |
| I'd like to see the new Govt just do it in the first 100 days! | John |
| Absolutely. The seats are divisive and unnecessary. | Christine |
| Oh yes! It's well past the time when we did away with these remnants of a racist past. | Roger |
| Only way to go! | David |
| Depends on the rulees really. | Janet |
| We need to reintroduce democracy!!!! | Richard |
| Definitely. However, even more importantly, this administration needs to have the intestinal fortitude to expunge the maori seats, as was recommended by the 1986 Royal Commission on MMP. The seats are no longer necessary for maori representation, as ACT and NZF have proved for years. | Gavin |
| The Maori seats were created to give Maori a voice at a time when tribal ownership of land proscribed individual Maori ownership, and it was seen to be a temporary help to Maori, in transition. That was a century and a half ago. At that time the Treaty was seen as an expression of common lawful purpose shared equally by the inhabitants of this collection of islands known first and earlier as New Zealand…..Niu Tirani in the Maori Treaty | Alan |
| We are all New Zealanders, why have Maori seats and not say, Asian, Indian or, other ethnicities? One people!! | Anthony |
| restoring democracy is an urgent need | Susan |
| The MMP structure must have the maori seats removed ASAP….Luxon this is the first action required of you ! Do you Copy That ??? New Zealand is talking to YOU ! | Christopher |
| has to happen | noel |
| Absolutely | Clare |
| Desperately needed. | Bruce |
| They are racial and not needed. | Rod |
| Absolutely. It's time to stop the rot! | Alan |
| not needed any more | Nev |
| Definitely needs to happen. | Helen |
| it's time to restore representative democracy to NZ and stop apartheid. | Mark |
| Long past time they went. Now only an opportunity for radical left wing stirrers | Robbie |
| It is imperative the citizens of New Zealand get to vote on the present separatism system. Any form of Apartheid should be abolished. | Bryan |
| Yes, let the people decide. | Nick |
| Absolutely, it is something I have longed for in all my 83 years in my country New Zealand. Remember they were supposed to be scrubbed back in 1879 when all men got the vote and the special Maori Seats were no longer needed!! | Eric |
| Absolutely | Gaz |
| It's not democratic. And racist | Fiona |
| There is no place for tribalism in democratic country | Lachlan |
| These race based seats are not longer required. Adequate representation is available through the ballot. | Andrew |
| Aren't we one Nation? | Dvaid |
| Should have been abolished years ago. | John |
| As I recall, the original concept of the allocation of 4 maori seats was stated to be a temporary measure until the maori population adjusted to the westminster style of govt. | peter |
| this has to be done. | holdaway |
| Democracy has been hijacked by radical elements and their influence over a woke government. Maori seats were originally intended to be a temporary measure while they learnt about democracy. Instead they have tried to leg-rope democracy. | Hugh |
| Sooner rather than later, lets get Winston to organise it so he can put his money where his mouth is!! | Grange |
| Race based seats are an anachronism that should have been dealt with 100 years ago. That they still exist is a total nonsense and simply demonstrates the gutlessness of every Government for the last 125 years.. | Dianna |
| Ardernism has gone a long way towards entrenching the radical tribal agenda in so much of our legislation and within corporations that toed the woke line. Maori seats and the Waitangi Tribunal ned to be abolished so that all NZers are treated as equals. It is imperative that we remove the racial bias that the last six tears has created. | Kerry |
| Our country has been ruined by the turning of New Zealanders against each other by Labour. National has to take the bull by the horns and return democracy to all of us. | Doreen |
| I believe it's necessary to have this opportunity to vote | Chris |
| YES YES YES | SHERYL |
| What is a Maori? A referendum is also needed to define what is a Maori. How can a person with very little Maori blood class themselves as Maori when the majority of their blood line were European, Chinese etc. There should be a minimum of 50% Maori blood for a person to be a Maori. Surely it is racists to claim you are something you are not and disregard your true heritage and blood line. | Gary |
| They serve patronage and are on no democratic value | gerald |
| … although I would not look forward to the sort of underhanded campaign that would undoubtedly precede it, if the Australian yes/no Voice campaign was anything to go by. Particularly if our parliamentarians react the way the Aussie politicians have… committing to ignoring the NO vote and carrying on regardless. | Jenny |
| They are of no use to the advancement of our country – NEW ZEALAND | Ian |
| They have very good representation through each party ie National, Labour Act, Greens & NZ first | Brian |
| Lets follow our aussie cousins and reunite this country as a colour blind country with equality for all regardless of race, colour or creed. | Maria |
| Definitely | Marilyn |
| The need for the majority of New Zealand citizens to express their opinion regarding constitutional change affecting the future of all is imperative, especially considering the radicalized nature of Maori representation. | Johan |
| This is long overdue | Harvey |
| Their abolition is decades overdue. | Bryce |
| The only problem will be the anarchy created by the radicals when the referendum goes against them. However fear not one can assume after an initial period of unrest the minority bunch of troublemakers should be subdued enough for the country to move forward as ONE nation. | Ken |
| I am part Maori, and New Zealand is a democracy, where everyone has the right to vote. Seats based on ethnicity are a form of racism and apartheid. | Gladys |
| They are New Zealanders and are quite capable of standing for seats in Government or Council, the gravy train needs to be derailed. | Gayle |
| let common sense prevail! | Doris |
| Yes It should have been done years ago as rrecommended to govt at the time. Now it has bbeen proven that Maori are not indigenous bbut came here from the pacific countries. We are one country now. | Frank |
| One people one law | Carl |
| Maori seats was only introduced as a temporary measure decades ago. It is high time these seats were abolished completely along with Maori seats on Councils. | Greg |
| We need more than a referendum which will be ignored. It needs to be a "binding referendum." This country will not mature into the sort of society that the majority will benefit from with the divisive behaviour that is being promoted by some sectors. | Gary |
| Maori seats were only a temporary measure when they were set up. Should have been gone a very long time ago! | Murray |
| Should never have had them | Dennis |
| I totally agree with your reasons given.We must return to one law for all,one flag, one people !! | norman |
| Definitely, our democracy is under threat and with more radical Maori voted to parliament NZ will become even more divided by race. | Heather |
| The sooner the better | John |
| The introduction of MMP voting system rendered the Maori seats obselete. There is no justifiable reason to retain them. Maori are well represented in the general seats, as this latest election result demonstrates. | Geoff |
| They have to go. But, hey, I don't trust the Nats and they will fold to keeping them.Anyway, a referendum is not binding anyway. I believe that the Nats will follow the Globalist agenda, just a little more quiety and sneakily. Is that not what "We'll Put Things Right" means, Huh??? | Neil |
| ASAP | William |
| before its too late | Jeremy |
| WEAK Politicians failed to remove the maori seats when universal suffrage was introduced and again when MMP commenced. We the people must demand the removal of the seats, the removal of race including the removal of the TOW from our laws. TRUE Democracy, one person one vote of equal value does not promote and enable race based division with laws that actually do just that. Otherwise it's not democracy. | Sam |
| This is an issue that can wait no longer for NZ to have the necessary discussion on how we as a country move on in a way that reflects our maturity as a nation in which everyone enjoys the same rights and privilege as everyone else. Something the Treaty of Waitangi promised all of us 183 years ago. | T |
| Also… 3 Waters. No racist co-governance. An end, to ongoing 'so called Treaty claims', Royal commission enquiry into the Covid 19 deaths and injury list ! | David |
| MMP changed everything in our election process Maori have too much power if they have a Maori Party and a 7 seats guaranteed. With just a Maori Party they can most likely get across the 5% threshold and even be a kingmaker as NZ first has been I've always suggested that federated farmers should become a political party and have some real power to protect its farmers from the ever growing green movement.They would certainly get over 5 % .We need a time of reckoning in this beautiful country, and despite the treats of violence from radical Maori, this is something we must address if we want to go forward. As much as I don't want NZ first in the new government, they did campaign on having a referendum on getting rid of Maori seats in the 2017 election as a bottom line promise , so they may wish to honour that promise in this new government | Luke |
| Overdue! | Murray |
| The threat of violence needs to be addressed and the perpetrators arrested | Steve |
| I would like to see all of the treaty laws/acts by Labour to be removed from the statutes | Carl |
| This should have been a requirement when John Key was in charge. | John |
| yes . the people have spoken via the election results . The maori greedies and woke white wankers still want that half wit Aderns agenda to continue . if it does come down to violence against the winning parties I am sure good will prevail over evil . I hope after such a decimation of Labours wpke policies they have enough brain power to understand we are gonna fight tooth and nail ( no offense Jacinda lol ) to rid our country of these scum-buckets . | Ray |
| One People One Vote !!! | BRUCE |
| It has been said before that we should be all one in this country | Tony |
| Long overdue. Do it now and get it out of the way. No special privileges for any racial group. | Paloma |
| Most definitely, and abolition of maori ward seats in local government | David |
| No seats should be based on ethnicity. | John |
| Yes,Yes and sooner the better. | Mark |
| Lets push hard for this | John |
| About time | Ken |
| Not before time | Ann |
| One people | Jimmy |
| Monitising a blood line over the rest of us tgat have all helped to make this country awesome is selfish. | Aidan |
| these maori seat should never have been formed in the first place | Roy |
| We must end any form of racism favouritism. One person, one vote must prevail | Grant |
| | |
| --- | --- |
| Luxon won't do anything to upset the apple cart, like them all he is about gaining power and patting himself on the back while shafting all of us. All of them are meant to serve us the people,sounds like a Tui ad !!!! | Wayne |
| A no-brained. Absolutely necessary! | Dennis |
| We are one country one nation. We need our best not necessarily our brightest in charge despite ethnicity.people who can walk and talk across all groupings. People who can make things happen for the betterment of us all. | Jacqui |
| We have to get back to a true democracy | Martin |
| 1 nz | Trevor |
| Absolutely essential this happens, in the first 100 days!! | Ian |
| If our democracy is to survive this is essential. | Ronmac |
| It is absolutely essential that a referendum be held. Maori have proved that they do not need any special privilege to acquire seats in parliament. | Audrey |
| Maori now have far greater representation in parliament than ever before and therefore there is no need for there to be Maori seats either in Central or local government. | Carol |
| Yes it is a good time while we have the country focused on the consequences of co governance going badly wrong. | Marty |
| This division needs to end now and forever. | Russell |
| Well past their use-by date and based on race. One country, one person, one vote and no preferential treatment. | John |
| Can't come soon enough! | Chris |
| We are all New Zealanders and as long as there are separate Maori seats the country will be devided | Laurel |
| All references to race need to be expunged from NZ's governance. The Maori seats, Waitangi Tribunal and all legislation. We are one people. | Kenneth |
| It would appear Luxon wants to maintain Labours apartied, so dont dont go counting your horses yet!! | Alan |
| Cogovernence | Phil |
| Or better still do the best for Nz's democracy and just executive order them O U T. Then we just might start to have a democracy | Carolyn |
| They should have been abolished in 1986 as recommended by the commission. | Tim |
| Most definitely- it is long overdue. | Bruce |
| Actually, a referendum should not be necessary. they should just be abolished. After all, we don't have Pacifica seats, Asian seats etc. | neil |
| The continued existence of part of our national electorate is an abomination and long since outlived it's original purpose . It must be gone, now! | William |
| Long overdue | Doug |
| The maori seats are no longer required. | mike |
| Their positive benefit has long passed. | Donald |
| It is time to treat all people of different race the same. There are too many racial groups developing with their indivial demands. | Peter |
| Yes, although I am happy if it doesn't go ahead if changes in legislation, having the same effect, are implemented instead. | Michael |
| Absolutely – democracy must be protected and restored. We are all equal – one person one vote. | Margaret |
| We are one people. No need for them. | Pamela |
| We need a United country not a device racially troubled non democratic country | Maree |
| It would be interesting to know what percentage of Maori would vote for abolition. | John |
| This has been talked about for years so now National, with Act, should get on and do it. Those sort of major changes support democracy, essential right now, and a referendum is the right way to involve caring Kiwis, and show just how strongly we want to re-establish NZ as a democracy. | CHRIS |
| For sure. There is no place for racial division in politics or elections. | Hugh |
| And about time | Rob |
| If a person wants to run in local or general elections, they should put in the work and if the public feel they would be good for New Zealanders they will vote for them. I noticed in the local council elections that suddenly people were put up for the maori wards. A lot of them had never done anything in their communities so looked like crap reason they were there. The candidates that stood for the council were people who had been working for the community so that was what got them elected. Not for their race, religion or gender. So yes get rid of the maori seats. | Jackie |
| Maori are over represented in Parliament. That should end. | Gavin |
| Most definately. | Neville |
| Yes, but would it happen properly!! One vote per person! | Marianne |
| We need to lance the boil soon to stop the poison spreading out of control. | Graham |
| Most definitely | John |
| They should have been abolished many many years ago, as should the treaty according to history it was supposed to have been gone in 1880/ 1890 . Sadly the document I read a few years ago is long gone from google. | Gwneda |
| Any pure blood Maoris left? Look at the current occupiers. Look at the current blood stocks. | Anthony |
| A people of equal opportunity and equal obligations | Michael |
| get rid of Maori seats now!! | gerard |
| Can we have it this year please | Michael |
| Thank you for the brave work you do. Statistics are easy lies to fool them who can not see deeper. | Jam |
| Time to abolish APARTHEID in NZ. | Geoff |
| Definitely should be a referendum… | M |
| Yes before it is too lare | Phyllis |
| Absolutely. Division by race has never worked, and it's tiem to put this nonsense to bed. | Jan |
| Maori seats should have been abolished in the 1870s when Maori were enfranchised on an equal basis with European colonists. Today a majority of New Zealanders born here will have a 'teaspoon of cocoa in the Horlicks' and vice versa. The politicisation of heritage and culture quickly leads to apartheid and that has already been threatened in New Zealand with the implementation of He Puapua, hopefully soon to be overturned. Heritage and culture are best kept on maraes and Caledonian Societies etc, not become the business of parliament | David |
| We are one country, one person one vote absolutely no special positions for Maori. Abolish the treaty. | paul |
| The Maori seats should go. Why is it that Maori can change which roll they're on? The rest of us can't change except if we move to another electorate. Surely that's racist. Some of the electoral law needs to be changed also, for instance to tidy up the "overhang" business which gave the Maori Party a couple of extra seats in the House. | Laurence |
| Unite as one nation. All for one and 1 for all. Second referendum. Boot UN!!! | Mampara |
| It can't come soon enough. | Kevin |
| should have been done 30 years ago | chris |
| The time has come! | Colin |
| Yes…Yes.. Yes! can't come soon enough, but we also need an official enquiry, into the COVID 19 scam, also the 'cover-up' of the official Data figures that they have been covering up…. tantamount, to GENOCIDE! | David |
| I agree with the comments on division by race being destructive to every New Zealander and should be completely reversed. | Alastair |
| The Maori seat were only established as a concession to Maori who did not own land. Its time they were abolished and all people of NZ treated the same as New Zealanders | Chris |
| Well represented as a huge amount of NZers have Maori Blood and do not want division!!!! | Julz |
| Absolutely !!!!!! Plus include in the referendum whether or not the increasing use of the Maori language shoud be tolerated. We are known as "Brand New Zealand". Also Aotearoa was never, is not and should not be part of our name. We are looking silly enough as a country already. (All started by Jacinda Ardern) | Alan |
| The restoration of democratic and unbiased government is urgent | Michael |
| well overdue by at least 30 years | Colin |
| Please give it your all to destroy the anti democracy movements foisted on us | Alan |
| Yes, get rid of them. | Chris |
| This Maorification has already gone too far! I complained to Meridian Energy about being addressed in Maori! I was reminded of the fact that i live in Aotearoa New Zealand ! If I was dissatisfied then I should be looking for a new energy supplier!!!! | Ron |
| Definitely, and as soon as possible. | Benjamin |
| They are too biased and unless there is a lot of money in it for them they slow down decisions by the other parties until they get what they want | David |
| Bring it on? | leo |
| WE ARE ONE PEOPLE, WE MUST NOT. BE DEVIDED. | Rod |
| Democracy promoting equal rights equal say is the best we have for equal opportunity – history has proven an agenda of segregation is insidious | Leeanne |
| It has been talked about long enough should be put on the Agenda early in new year 2024 | leo |
| yesterday, please! | murray |
| They must go. | Derek |
| Late and well overdue. | Donald |
| I agree but it may be too late now | george |
| I'd also like somehow to see what percentage of Maori voters voted for or against. Otherwise it's easy to say it's just all the non-Maori voting out the Maori. | Hilary |
| Absolutely have to abolish the Maori Seats now. | lyn |
| Lets elevate tmaori to New Zealand citizen status, rather than pseudo-indigenous boat people. | Margaret |
| NZ actually needs a Referendum on many issues, not just Maori Seats as there has been so much deceit & deception with SO many issues which would help our return to some sort of what we had before these numpties destroyed NZ. The List of Changes is too long to mention here, but we all know what needs to be done & LuxFlakes, Seymour along with Winnie had better deliver getting our Democracy Back on Track….! | Bruce |
| Simply put, abolishing the Maori electorates is a crucial first step in restoring democracy in New Zealand. | Richard |
| Most definitely this referendum is long over due. As a NewZealander of Maori decent I have always believed in one country one vote. This is must to stop the woke few who are hell bent on division | Rod |
| As I see it it seems the racists could be those attempting to block a referendum! | Stuart |
| Yes. they are no longer needed. | caren |
| Racism has NO place in NZ. We are all Kiwis that have come from over the waters at some time or other . | Ian |
| most definately necessary | Barbara |
| The sooner the better. | Graham |
| This is way overdue! | J J |
| It is long overdue. It is time for the new Government to show some strong leadership and do what is demanded by any definition of democracy. | Robert |
| Yes, They are well past their use by date. | Noel |
| I would like to see all special maori appointed positions Wiped. | Colin |
| Very Important. | Barbara |
| To allow all citizens to feel they are equal seats for one race of the population must be abolished. Only having general seats for all can be seen to bring equality to elections. If National do not hold a referendum on the matter, I for one will not vote for them at the next election. | Dennis |
| We are all one people. no on should get any form of preference | Graham |
| We shouldn't waste money on a referendum, the seats should just be abolished. Anything that goes to the parliament is open to abuse just like this election. There should be an independent group of people counting the votes that have been cast and not left up to a lying government to count. As stated in your article, this country has been destroyed in the last 6 years through lies and deceit so why would the election be any different….. | Ngaire |
| Even better this year | Raewyn |
| We are so grateful to have Christopher Luxon now in charge. He will need plenty of wisdom. | Heather |
| There is obviously no longer a need (in fact there has not been one since MMP was introduced) so therefore they should be scrapped. Is it also possible that a Maori Party is by definition a racist organization? | Gary |
| Surely the recent vote gives National the mandate to cancel the Maori seats? National just need the balls to say "no more Maori seats" | RICHard |
| Sooner the better | Chris |
| Referenda are at the heart of a true democracy and are the best way to avoid ideological domination by minorities | Aesha |
| We are supposed to be ONE people one nation. Maori are not owners of NZ noir were they the first people here. We cannot continue to have apartheid nor racism so lets sort it out. | Noel |
| Absolutely – Long overdue! | David |
| absolutely essential that democracy prevails | Don |
| 1996 Royal Commission advised abolition | Don |
| NZ belongs to NZers not any body else and we will keep it that way | graeme |
| but be mindful of what happened in Australia | Yerry |
| Democracy is under threat if we do not create this change | bob |
| A BINDING referendum and another one on the true meaning of the treaty. | Neil |
| It is absolutely imperative that there is a referendum and the sooner the better. | Bruce |
| Maori are a radical influence in N.Z as seen in other countries these radicals can be a disturbing and dangerous threat for democracy . get rid of them. | jim |
| It would be an excellant idea to get rid of ALL Maori seats, as they should obtain any Parliamentary/ Local seats under their own situation within the community. | Roy |
| We don't need them. | William |
| We are a multi-cultural country and as such need to have a say from every culture. This is simply done through standing and being elected to Parliament. | Laurie |
| Before even more destruction takes place through this radical Group | Dell |
| A great way to start getting real democracy back for NZ! | Giles |
| Next year is not soon enough do it NOW !!!!!! | Sue |
| Should have happened long ago and must be a binding referendum | John |
| the maori seats need to be abolished, in present nz with MMP the seats are outdated and no longer relevant | David |
| Absolutely so long as it is binding. Time is up for special treatment based on race in NZ. | Allan |
| We are meant to be 'ONE PEOPLE'! That being the case, then why do we need to give a separate group of people special attention, insofar as their ability to have special voting rights on what transpires within our country or our communities? Surely, it's for ALL, regardless of race or ethnicity, to have a say. | Heather |
| Yes, I hope our new PM Chris Luxon reads your article. It is so important for our future. | Alan |
| Definitely a binding referendum and also one on the abolishment of any race based policies. I don't think Mr Luxon will have the guts to do it though. He has been very sneaky about the co-governance issue. Calling it co-management, ie same thing by a different name – is deceitful and we had enough of that with Labour | Lee |
| Absolutely, there is no excuse for any race based law or race based special privilege in New Zealand or any other civilized society. It is high time we got a government that had the nous to pass one single piece of law that stated quite simply that no people group, be it based on race, religion, wealth, etc, is in any way special. Every NZ citizen must be the same under the law. Get rid of Maori seats, traditional rights, the utterly corrupt Waitangi Tribunal, etc. | Steve |
| absolutely, no preference to anyone based on race or ancestery. everyone equal!! | Chris |
| Maori radicals must be stopped this treatry Partnership is absolute B/S | Ian |
| Most definitely | Pam |
| But it must be non-binding as I suspect the knee jerk will be the majority canceling the 1% eletie Maori. | Stephan |
| What a waste of taxpayer money holding a referendum encompassing something that has been part of the fabric of New Zealand Government for over 150 years | Stu |
| And if abolishing Maori seats does not come to fruition,at least stop people wearing hats & tattoos in parliament. | Jim |
| for any party to have unelected seats as a right, gives an unfair advantage, and undermines the vey essence of a democracy. | Peter |
| Current parliamentary processes meet all needs of Maori in our multinational country | Robert |
| ALL Kiwis must be treated equally under the law. | Bernie |
| urgently | Jan |
| Living in a country who believes in democracy – where all it's inhabitants are treated equally. Currently we do not meet that wish of mine – we now have that opportunity to correct that flaw in our constitution. Let's go for it !!! | Frank |
| Absolutely needful. | Terry |
| Outlived their useful intended purpose. | Mike |
| I want democracy to prevail and have everyone as equal and not give preference to anyone based on race | Helen |
| Long overdue | Terry |
| Overdue as was intended when MMP was introduced | George |
| A referendum is essential!!! | Ron |
| DEFINITLY! The 4 Maori unelected seats given in 1800s was only given for 5 years and they are STILL there! | Gillian |
| There is no time to waste | Ian |
| Absolutely. Lets give everyone exactly the same privilege and opportunity without fear or favour. | Fred |
| The sooner the better. | Mike |
| Too right, about time. | Roger |
| Yes, they are not necessary. Maori should win their seat on merit like everyone else. | Kate |
| Also add to the referendum a name change question so we can assign the name Aotearoa to the grave also. | David |
| should have happened in 1986! | john |
| National hasn't got the guts to do it. They are too woke and will walk all over ACT. As for Shaw and Tamahere. Bring it on. They will find out the hard what being part of a minority is really like | Harvey |
| YES. And the law changed if there isn't already provision, to jail anyone inciting violence. James Shaw%'s echoing the utterances of John Tamahiri is a massive mistake In the first instance it is treason To refer to violence as a means of getting your own way, and needs to be crushed. Seemingly JT is a loser who could not toe a reasonable line and attitude when part of a the establishment. This matter of proposed violence doesn't need oxygen But for the sake of the democratic process it requires those inciting violence must be dealt with The Green Party dumping him would be a good start | Bruce |
| Yes but be prepared for the reaction of the master race. One man one vote and all being equal in all things in this country would be something that they know would put them at a disadvantage from the position of favour they now enjoy.. God Defend NZ, (and he will have his work cut out!.) | Bruce |
| Definately | Barbara |
| YES, Yes< Yes, Yes, Yes, YES,YES, Yes< Yes, Yes ,YES, Yes< Yes, Yes, Yes, YES,, Yes, YES,YES, Yes< Yes, Yes, Yes, YES, | Albyn |
| It's well overdue. Time to move on. | Andrew |
| Won't be before time. | Mike |
| And the Treaty of Waitangi. They are not the indigenous people, never where, they came here like everybody else. The Dutch people Able Tasman left behind could be called Indigenous, so could the Morori's. People need to watch the videos, "The History of NZ", and get this sorted by National, once and for all, also as your Treaty Book explains. | Tony |
| YES. It should have been done decades ago. To paraphrase Thomas Jefferson: fix reason firmly in its seat and secure private property rights along with one law for all. Throw out the Marxist tactics that brought us to this sad state of affairs. A divided house cannot stand. | Donald |
| Yes very definitively | David |
| NZ one people | graham |
| Abiut time | Peter |
| If we want true democracy then let the people speak. | Di |
| The election of members of Parliament and local boards should be on merit not race. | Denis |
| Get rid of anything that implies separatism. Anything and every thing!!?! | Elizabeth |
| Yes but it won't happen. Gutless politicians, complicit media and complacent public. | Alan |
| Let's return to majority rules. | Bruce |
| Winston said it was his bottom line but he has yet to get there | Arthur |
| Should have been done a long time ago | Gail |
| We have many deserving Maori politicians already who have been voted in by the public. We do not need additional Maori seat's | Angela |
| Long overdue!! | Alastair |
| YES DEFINITELY – THE SOONER THE BETTR | John |
| 1 Person, 1 Vote. ALL EQUAL. NO segregation ( apartheid ) | mike |
| absolutely, should have long gone | anita |
| And you could add the 3 Waters onto the referendum also. | Alan |
| There should be no difference between the rights as a New Zealander of my eighth generation non-Maori grandchildren and my mixed race Maori grandchildren and their families. | Catherine |
| But only open to persons who can whakapapa to residency at or prior to Treaty of Waitangi, to whom equal rights were guaranteed. | John |
| These seats were a temporary measure a century ago and theur usefulness/purpose is long since passed. | Mike |
| Absolutely. Lets introduce " Whites only seats" and see how Maoris feel about that! | Des |
| The ideal opportunity to abolish these racist seats would have been immediately after the 1986 royal commission report. Now with the Communists in disguise, Maori & Green Parties threatening violence, as all Communists do, the people might once again vote according to the fear factor, as they did in 2020, when Jacinda promised to save all of their miserable lives, from the CCP Flu. ACT & NZ-First both campaigned for one nation. They must now keep the pressure on National to ensure the correct result. | A.G.R. |
| Absolutely appropriate that a referendum is held. | Graham |
| This Country is supposed to be "ONE NATION" if that is real then separate votes and seats in parliament spellS MAORI APARTHEID AGAINST EVERYONE WHO IS NOT MAORI | Ian |
| I voted that way in the Auckland council and a leaked statement said that the majority by far voted to have no special Race based seats on council. It will be interesting to see if the council takes notice | Neil |
| Anything to shut them up | Warren |
| High time this was held | Diana |
| Absolutely! | Graeme |
| Long overdue. They need to get on with it. | dona |
| Hold a vote as soon as possible. As for the media holding the new government to account, just like the last national government, they will do everything they can to get rid of it including lying. | Hugh |
| Although I have voted yes, I believe that like it or not, justified or not, the Maori seats are now an established entrenched aspect of the political environment in New Zealand, and they are unlikely to be removed – I dont believe the political will exists in the electorate, What is more important, is to remove the present manipulation and revisionism of the so called "principles" of the Treaty that have grown alongside the general drift of the self styled Elite towards extreme socialistic liberalism. Given that the concept of the "Treaty Principles" has become entrenched, what is really needed is for those principles to be defined and encoded in law by general acceptance of the whole electorate – not one factions interpretation delivered by stealth as a fait accompli. | davidf |
| Maori sests are not required, are racist | Raymond |
| Yes. Democracy demands Parliament is colour blind and gives no preference on the basis of race. | Grant |
| The just decisions of the 1860s to ensure Maori had individual voting rights, irrespective of land ownership and gender, have a long-since-expired use-by date. This is demonstrated by the disproportionate over-representation of Maori in Parliament. This division by race is anathema to democracy. | Philip |
| The Maori seats are long long past their use by date. So is the Treaty tribunal. A referendum on the seats desperately needs to happen. | Judy |
| Way overdue! It was supposed to have been that the seats were abolished years ago. Bring it on! | Lauree |
| Yes but go one further and remove/abolish all aspects of special Maori treatment in the country's legislation | Tony |
| It's racial privilege all over again,they must go as the royal commission advised. | morrie |
| We are 'One' people, New Zealanders, living in New Zealand. | Colleen |
| Stop separation by Race | Phil |
| Overdue | Ernest |
| Yes, Long overdue and a step in the right direction to restoring democracy in New Zealand. | Vic |
| democracy must prevail | Don and Joan |
| In accord with the Royal Commission's recommendation of 1986- but never implemented – the Maori seats must be abolished – particularly as in the new Parliament those claiming to be Maori hold 25% of the total seats. Totally out of proportion and democratic | Hylton |
| Our laws and constitutions and legislation all need to be colourblid | Shane |
| Preferably a binding referendum | Mike |
| Yes, getting rid of the Maori Seats is long over due. | michael |
| The sooner the better | Dave |
| It's time New Zealand should have a fair balance of members in each party & not extra members in the Maori party. This is not RIGHT!!!! | Dominique |
| definitely yes, lets see what the populace as a whole really thinks | john |
| This matter has been proposed for many years but nothing has been effected. Right now and into 2026 it would turn into a disaster and it is imperative that all Maori Seats are abolished, and any reference to Race is removed from the statutes and Law of New Zealand. | Robyn |
| | |
| --- | --- |
| Must be abolished. | Ann |
| I just want a united nation/people not a divided one. | Brian |
| there is no need for them, when mmp was brought in they were supposed to be abolished then, now they are just a way into power for the radicals | nigel |
| Definitely | Bob |
| Definitely. As for James Shaw's threat of violence. Time for him to go as well. If you are white you are racist. Shame on you. But The Green Party and Te Mata Piti can say what the like and use threat of violence. Time for NZ to make a stand for Democracy | Frank |
| Of course, it is the obvious way to go. Running at the same time should also be getting rid of list mp's even if that means we get more electorate mp's. It is well past time to follow the recommendations of the 1986 Electoral Commission. | Peter |
| They are an anachronism particularly given 25% in parliament with Maori blood and a racial insult suggesting Maori need special help to contribute to NZ society | Steve |
| Indeed yes. Australians see the racial division in NZ now and voted against such policies [with the excption of their MPs in Canberra]. And we see racial trouble elsewhere. We need to sieze the moment | Gill |
| Next month would be better | Ian |
| As stated in your article, the Maori party only gained 2.6% of the vote and do not represent all Maori. | Diana |
| Bring it forward to early in 2024! | Trevor |
| Most definitely & Maori seats abolished. | Derek |
| Long overdue. With ample opportunities for Maori representation on the general Roll, no need for Maori specific seats | Alf |
| Yes we are suppose to be all New Zealanders, Winstone Said he was going to do this Years Ago. But nothing has happened To Date. | Richard |
| Long overdue | Trevor |
| And the "Treaty" should become merely a historical document without any authority or influence. | Maurice |
| One person one vote. | Chun |
| And a Council election in Tauranga, to remove Mahuta's 4 Commissioners. As a ratepayer, I want my democratic voting right returned. | DAVID |
| Abolish the Maori Seats for the countries sake.One person one vote. | Ron |
| about bloody time, well overdue | Owen |
| The country is in danger of civil war. | rod |
| Definitely need to thwart this shift to apartheid in New Zealand. Abolish the maori seats too. | Simon |
| one nation called NEWZEALANDERS SIMPLIFY to BRITISH SYSTEM FIRST PAST THE POST | BRUCE |
| one country,one people | vickie |
| No to any type of preferential laws favouring any group over another. | Hugh |
| Yes please. Local government first. | Pamela |
| If Maori have the ability needed it is possible for them to win a seat with out preferential treatment | jean |
| Yes, although no referendum should be needed. This is decades overdue. | Scott |
| All references to any race in legislation should be removed asap | Gareth |
| The Maori seats must be abolished as soon as possible. What the Maori somehow fail to understand is that without their European ancestors they would not exist | Steve |
| To affect true representative numbers, and not divide NZ | Paul |
| No more delay on this issue. | Graham |
| ASAP | Greg |
| Agree with Muriel's comments 17/10. | Jillian |
| Better late than never. Seats for one race do not have a place in Democracy. | Colin |
| Let us hope Luxon has the fortitude to overturn the racist Labour capture of what used to be our Democracy. | Derek |
| They have created an imbalance of power in Parliament | Helen |
| Better sooner than later | Doug |
| Maori should get their democratic share of voting just like anyone else | Jim |
| bring back democracy. Are Maori inferior to other races in that they need special help to gain any position in governance. | Peter |
| Not just Co Governance, it must include , the removal of the 1975 Waitangi Tribunal and the removal of all race based legislation | Phil |
| It is way past time for the apartheid police to be thrown out and true democracy returned | John |
| Yes, plus abolition of the Waitangi Tribunal, restoration of local-government Maori ward referendums, reform of school history falsehoods etc etc. | Paul |
| yes yes yes!! | steve |
| Completely unnecessary and undemocratic | Graeme |
| An essential step to preserve democracy | Bruce |
| The sooner the better ! | Alan |
| A first step in restoring democracy to our New Zealand political systems. | Chris |
| Would like to see it this year, so we can really stick it up Nania Hahuta. | Steve |
| Let's save our wonderful country. | Peter |
| It is now more than ever that we abolish the Maori seats and local Government as we now have the growth of the radical Maori Party that will play havoc now that we have a new Government that wants to reduce Maori influance and restore equal rights for all New Zealanders. On that point we may need Winston because of his feelings that Maori have to much power. | ken |
| Maori seats are racist as is a political party based on race.as for the violence threats by James Shaw I say bring it on it is Probably the only way Maori know how to resolve something in my view they are inherently a violent race at times | Warren david |
| This referendum should have been held decades ago | Phil |
| They are far too overrepresented in govt now, and quite capable to get in on the general role, a very racist idea to have the opportunity to be on general PLUS a maori role. | Laurie |
| They are undemocratic. | Josie |
| As a priority the referendum should launched on Waitangi Day and held 6 months later. The current elected members may stay as the last group. The 7 seats should be removed and parliament reduced to 113 seats. | Martin |
| One person one vote everywhere | Edward |
| We are all one in this country | Sandra |
| This nonsense has gone on for far too long. | Barrie |
| Yes! The proposed referendum can go along with the ACT referendum on the principles of the TOW. We can only have a New Zealand democracy based upon one vote for each New Zealand citizen. There is no room for any situations that would cause a divisive structure for our society. The TOW made us come together as one peoples. This, so very clearly is what the main thrust of the TOW document was all about. So let it be. …………. | Garry. |
| Defiantly, Australia have done it, why can't we ?? | Ian |
| Even under the real Treaty of Waitangi 'We are one People' still applies. Having a seperate Party for an ethnic minority in itself is Racist. We should all be Kiwis in this Country. If the Tribal Heads want to be seperate from the rest of us, then go for it BUT don't drag us with you !! | Geoff |
| We are sick of reverse racism, if we could be one people instead of this constant division which is not helping us. | Murray |
| Well past time | Beverley |
| One country one type of electoral seats. | Mark |
| | |
| --- | --- |
| This must happen. National need to listen to the voters who have expressed themselves clearly. Only then, can there be the changes this Country needs | Gary |
| They should be able to get elected on their merits and not the colour of their skin. | steph |
| this is a must for the country to move forward. | Peter |
| Long overdue.. | John |
| under the signed Treaty we are all Kiwis and all have the same rights. Abolish the Waitangi Tribunil and let us get back to the business of working together | Garry |
| About time !!! | Ross |
| Yes, a referendum should be held. However, there are other issues to be considered. Whilst the Treaty of Waitangi has little if any relevance to modern New Zealand, what is required is a modern accord with Maori so that all ethnicities in this country can shift on with the best degree of unanimity that we can muster. One should also consider that were the Maori seats to be abolished, the assumedly left leaning Maori seats" votes would then go to the general seats. The consequence might be that we would have left type governments forever | Peter |
| It should be a priority for this new Govt. | Roger |
| Our elected representatives , all along, have, appeared too afraid to implement the Royal commission's recommendation. What a waste of money at the time! | Barrie |
| It could only creat more diversiveness in the country | Barry |
| 1 person 1 vote, that's how democracy works. | Nick |
| Time to treat all New Zealanders as equals and remove race based seats in parliament | Kevin |
| Maori seats are a tool in the coalition of Chaos' division plan. They should be abolished. All Kiwi's should be treated as equal in our democratic society. Some of our ancestors arrived in canoes, others in Sail Boats. No-one is indigenous to NZ as we are all immigrants. | Gary |
| Probably a bit like closing the stable door after the horse has bolted but certainly worth a go. | John |
| Let politicians win by merit not ancestry | Mat |
| absolutely | Ian |
| I reckon the referendum is essential. Great care must be taken as to how e question is posed. Something like Should the original definition of Maori as being full or 50/50 genetically be set as originally defined and should those be given APPOINTED council and national positions in perpetuity and should the Maori seats be abolished as from 2026 | IStan |
| Long overdue | Bryan |
| most definitely this new government is going to have to make some hard calls now and not be ruled by these maori activists who are not indigenous to this country of NEW ZEALAND | RODGER |
| But it must be a binding referendum | Erin |
| NO APARTHEID IN NZ THANKS!!!!! | Honest Dave |
| Individual freedom simply cannot survive in an "apartheid" style racial separate development environment | Bruce |
| Maori have proved time & again they are quite capable of winning on their own merits- just ask Winston / so we don't need a separate Maori Party. | John |
| Yes I would like a referendum but we need to ensure its success. How about the ACTS proposal for establishing the Principles of the TOW first then when that succeeds we can follow with the disestablishment of the Maori Seats and all privilege in any form in favour of any race | RFG |
| Either abolish Moari seats or reverse the Local Government Act and make councils hold a referendum. | john |
| They are no longer needed, a relic from the past. | Kelley |
| Yes, end the division created by radicals! | Hamish |
| It is evident that there are sufficient democratic opportunities in Govt & LG without special ethnic seats. Thats why we all voted for MMP in 1993 referendum! | Mark |
| This is a absolute necessity and a important start . A referendum along the lines of the Australian one is also needed to get the radical Maori neo marxist minority silenced. We need to work with moderate Maori leaders . Also very important is to cut funding to the MSM immediately. They are useless to us and need to learn to earn their keep. If they do not survive– good riddance. We need a moderate and unbiased media landscape who's job is to get properly informed and do proper research as journalists did in the old days. | Michael |
| It is long overdue and can no longer be swept under the carpet | fred |
| It should just be done. We should be one nation with no split. The rationale for them no longer exists. | Tony |
| James Shaw citing possible violence – just shows what a complete and utter knob this guy is. | Mike |
| Over due since 1986 | David |
| Yes most definitely. | David |
| There should be one roll for one person one equal vote | PETER |
| We do not want apartheid by another name. We need to be one nation with one person one vote. | Martin |
| Our democracy should be preserved at all cists, and the incoming coalition should reinforce this and dismantle the threats the labour govt introduced. | Peter |
| yes i would. the academics speaking from within the Univ are using their qualification to exploit the signed agreement of the treaty. It would be interesting to see the dairies of Govenor Grey and other party members as to what they recorded on the day. John Key has a lot to answer to in his term of office. The stories about Maori history being spoken about by the younger Maori people are far from the truth. The early white settlers all kept dairies and there you will find the history of areas to where Maori and Pakeha live. Maori did not keep records so their stories are fictional. | ivan |
| YES. Maori are well over represented even more so after this election results. We need to finish the job. With just over 2% of the party vote most Maori did not vote for these radicals. The Maori seats have to go. Army and police can sort out the violent maori radicals. Tamahere, Jackson, Waititi, Sykes. | Allan |
| We are one people. Maori have always been recognised for who they are but they are not to be given rights and power beyond there minority population rights. They have been paid and given their new commercialism and wealth should be made to contribute to the welfare of those they say they represent. Why are they not providing their own work funded housing, schools and hospitals to really make a different to the welfare and health of their elders and future youth coming through. Education should be priority of the mailers – not another shopping mall. | Paul |
| And it should be a binding one! | Brenda |
| It's the elephant in the room and needs to be discussed publicly in a rational and reasonable debate | Ihaia |
| Essential step | mary |
| These seats are an historical anomaly. We should not have seats based on race. | Derek |
| We don't need a referendum, we perhaps need a royal commission of enquiry into the fraud perpetrated against the clear and real meaning of the original treaty, backed up by the 1992 discovery of the final English translation of which the Maori language treaty was transcribed from, and the hi-jacking process that has allowed the appalling current situation we all find ourselves in. | Paul |
| Should have been done when MMP was established. | mike |
| not democracy | craig |
| Race based , undemocratic. | Stuart |
| Simply expressed, 'Democracy is 'one man one vote' Any system that artificially gives advantage to any group should be dismantled. | Lindsay |
| NZ shopuld stay with the intent of its founding documents; treaty and charter; equal rights, protections and responsibilities under the crown. | Hans |
| Why is it, that in NZ, we spend thousands on Royal Commissions etc., then don't follow through on what they recommend? Not only with the Maori seats, but also when we copied Germany's MMP, we didn't take on the idea that the party that gets the most seats is the one to choose the coalition partner/s so there is no "King maker"? | Ted |
| It's well overdue. | Laurie |
| long overdue. Te Maori seat were meant to be temporary anyway. | Val |
| One New Zealand -one name -one Nation- All New Zealanders i am a 'new' New Zealander. | Philip |
| Include treaty of Waitangi powers as well | Barras |
| We are one people in a multinational country and should not have any Maori seats. | Margaret |
| Let us have democracy back 100% | Russ |
| Yes – and follow through on the result, which would have to be a resounding "yes" vote! (unless we have completely lost our mental acuity as a nation). | Scott |
| Yes it is absolutely essential for New Zealand | Carole |
| We are supposed to be ONE people with the SAME rights for all. If ethnicity is important, then why not Asian seats – there are FAR more pure-bloods of them and they contribute far more to our country. | Ross |
| Most definitely – they are an anachronism from the 1880's. | Gerry |
| They are no longer appropriate, and also race based parties should be disallowed | Stan |
| I recall Sir John Key saying that although it was National Party policy to abolish maori seats, and campaigned on that, it would lead to hikoi[s] from hell if they did. I very much doubt anything has changed in National doing the right thing and abolish | Peter |
| Democracy is not perfect, but its the best system there is. | Stuart |
| There are no full blooded Maoris in NZ and 200,000 full blooded Asians. Let there be Asian seats!!!! | John |
| get rid of the radical Maori that are threatening our democracy. | Barry |
| Democracy with each according to need must be restored and/or pursued | bruce |
| Seats in Local Government were created by government. All it needs is a government with the guts to abolish them. | Anthony |
| This overt racism has to end if NZ wants to progress as a truly democratic country, where EVERY citizen has the same rights, privileges and responsibilities. No more free rides for Maori. | Derek |
| Definitely | Vic |
| It's all been said – we need a one nation policy, not this divisive rubbish left over from the nineteenth century. | Rob |
| Definitely have a referendum | Murray |
| Maori seats are clearly no longer needed | Lynton |
| Let us not socially divide and weaken our team of 5mil. | Joe |
| We are all one people | Grev |
| Now or never | Jo |
| It is critical that New Zealand addresses the racial division that is the residue left by the outgoing (and now dead) Labour party in order to dispell the threatening comment made by the Greens and Tepati Maori post election. Such ongoing division will hasten the outgoing migration of our businesses and leaders. | Terry |
| Racist seats and all other racism should be removed from our laws | Paul |
| It is over a century since they were meant to disappear. | Anthony |
| Too early. Would prefer National to restore the economy and law and order. Perhaps at the 2026 election. | Ian |
| We have many Maori already in the major party"s no need for separate seats that achieve nothing but division. | Marion |
| I Believe that One person one vote is Democracy that's what New Zealanders went to The First & Second War for freedom & the right to choose. | Michael |
| Race is not a valid characteristic to classify people. | tony |
| Yes I would like to see a referendum held on the Maori seats but I doubt it very much it will happen. I feel that we now have "thanks to Labour"an entrenchment of Maori co-governance throughout our country. Hence I will still continue with my original plan of looking at living overseas. | Lawrie |
| Reference to race must be removed from all statutes. Maori seats in parliament are a racist abomination and must go. MMP is a diabolical electoral system and must also go. | Richard |
| This is vital in a democracy. Included in the referendum should be whether we should have a review of the Treaty of Waitangi. | Rod |
| They must defiantly go or else the rot & corruption will just continue, Luxon is N.Z. history ignorant he needs to read the T.O.W. and I mean the only one. The that was translated from the Littlewood draft & signed by over 500 Maori chiefs he also needs a spine & to stand firm on his promise of change for the better. | llen |
| A big yes. And all the Mahuta cousy's expelled from cushy parlimentary jobs. America was fooled by Trump (same colour) while NZ was fooled by a flamboyant Tinkerbelle being kind. | Ray |
| It's way overdue, non democratic | Jan |
| This has to happen, because the longer it takes the bigger the racial divide will become. How many true Maori are there in nz, must have 50% or more Maori DNA to qualify? | Bruce |
| Too divisive at time we need to seek greater unity | John |
| Sooner the better | John |
| Overdue | Helen |
| A large portion of NZ voters believe & have been convinced indigenous are a separate importance race that should be given privilege. i.e. many in NZ prefer to look back and not forward to a better future. | Bob |
| Maori seats are an anachronism and should be abolished | Chris |
| Absolutely | Steve |
| It is a requirement now. | peter |
| Not democratic | Claire |
| The total population of our Country are imports from other countries, we all share equal rights, no part of the population holds a senior status no matter how the radicals bend the truth. | Ken |
| One Country, One system | Raymond |
| They should have long gone. Maori are quite capable of winning seats as has been shown. They don't need any special treatment. File the Treaty away for good. It achieved its aim almost immediately. Rule a line under everything and let's progress as New Zealanders. It's the only way to go. | Helen |
| | |
| --- | --- |
| Forget the treaty referendum. This is the single most important vote and it is a simple Yes or no! | Cliff |
| Definitely need a referendum | Dianne |
| Nice to see it proceed | glenda |
| Absolutely! Can't come soon enough. | Catherine |
| Overdue | Jeff |
| I think it is the right thing to do. | Murray |
| Well overdue, no need under MMP and should have been disestablished years ago – but no government had the moral fortitude to do so. | Allan |
| Definitely | Bryan |
| Absolutely essential. | charles |
| Yes if necessary a referendum, but the new government only needs to state that it's following the statement of the 1986 Royal commission on MMP that retention of the Maori seats would cause an over representation of the Maori population. The statistics prove that to be the case and it is undermining true democracy. Let the opposition to removing the seats prove their case by following facts alone instead of emotional grievances. | Ian |
| Absolutely, yes. Both are racially divisive. | Warren |
| We shouldn't need a referendum they are just NZ's. & that goes for health or any thing else. | Ranald |
| It's time Maori grew up and put their big boy/girl pants on and become grown ups in society. Instead of complaining about every trivial thing that they perceive to be a slight against them. They seem the think the world is against them, most of the people here in NZ, fled aggression and persecution of some form, probably worse than Maori. At some point everyone has to move on, and embrace the present. We only have the present! As for NZ voting for change, that's got to be a joke! Not many of us are laughing though. With a corrupt media, controlled by a corrupt government, the sheeple of NZ voted for a different side of the same coin! Mr Schwab must be laughing like drain, he's got different puppets to perform the same tricks! | peter |
| Absolutely and the sooner the better. | John |
| Now | Wiremu |
| About time. Let's hope this government has the guts to do it. It has been promised for so long and not happened. I myself wouldn't even hold a referendum, I'd just do it. Maori are quite capable of getting to parliament on their own merits, they don't need special treatment. | Sheila |
| absolutely | Mike |
| Definitely ,It's time to end the treaty nonsence | Phil |
| if the candidates that vie for the Maori seats are suitably qualified and popular then there is ABSOLUTELY no need for specialy reserved seats just for Maori | Les W |
| Such a referendum is years overdue. | pdm |
| Please give me a reason why Maori in this day should have separate Maori seats? Outdated | Ranee |
| Current arrangements are NOT democracy in action, surely? | michael |
| the Maori seats are irrelevant. | Graeme |
| Yes please,let us hear what the people of New Zealand really want | kevin |
| NOW | Iain |
| Should have been gone with introduction of MMP | Alister |
| Theses seats are racist and we're meant to be gone by now. | Des |
| All those seats have done is caused division amongst New Zealaders. I am part Maori and live in Melbourne Australia. | Treva |
| AS per the original recommendation in 1986 | John |
| Hell yes. Lets have it tomorrow. If the maoris threaten violence, lock them up for inciting hatred and violence. | Peter |
| Maori or whatever race you are! Can get elected in on their own merits to a political party or local council without the race card. New Zealand is a democratic country and values. | Wayne |
| totally not necessary with maori party and maori members in all parties | Raymond |
| long overdue. | Henry |
| We want democracy, a society of equality | Kevin |
| We are all New Zealanders and all equal, but no person should be advantaged or disadvantaged because of their race. | fred |
| The influence on MMP government by retaining the Maori seats is unjustifiable. | John |
| I understood they were to be abolished when MMP was established so it is long overdue. | Grant |
| Urgently | David |
| We need to go forward as one people. United we stand, divided we fall. The threat of division to our society has never been more real. | Mike |
| The racist Maori seats need To go. | Alwyn |
| Yes & it should have happened years ago! I have Maori ancestry & Maori relatives who don't need or want special privileges just because our ancestors got here before someone else's. It makes Maori look like they are inferior & can't measure up to other ethnicities, so they have to be helped in every way possible or life will be very unfair for them! It's all about money of course but only for the Maori elite. | Rosemary |
| LONG overdue. | Greg |
| Personally I am sick of the so called Maori radicals, their greed knows no boundaries. Like the spoilt petulant brats that they are, threats and excuses are all they can produce. In my opinion, they are the cause of a lot of the failures of their people, instead of encouraging the tribes to better themselves, they use the usual Marxist excuse and blame others. | Merryl |
| It is unfair to continue with the Maori seats as they were supposed to be abolished when MMP was introduced. Maori therefore get two bites at the apple,, which is hugely undemocratic. | Alastair |
| Most definitely they should be abolished along with the MMP voting system and the perks when they retire. Far too many MPs are currently on the gravy train bleeding our country dry. | Jude |
| No Need the opinion given by Sir Apirana Ngata should be adopted as the sole and correct version of the Treaty and everyone should abide by that. | David |
| It is time this foul anomaly was thrown out for good. Let the communists riot. They can then be arrested and tried and jailed. | John |
| Obviously not needed | robin |
| This outdated race based mistake needs to go | Larry |
| I'm NOT sure luxon will do this BUT EVERYONE email BOTH Act & Winston to do it & change laws so we can NEVER be divided by race again,the maori seats MUST GO & as the last Govt. ignored this advice BOTH Act & Winstone MUST DO IT. | Cindy |
| Next year would be good because it would capture the local body appointment of Maori members by right shambles as well | Terry |
| These seats were to be removed with the introduction of MMP. All race based legacies should be put to public vote. | Roger |
| Should have been done years ago. There is enough Maori representation in Parliament without special seats..The same goes for local councils. | Andrew |
| The original Maori seats were supposed to be a temporary set up. Over many many years there has been suggestions that there is now no need for them. There should only be one general roll. Anyone can register on the Maori roll and many people with no Maori do, which pushes the total percentage of Maori up | Gary |
| I think the time has come to abolish Maori seats in Parliament. I must admit I am not well informed enough on the various local governments to know if this is also true for them. And I think it would be better — in the sense of less divisive and inflammatory — if the removal of the special seats for Maori would be legislated by Parliament. But since that is very unlikely to happen, a referendum on the issue is warranted. | Marla |
| | |
| --- | --- |
| True democracy doesn't require seats based on ethnicity get rid of the maori seats. | Clive |
| Absolutely we are one people | John |
| Definitely. These problems must be dealt with, not left to fester. NZ has fallen way behind other countries because of the last six years. We must get sorted, and move forward. | Grahame |
| The original purpose is long lost in history as ALL sensible Maori will tell you that the need is no more – ask the people, do not bow down to thuggery and threats. | Michael |
| Would also like to see a referendum on the ToW. It should be relegated to the status of an historical document. | John |
| It's past its use by date and no longer appropriate or necessary. | chris |
| Maori seats are just another racial divisive and disruptive impediment to government | Peter |
| 100% yes – no room for moral bankrupted extremism | Peter |
| We need to be one people. Elected officials on their merits not race. | Joan |
| One nation | Gordon |
| Certainly it should be held, including a referendum to abolish Co-Governance which is dividing NZ,and not nearly working as well as some politicians would have us believe. | Marga |
| This should have occurred about 25 years ago. | Bryan |
| we are all Kiwis, no matter when we arrived. | fee Hosking |
| Racial privilege has no place in New Zealand. Imagine the furore if there were 'European' seats of 'Chinese' seats (as there one were) in parliament or on local bodies. | Ted |
| Definitely!!!!! | Jim |
| It would need to binding | |
| And also a referendum on MMP | sandra |
| To have separate seats for any ethnic group is racist. | Ann |
| Absolutely-no question, they should never have been retained in the first place. | Laura |
| should have gone 20 years ago | Ian |
| Let's return to true democracy! | Richard |
| Maori is sufficiently represrnted in present NZ government and Local Government. | Pierre |
| I have said all along ,Maori in the everyday workings of this country try hard but as in your article the radical lot will keep pushing and it needs to be stopped. | Barbara |
| We either have democracy or we don't. | Peter |
| They are over represented now in almost everything | Peter |
| The sooner the better! | Maddi |
| Division of New Zealand by race is destructive to our way of life. We should all just simply be New Zealanders. | Lucy |
| The sooner the better | Lindsay |
| I've always thought Maori should go the way of having a Maori party rather than the Maori seats and compete democracy | Carole |
| New Zealanders need to unite as one people and reject the current push for division. | Ian |
| they gather a much higher influence in govt relative to the proportion of Maori people in the total population | tony |
| MOST definitely. The present REVERSE racism is F..king our wonderful NEW ZEALAND. | Brian |
| Its time to do this. It was a recommendation that was never taken up when MMP became the status quo. | Rod |
| They are a racist colonial hangover. | Shaun |
| I would actually prefer to say NO as I believe any racism should not ever be in our legislation. All racist legislation MUST be removed without the need of a referendum | Jenny |
| These apartheid seats in Parliament should have been abolished well over a century ago. It has been a long term farse with them remaining. Maori have been more than represented in Parliament for a very long time, so no need for racist seats in our democracy. | Colin |
| He iwi tahi tatou – Hobson. | Brett |
| Definitely, the representation of Maori in Parliament is way out of line | Graeme |
| abolishing these seats could cause serious problems to gain what? | Catherine |
| Yes, it's away overdue. | Ernie |
| The electoral commission recommended to abolish the seats with the introduction of MMP. Why do we engage the commission if we don't accept their recommendation. The commission had a reason and it was the disproportional representation of Maori that MMP would bring. Their recommendation was to abolish Maori Seats. It should be done now while the electorate is strongly in the mood for change. Luxon will baulk but the opportunity is now and Act and NZF will agree | terrence |
| Definitely & the sooner the better. New Zealand needs to get rid of all of this racially driven agenda. Also abolish the Maori seats & wards & the Waitangi Tribunal. Make English an official language & main language of the country & also hold the media to account & stop their funding immediately. | david |
| Better still just abolish them and save the cost of a referendum | Peter |
| Yes, most definitely. New Zealand, as it is now, is no longer a democracy. | Trevor |
| We cannot have our country divided by race. | Rob |
| Maori seats are no longer needed with the large part maori representation in parliament | Robbie |
| sooner the better | eric |
| Should have gone a long time ago. By definition this is racist | David |
| Absolutely, there is no justification for their existence. We are One People. | Graham |
| Maori are now over represented in government and the activist element of some are now actively working to destroy New Zealand and democracy. | Ann |
| About time | David |
| Yes I would. I'd also like to see a referendum on installing the NZ Bill of Rights as a permanent and unalterable fixture, much like the US constitution. We also nedd to make representation to parliament regarding the dismantling of He Puapua and all other divisive stuff that was introduced by labour, under secrecy, while they were in power | Trevor |
| Maori will have apartheid in NZ if they could. Too much has already been given away to them. Time to stop that shit. | Kevin |
| Should have been held last year! | Michael |
| Maori are as invested in this country as every other New Zealander. The number of Maori in parliament is testament to that. NZ does not need, and should not continue to operate Maori seats as recommended years ago and has been proven correct. | Graham |
| It needs to be binding as do all referendum | Richard |
| There is not one pure Maori, (there is more Scottish blood than Maori in most of them) and why should the Scots have a privaledge and say in our Parliment | brian |
| In your own words, "..they are assisting subversive elements within our society to spread their divisive and destructive agenda.." | Vernon |
| Absolutely yes | Hirley |
| That system is out dated- requires refreshing. The squatter indigenous of New Zealand have access to and are using the established methods of gaining a seat in Parliament as do all New Zealanders. Also they should fund them selves- they have been given enough Money for self improvement over time past. No more special considerations is needed for them | mike |
| With the rise of young radicalised maori , the time has come to do away with the maori seats and the "privileged seats given to un-elected people of colour. | Darryl |
| Time to let democracy stand on its merits | Bill |
| Absolutely no need for special seats as Maori have great representation already | Peter |
| Yes, a thousand times yes. | galem |
| THEY Are Racist and need to Go | Greg |
| They are an anachronism and a gerrymander. | Trevor |
| Must be an immediately binding result | Rodney |
| One nation one people | Pauline |
| They have demonstrated they are quite capable of putting up and winning seats | Phil |
| Would like to see it but, being a realist, I know it won't happen. | John |
| It's a must. They should have gone yonks ago. Isn't always the way, the left start screaming violence as soosn as they see something they don't agree with. In this case it's James Shaw who while warning of violence on one hand, about a possible referendum on TOW, went running, snivelling to the police when he was the victim of a bit of a biff in the street. | terry |
| ToW well past its use.there is only one race | chris |
| Identifying as a 'maori' is akin to a 'cock-in-a-frock' identifying as a woman | sam |
| Yes. Apartheid has to be dismantled and this is a good first start to that process. | neil |
| Yes | Leon |
| Yes Oh yes. | Wayno |
| | |
| --- | --- |
| If the Maori seats aren't removed now while Kiwis remember what tribal rule looks like, it will happen again as the radicals use their taxpayer-funded Parliamentary base to grow stronger. | Brian |
| The seats must go as a priority! | Roger |
| Yes, yes, yes – it is long past time to abolish the Maori seats. But will Chris Luxon have the guts to do so? If he doesn't, he may come to regret it if the public start turning against him. | Trudy |
| Absolutely. It should have happened in 1893 when universal suffrage was introduced! | Chris |
| All three parties need to push a referendum on the Maori seats next year – announce it in the State of the Nation address and tough it out. The country would back the government for doing this. | Gordon |