View our latest NZCPR Weekly Newsletter …
– to receive this free newsletter each week by email click the button and register

Dear NZCPR Reader,
This week we look at the decline in New Zealand's educational performance, our NZCPR Guest Commentator, Professor Sing-Kong LEE highlights some of the key features of Singapore's education system that have led to their outstanding success in international tests; and this week's poll asks whether you believe New Zealand should consider replacing the NCEA.
Thank you so much to the many NZCPR readers who responded to last week's appeal to contact National MPs to ask that they abandon or withdraw the disastrous Resource Legislation Amendment Bill – you can see our article explaining the situation HERE.
If you weren't able to send a message last week, it's not too late – with an election only months away, do not underestimate the power of voter advocacy. The Bill, which imposes powerful new iwi rights that undermine democracy and the Rule of Law – without any public consultation whatsoever – could be stopped if the Prime Minister decided to do so. The email addresses of the Prime Minister and all other MPs can be found on our NZCPR.com website HERE.
To maintain our independence and ensure we can hold politicians to account, the NZCPR accepts no government assistance. That means we can only operate through the support of readers. If you value our newsletters, but haven't supported us this year, then please help to keep us running by clicking HERE
Thank you for your interest and support.
Kindest regards,

Dr Muriel Newman
NZCPR Founding Director
What's new on our Breaking Views blog…
Breaking Views is administered by the NZCPR – the views are those of the authors.
Each week we highlight just a selection of the many articles on our Breaking Views blog. Mole News outlining the build up of race-based privilege and the Global Warming Policy Foundation Newsletters opposing climate alarmism are published almost daily.
You can subscribe to the Breaking Views RSS feed here: http://breakingviewsnz.blogspot.com/feeds/posts/default
NZCPR Weekly:
EDUCATION IN NEED OF REFORM
By Dr Muriel Newman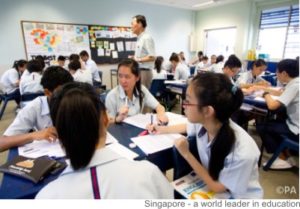 The performance of New Zealand school children in international tests has been falling over the years. Meanwhile, countries like Singapore have gone from strength to strength. To address this paradox, I asked a leading Professor of Education in Singapore to explain what makes their education system one of the best in the world.
But first, some background.
The Programme for International Students Assessment (PISA) was established by the Organisation for Economic Co-operation and Development (OECD) in 2000 as a world-wide three-yearly study of the educational achievement of 15-year-olds. PISA test marks, which are scaled to an OECD average of 500, provide comparable data on student success in maths, science, and reading, to assist countries to improve their education policies.
In that first test in 2000, New Zealand came second in reading, third in mathematics, and sixth-equal in science. But over the years, we have dropped dramatically, with a 42 point fall in maths from 537 in 2000 to 495 in 2015, more than any other country; a 20 point fall in reading from 529 to 509, more than all except three other countries; and a 15 point fall in science from 528 to 513, more than all countries except eight.
The obvious question is what are the policy changes that could have caused our decline?
In fact there have been three major changes since PISA began – the introduction of the National Certificate of Educational Achievement (NCEA) in secondary schools from 2002, the replacement of the traditional knowledge-based curriculum with a new 'progressive' approach in 2007, and the adoption of National Standards in primary schools from 2010.
The NCEA replaced New Zealand's traditional examination-based education system with a new system modelled on Scottish vocational qualifications, which applied competency based assessments to academic subjects. Between 2002 and 2004, School Certificate was replaced by NCEA Level One, University Entrance by NCEA Level Two, and University Bursary by NCEA Level Three.
Each NCEA qualification requires students to gain 80 credits, obtained through passing a mix of competency based unit standards – graded as 'achieved' or 'not achieved' – and achievement standards, derived from the New Zealand Curriculum and graded as 'excellence', 'merit', 'achieved' or 'not achieved'. While some units are internally assessed during the year, others require external examinations.
However, the transformation of knowledge and academic learning into assessable competencies, has led to concerns that while students may succeed in mastering the tasks needed to achieve their unit standards, they may not be acquiring the background knowledge necessary for a deeper understanding of the subject. And that may help to explain our decline in the PISA tests, where students not only have to demonstrate an understanding of skills, but they have to be able to apply the knowledge to solve real-life problems.
The new "progressive" primary and secondary school curriculum, introduced by then Prime Minister Helen Clark in 2007, is thought to have made the problem worse. Strongly ideological, the new curriculum aimed at removing elitism from the education system, by replacing the traditional knowledge-based syllabus, with child-centred systems focussed on skills and competencies.
National Standards, on the other hand, were introduced by John Key's Government to lift achievement in the literacy and numeracy (reading, writing, and mathematics) of primary school students through more clearly defining achievement at each year level. The idea was that by improving information about student progress – whether a child is above, at, below, or well below the standard – those who need more support can be identified for additional help.
Of the three policy changes, the NCEA appears to have had the most profound effect on educational outcomes, with critics like Emeritus Professor Warwick Elley worried that it is "dumbing down" an entire generation.
While it sounds counterintuitive, the NCEA can profoundly disadvantage those students who learn more slowly than others, since they tend to get directed into easier subjects that teachers think they can pass, rather than being allowed to grapple with the tougher challenges that could ultimately lead them to higher levels of attainment.
And at the other end of the scale, top students can also be disadvantaged, often cruising once they have reached the required standards, rather than being extended to reach their full potential.
A further complication, relates to the use of computers in schools. The OECD is now finding that countries like New Zealand, that have invested heavily in information and communication technologies to help improve student achievement, have instead caused a decline in their performance in PISA results. This is especially the case amongst at-risk students, who they believe would benefit more from achieving a basic proficiency in reading and mathematics, rather than learning how to use hi-tech devices.
The reality is that to help young minds develop, students need to master basic skills before they can expand their capabilities. Relying on computers and calculators too early interferes with such learning, making it far more difficult for these students to master more complex tasks.
As the OECD's director for Education and Skills, Andreas Schleicher said: "Technology can amplify great teaching but great technology cannot replace poor teaching."
New Zealand's PISA test results have identified that major problems do exist with teaching – especially mathematics – with a 2010 study finding that a third of new primary teachers could not add 7/18 and 1/9.
Another international five-yearly test – the Trends in International Mathematics and Science Study (TIMSS) – found that our primary school students are not doing too well either, with 9-year-olds finishing equal last in maths amongst peers in developed countries in 2012. Almost a half of the children tested could not correctly add 218 and 191, leading the Minister of Education to reveal that a third of students hitting high school did not know their times tables, and had only a limited knowledge of division.
One of the factors identified as contributing to an increasing failure in mathematics teaching, is the Numeracy Project, which was introduced by the Ministry of Education in 2001, as a nation-wide professional development initiative.
For instance, instead of memorising the nine-times table so that children know that 6×9 is 54, the Ministry of Education's NZ Maths Easy Nines resource, outlines three different methods that children can be taught to work it out:
Method 1 – Using my 10 times table: 6 x 10 = 60. One group of 6 less: 60-6=54.
Method 2 – Down a decade and digits adding up to 9: It will be in the 50s. 5+4=9, so it's 54.
Method 3 – Using my 3 times table: 6×3=18. Double 18 is 36. Add 18 and 36 to get 54.
Such strategies, however, leave many children confused, and critics believe that the project – which is still running – has made the situation worse by failing to emphasise the importance of rote learning in the teaching of maths.
Worse, alternative number strategies have also been included in NCEA Level One numeracy unit standards, where US23738 requires students to "Use numeracy strategies to solve problems involving whole numbers".
On their website, the New Zealand Qualifications Authority states that to gain the standard at least three different strategies are required to answer problems involving whole numbers, and the example given is as follows:
Problems will involve one step of calculation to solve but in demonstrating the strategy there will be more than one step in the solution. For example, some ways of solving 156 ÷ 4 could be:
Method 1: 160 ÷ 4 – 4 ÷ 4 = 40 – 1 = 39
Method 2: 120 ÷ 4 + 36 ÷ 4 = 30 + 9 = 39
Method 3: 78 ÷ 2 = 39
Such approaches have confused children, teachers and parents alike – and have contributed to the decline in basic maths.
So what is it that Singapore, which came top in maths, science and reading in the most recent PISA tests, does that is different from New Zealand?
First of all, Singapore, with its population of 5.5 million has a compact school system with 450,000 students, 33,000 teachers and 369 schools. With human capital regarded as the country's most precious natural resource, the government spends 15.1 percent of its budget on education – second only to Defence.
In comparison, New Zealand has a population of 4.5 million and a more diverse education system, with 2,538 education providers, 53,861 teachers, and 776,815 students – including 1,963 state primary schools catering for 452,240 students, and 344 state secondary schools with 272,227 students. Education is the third biggest item of government expenditure, behind welfare and health, and accounts for 17.8 percent of the budget.
This week's NZCPR Guest Commentator, Professor Sing-Kong LEE, of the National Institute of Education at Nanyang Technological University in Singapore explains a key difference between our respective approaches to education:
"The philosophy that underpins the Singapore Education System is that every student learns differently and each has different strengths. Hence for those who are academically-inclined, they will pursue the academic pathways whereas those who are more hands-on in their learning styles can engage in a pathway where more applied learning approaches can be adopted. The key goal is to ensure that every student will be adequately prepared with certain skills that will enable them to be employable and self-supporting in their life journeys. If this can be achieved systemically, then social issues such as those caused by unemployment, can be minimised."
In comparison, our Ministry of Education states: "We want every New Zealander to be strong in their national and cultural identity, be an active participant and citizen in creating a strong civil society, and be productive, valued and competitive in the world."
So while the fundamental concept driving education in Singapore is that every student must be employable and self-supporting, in New Zealand, our goals are primarily cultural and social.
Professor Lee outlines the design of their system: "The education pathways begin with 6 years of elementary school and 4 to 5 years of secondary school education. After 10 to 11 years of education, students can choose a vocational pathway through the Polytechnic route or the academic pathway through the Junior Colleges. Students on both the pathways can have an opportunity to pursue university education at the end of their study based on good academic results and career choices. Of the annual student cohort, some 30% will enter university, some 48% will pursue Polytechnic education while the remaining students will pursue technical education at the Institute of Technical Education."
With all students in Singapore having the opportunity to ultimately pursue a university degree, irrespective of the initial pathway they choose, 'foundational knowledge' of Maths and Science in particular, is regarded as a priority.
Professor Lee has provided an excellent summary HERE of the key success factors of Singapore's education system. In particular, he explains the crucial importance of a quality teaching force: "While good school leaders drive the transformation of the learning environment, empowering teachers to be innovative and creative as well as being nurturing to the students, it is the teachers who have the most intensive interaction in the classrooms and who would have the most extensive impact on student learning outcomes."
He identifies that every component within the system, from policy development through the Ministry of Education, to teacher training and professional development, to school leadership and teaching, to parent involvement and support, is aligned to ensure that each and every student achieves the national goals of education. He calls this the "distinctive strength" of the Singapore education system.
Without a doubt, Singapore's education system, which is tightly controlled to ensure the greatest possible success for students, highlights many options for improvement in New Zealand. However, the first step is to admit that the problems we have are deep and systemic. If we want to remain competitive as a nation, quick fixes will not be enough – comprehensive reform is what is now needed. That first step may be the hardest for our education provides to take.
THIS WEEK'S POLL ASKS:
Should National pass the Resource Legislation Amendment Bill into law before the election?

*Poll comments are posted on the website daily at the end of the main article.

*All NZCPR poll results can be seen in the Archive.

NZCPR Guest Commentary:

SINGAPORE'S EDUCATION SYSTEM: KEY SUCCESS FACTORS
By Professor Sing-Kong LEE

"A key question often asked is, what contributes to the high education attainment of students in Singapore. There is no one factor that can be said to wholly contribute to the high student learning outcomes but a combination of several factors taken together.
"It can be said that the Ministry has rightly identified the quality of both the school leaders and the teachers as being of key importance and they have rightly invested national resources to building up such a high quality teaching workforce. There are several education systems around the world that had invested in the infrastructures and equipment to ensure that they are cutting- edge, but with a poor quality teaching force, did not achieve high student achievement in education.
"While the success factors cannot be teleported from one education system to another in view of difference in cultures and context, nevertheless, useful lessons can be learnt from the Singapore Education system. These factors can be contextualised before adoption so that they can work to enhance quality at the systemic level.
"Ultimately, much of Singapore's educational success had its early beginnings post-independence, where the role of education and teachers were seen to be crucially tied to the important task of nation-building. Such a mantra still exists till today, and continues to guide Singapore's education system as we aim to continually sustain and scale new peaks of excellence. Systemic coherence has been key to the nation's educational success but moving forward, not resting on our laurels but continually striving to learn from good practices from other systems will ensure that we stay on top of the league…"
*To read the full article, please visit the NZCPR website.

___________________________________________________
New Zealand Centre for Political Research
PO Box 984 WHANGAREI
Ph: 09-434-3836, Fax: 09 434-4224, Mob: 021-800-111
muriel@nzcpr.com
www.nzcpr.com

To unsubscribe from the newsletter, send this email – but don't forget to reply to the confirmation message.
If you need help unsubscribing, please email admin@nzcpr.com with "REMOVE" in the subject line.
To change your address please email admin@nzcpr.com with "ADDRESS CHANGE" in the
subject line, advising the new address to be added and the old one to be removed.