View our latest NZCPR Weekly Newsletter …
– to receive this free newsletter each week by email click the button and register

Dear NZCPR Reader,
This week, we look at political manipulation in the debate over fresh water, our NZCPR Guest Commentator Michael Coote examines Maori plans to create a perpetual revenue stream of royalties from commercial water levies, and this week's poll asks whether you support a charge on the commercial use of water.
With the election fast approaching, please feel free to forward our newsletters on to others that you believe would be interested in our research and commentary. Anyone is welcome to register for our free weekly newsletter HERE.
Also, please don't forget that to share our articles on social media, copy the URL from the website and paste it into your post. The NZCPR Facebook Group is very active in debating topical issues – if you haven't visited recently, you can do so HERE.
Have you checked out the wealth of information on our Countering Coastal Claims Campaign page HERE? It contains a new spreadsheet linking maps of claims to the actual applications lodged in the High Court. The Register of Interest is for anyone who would like to help oppose the claims in their local area.
Thanks to readers who have been kind enough to support our fundraiser to help to cover the huge cost that fishing and recreation groups are having to incur on behalf of the New Zealand public as they oppose almost 200 opportunistic claims. While each Maori claimant can receive up to $400,000 in taxpayer assistance to prepare their claims, those opposing them have to pay all costs including a $110 High Court fee for each of the claims they oppose.
It's not too late to assist – if you would like to help those who will be standing up for you in the Court, opposing these claims, please click HERE …and please be generous, because it is a mammoth task that these groups are taking on in the public interest.
Thank you for your interest – and support.
Kindest regards,

Dr Muriel Newman
NZCPR Founding Director
What's new on our Breaking Views blog…
Breaking Views is administered by the NZCPR – the views are those of the authors.
Each week we highlight just a selection of the many articles on our Breaking Views blog. Mole News outlining the build up of race-based privilege and the Global Warming Policy Foundation Newsletters opposing climate alarmism are published almost daily. You can subscribe to the Breaking Views RSS feed here: http://breakingviewsnz.blogspot.com/feeds/posts/default
NZCPR Weekly:
A LONG WEEK IN POLITICS
By Dr Muriel Newman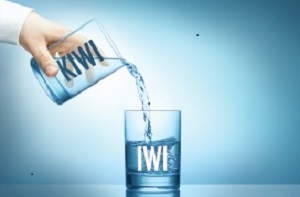 Fresh water is an election issue. The export of bottled water has become the focus of an emotional debate that is being relentlessly politicised and propagandised.
Commercial water bottlers have been demonised as exploitative – extracting vast amounts of our scarce natural water without payment and without adding any benefit to New Zealand.
The facts show otherwise.
According to the Minister for the Environment, New Zealand has plentiful fresh water supplies, with an average of 2.3 metres of rain falling nationwide each year. This equates to 145 million litres per person per year – seven times as much per person as Australia, 16 times as much as the US, and 70 times as much as the UK or China.
Of the 600 trillion litres or so of water that flows through New Zealand's lakes, rivers and aquifers annually, only 11 trillion litres – around 2 percent – is extracted. That means 98 percent of New Zealand's annual fresh water resource remains unused.
Of the water that is extracted, around six trillion litres is used for irrigation, two and a half trillion for industry, two trillion for local authority supplies, and half a trillion for livestock.
There are over 20,000 water permits on issue throughout the country – of those, 41 are for the bottling of fresh water, and a further 30 are for multiple purposes including water bottling.
Only 23 water bottling permits are said to be currently in use.
Last year, bottled water exports accounted for only nine million litres – a miniscule 0.0001 percent of New Zealand's total annual fresh water use.
While water is, of course, a major component of many other exports – each litre of wine exported is said to have used 200 litres in its production and each litre of milk, 250 litres of water – in comparison, it only takes a litre of water, to produce a litre of bottled water for export.
Like any other business, water bottling companies also contribute to the wider economy through processing, packaging, and transport – not to mention employing staff, leasing premises, paying rates and so on. But none of that gets mentioned in this debate.
Before looking into the politics, let's review the legal situation.
Since fresh water falls naturally as rain and snow and is essential for life on earth, it is regarded at law as a public good resource that must be available to all.
Accordingly, under common law and statute, all New Zealand's fresh water is vested in the Crown and cannot be privately owned. That means that while landowners may have rights to the beds and banks of the rivers, streams and lakes that lie on their properties, they don't own the water.
Water users can be charged for permits to take water, and councils can charge households and businesses for providing water – either through rates or by volume – with a fee that covers the cost of filtering, pumping, piping and treating the water supplies.
Retired Judge and former Law Lecturer Anthony Willy, explains the situation in this way: "New Zealand is a country which is governed by the rule of law. We should therefore begin with how water was treated by the common law – 'common' because it applies to all without regard to privilege or special interest pleading by minority groups.
"At common law land including the land underneath water was regarded as a commodity like any other that could be owned and transacted. Water was never regarded by the common law as a commodity in that sense. In the cases of Mason v Hill decided in 1833 and Ballard v Tomlinson decided in 1885 the Courts held that a land owner had no right to the ownership of water which either flows through, or percolates within that land.
"In this way the courts recognised that water like air is not only vital to the survival of all species on the planet but is something in which humanity has no hand in creating. It therefore, like air, occupies a unique status in the eyes of the common law – it cannot be owned by anybody."
David Round, lecturer in law at the University of Canterbury, concurs: "At common law there was no ownership of water; a landowner had the right to use the water that flowed over his land, but he was obliged to pass it on to landowners further downstream undiminished in quality or quantity. In 1967 Parliament made the Water and Soil Conservation Act, which declared that except in certain pretty limited situations no-one could use any 'natural water' – which is all water, frozen, liquid or steam, not in a pipe, tank or cistern – without a permission – a 'water right' as it was called."
While the statutory responsibility for allocating and controlling fresh water rests with the Crown, that duty was passed on to Regional Councils and Unitary Authorities through the 1991 Resource Management Act.
The reality is that the present water debate is politically motivated. New Zealanders are being manipulated by activist groups running well-orchestrated mass hysteria campaigns to introduce a tax on the commercial use of water – a move that suits Maori interests, since any charge on water will open the door to new taxpayer-funded Treaty settlements and water royalties in perpetuity.
This week's NZCPR Guest Commentator, free-lance journalist Michael Coote outlines the demands that are being made by one of the high profile activist cheerleaders:
"Te Awaroa: 1000 Rivers' patron Dame Anne Salmond is publicly advocating the New Zealand Maori Council's National Freshwater Policy Framework proposal to create a waterways commission that holds all bodies of water in trust and charges for their use.
"It is a stepping stone to charging water levies.
"The Maori Council's plan is to create a perpetual revenue stream flowing into the pockets of Maori tribes in the form of royalties paid from levies charged nationwide on commercial water usage.
"This objective is part of a thrust to impose a royalty economy of racial tithing across New Zealand's natural resources to the benefit of Maori."
And that's what's at the heart of this debate – Maori rights to own and control of fresh water.
Former Prime Minister Helen Clark understood this only too well when, in 2006, iwi leaders, believing that Labour was planning to introduce a charge on water, demanded a Treaty settlement. They considered that if a property right was being created, they had a claim to it under the Treaty of Waitangi – similar to the situation in 1986, when fishing quotas created property rights and they received a lucrative $170 million fisheries settlement.
With the Ministry for the Environment estimating the value of New Zealand's fresh water resource to be over $35 billion a year, it's not difficult to see what's driving iwi demands.
To her credit, Helen Clark unilaterally rejected the demands of iwi leaders, upholding the strong position taken by successive governments, that water is controlled and managed by the Crown for all New Zealanders.
However, under Jacinda Ardern's leadership, Labour's principled stand against Maori claims for the ownership of water has been sidelined, and if she were in Government, the Treaty of Waitangi gravy train would start up again.
Labour would introduce a charge – to be determined after the election – on water bottlers and other commercial users of water, with royalties shared between regional councils and Maori.
In effect, Labour is keeping the public in the dark about the cost of their water tax – and the expected Treaty settlement – a lack of transparency that's revealing, especially since it's householders that will foot the bill through higher prices for food and anything produced using water.
It's the same story with the Greens – they are also refusing to reveal the level of their proposed water tax on commercial users until after the election, although they have specified that water bottlers will pay a 10 cents a litre royalty on all domestic sales and another 10 cents a litre on all exports.
Half of all royalties collected would be paid to Maori, a decision they justify by saying, "The Waitangi Tribunal has found on numerous occasions that Maori did not cede sovereignty of natural resources through the Treaty of Waitangi… Revenue would also be directed to mana whenua in recognition that they have Article 2 rights under Te Tiriti o Waitangi and kaitiaki responsibilities for water."
The Greens also plan to "Strengthen the Mana Whakahono a Rohe participation arrangements in the RMA", to enable greater involvement by Maori in council decisions around water, including "notification, resource consent applications, and RMA enforcement."
National's approach to fresh water policy is reflected in the updated National Policy Statement on Freshwater that they have just released, which elevates Maori spiritualism and rights over water to new levels through statutory obligations imposed on local councils: "Upholding Te Mana o te Wai acknowledges and protects the mauri of the water. This requires that in using water you must also provide for Te Hauora o te Taiao (the health of the environment), Te Hauora o te Wai (the health of the waterbody) and Te Hauora o te Tangata (the health of the people). Te Mana o te Wai incorporates the values of tangata whenua and the wider community in relation to each water body."
Essentially, National has been working with the Iwi Leaders Group on water policy since 2012, when their partial privatisation of state owned power companies triggered an urgent claim to the Waitangi Tribunal for the ownership of water. Over the years, iwi demands have changed from ownership to control of fresh water – along with royalties in perpetuity.
National ceded to iwi demands when they introduced their Mana Whakahono a Rohe provisions – that will be used to effect Maori control of fresh water – into the RMA, without any consultation at all with the wider public.
Once National's Technical Advisory Group – established in collaboration with iwi leaders – reports back their water allocation policy proposals after the election, Maori will be elevated to co-govern and control fresh water decision-making in New Zealand, in conjunction with councils.
When questioned at a recent post-Cabinet press conference, over whether National has agreed to Maori having the right to participate in the allocation and management of fresh water, Prime Minister Bill English said not so far: "We've been discussing that with them for a number of years, and we have certainly not agreed to that".
But for how long?
In comparison, while New Zealand First's leader Winston Peters says they are opposed to race-based policies, their website shows contradictions.
On fresh water it states, "The Treaty of Waitangi does not confer rights to take or use water upon Maori which are greater or lesser than the rights of any other New Zealander", but then goes on to say, "Maori have shared guardian status and therefore have a right to shared governance in some areas of water management".
It also claims, "The proposed National Policy Statement on Water Resource Uses must be developed following a comprehensive process of engagement with Maori for the purpose of meeting their cultural values as far as possible."
Their website is also silent on the consequences of the Maori claim that would be triggered by their plan to introduce a royalty on fresh water exports.
With ACT pushing for tradable water rights – irrespective of any consequential Treaty claim – and the Maori Party in favour of Maori ownership and control of fresh water, it seems that going into the 2017 General Election, those New Zealanders who want decisions over the allocation of fresh water to remain in the hands of democratically elected councillors – rather than vested interest Maori groups – have no champions at all in Parliament.
What an unacceptable state of affairs this is for our democracy.
THIS WEEK'S POLL ASKS:
Do you support a charge being imposed on all commercial users of water?

*Poll comments are posted on the website daily at the end of the main article.

*All NZCPR poll results can be seen in the Archive.

NZCPR Guest Commentary:

WILL WATER FLOW TO MAORI?
By Michael Coote


"Dame Salmond forefronts the natural environment interest, but also promotes the Maori interest, helping to normalise the idea of racial tithing.
"The Maori interest in water rights is defined by the Maori Council as 'both proprietary and cultural'.
"The Maori Council is pursuing a long-running Waitangi Tribunal case to have Maori proprietary claims to fresh water recognised in law.
"Essentially the Maori Council's water levy proposal is one of artificially bundled interests, conflating Maori private claims for royalty remuneration with non-private and not necessarily economic needs of the natural environment and general public.
"It muddies the waters by encouraging people to think these potentially competing interests intrinsically all belong together of a piece and are equally valid and unobjectionable.
"The three interests should be unbundled and debated separately on their merits, with participation open to all of society…"
*To read the full article, please visit the NZCPR website.

___________________________________________________
New Zealand Centre for Political Research
PO Box 984 WHANGAREI
Ph: 09-434-3836, Fax: 09 434-4224, Mob: 021-800-111
muriel@nzcpr.com
www.nzcpr.com

To unsubscribe from the newsletter, send this email – but don't forget to reply to the confirmation message.
If you need help unsubscribing, please email admin@nzcpr.com with "REMOVE" in the subject line.
To change your address please email admin@nzcpr.com with "ADDRESS CHANGE" in the
subject line, advising the new address to be added and the old one to be removed.